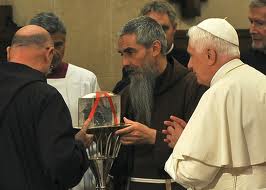 Father Carlo Maria Laborde, Guardian (Superior) of the Santuario Santa Maria delle Grazie in San Giovanni Rotondo,
the Convent were Padre Pio lived and his buried,
shows a relic of Padre Pio to the Pope Benedict XVI, on the occasion of the Pope's visit on June 21, 2009.
Padre Pio's first class relics with certificates of authenticity.
The relics were examined and authenticated, with photo certificate, on June 24, 2011 in San Giovanni Rotondo by
Father Carlo Maria Laborde, current superior (guardiano) of the Convento Santuario Santa Maria delle Grazie, were Padre Pio's remains rest.
Padre Pio used to cover the side wound, on the left side of the chest with cloths that were periodically removed and mostly burned after use.
This cloth was used on February 7, 1956. It bears several stains of blood.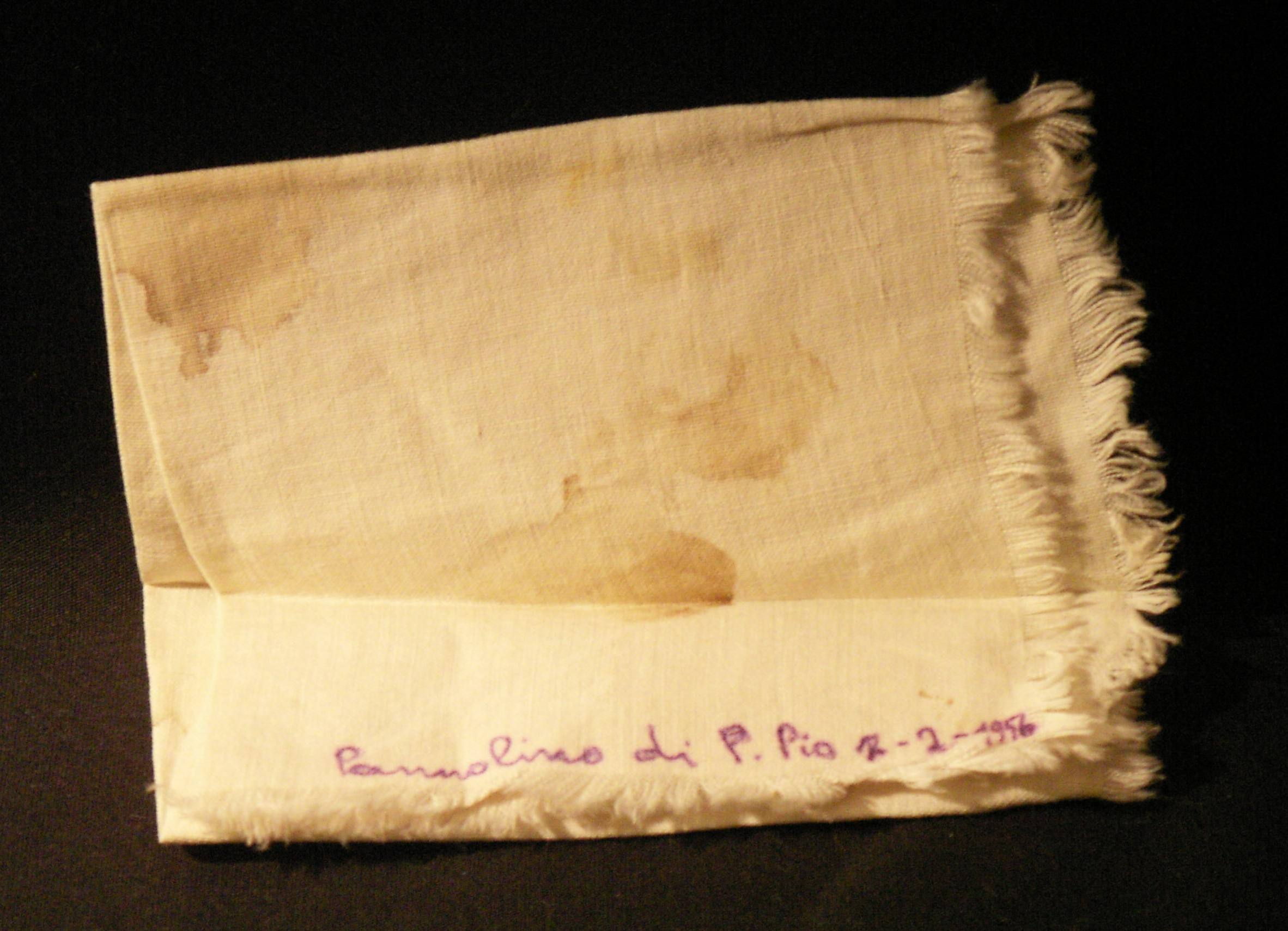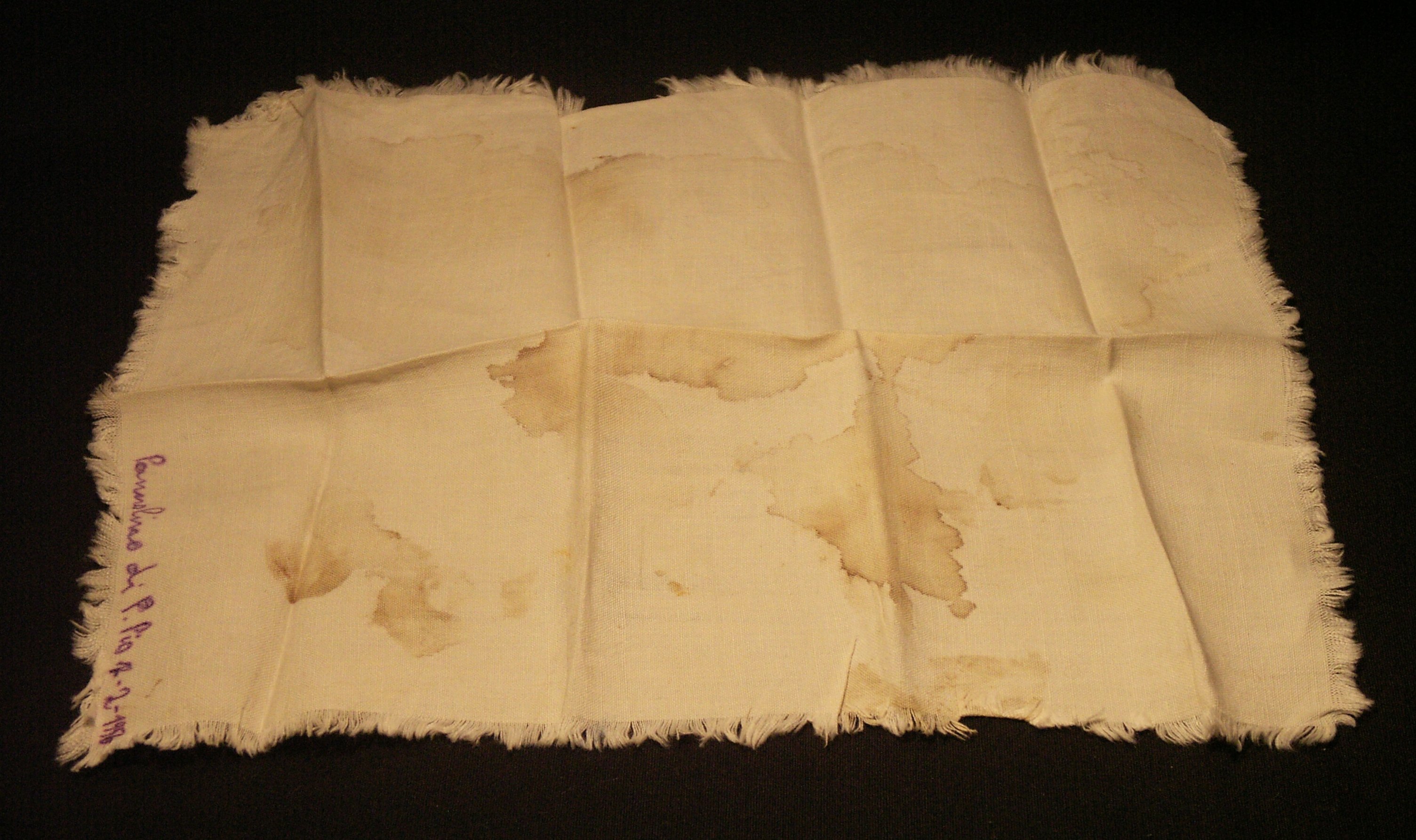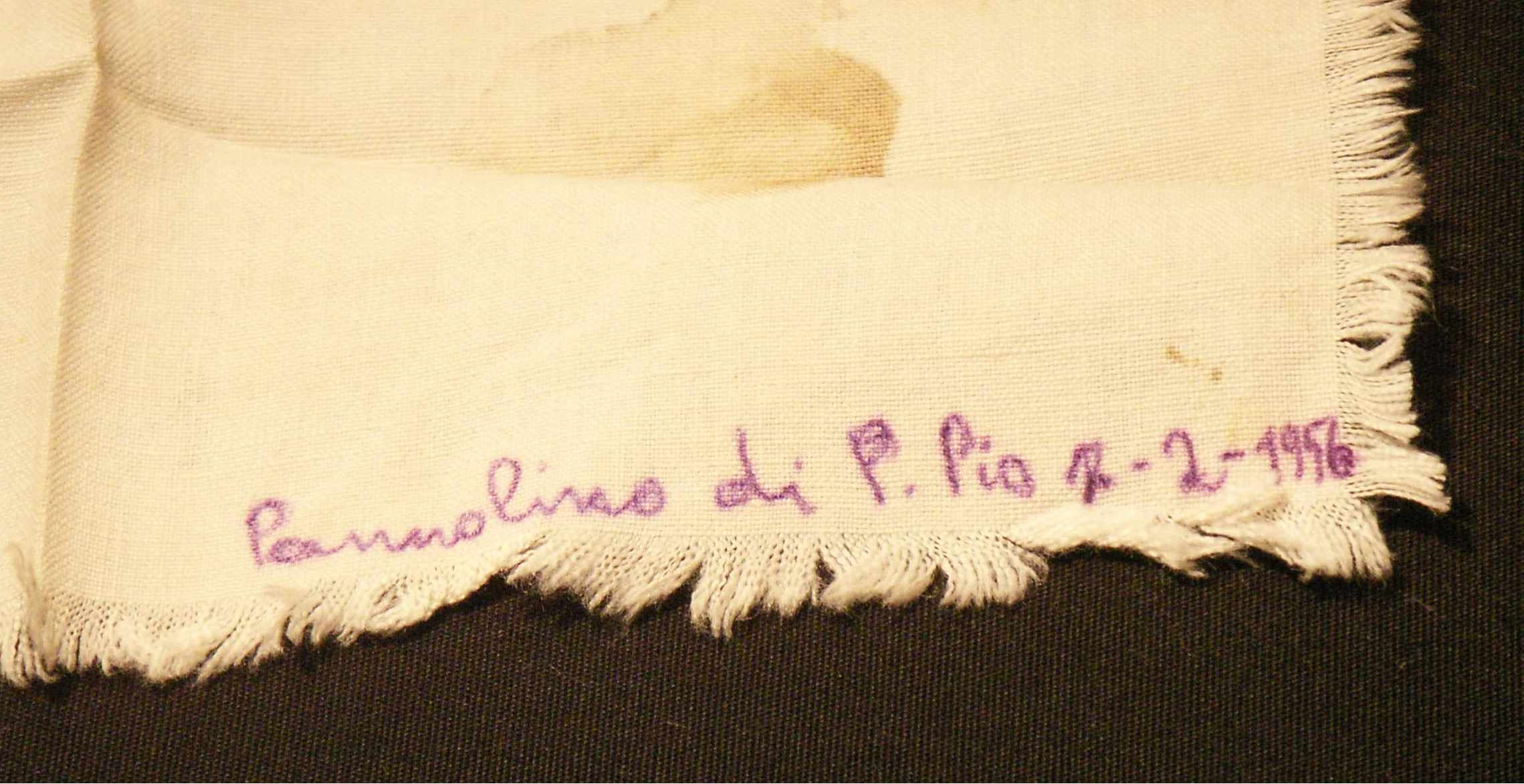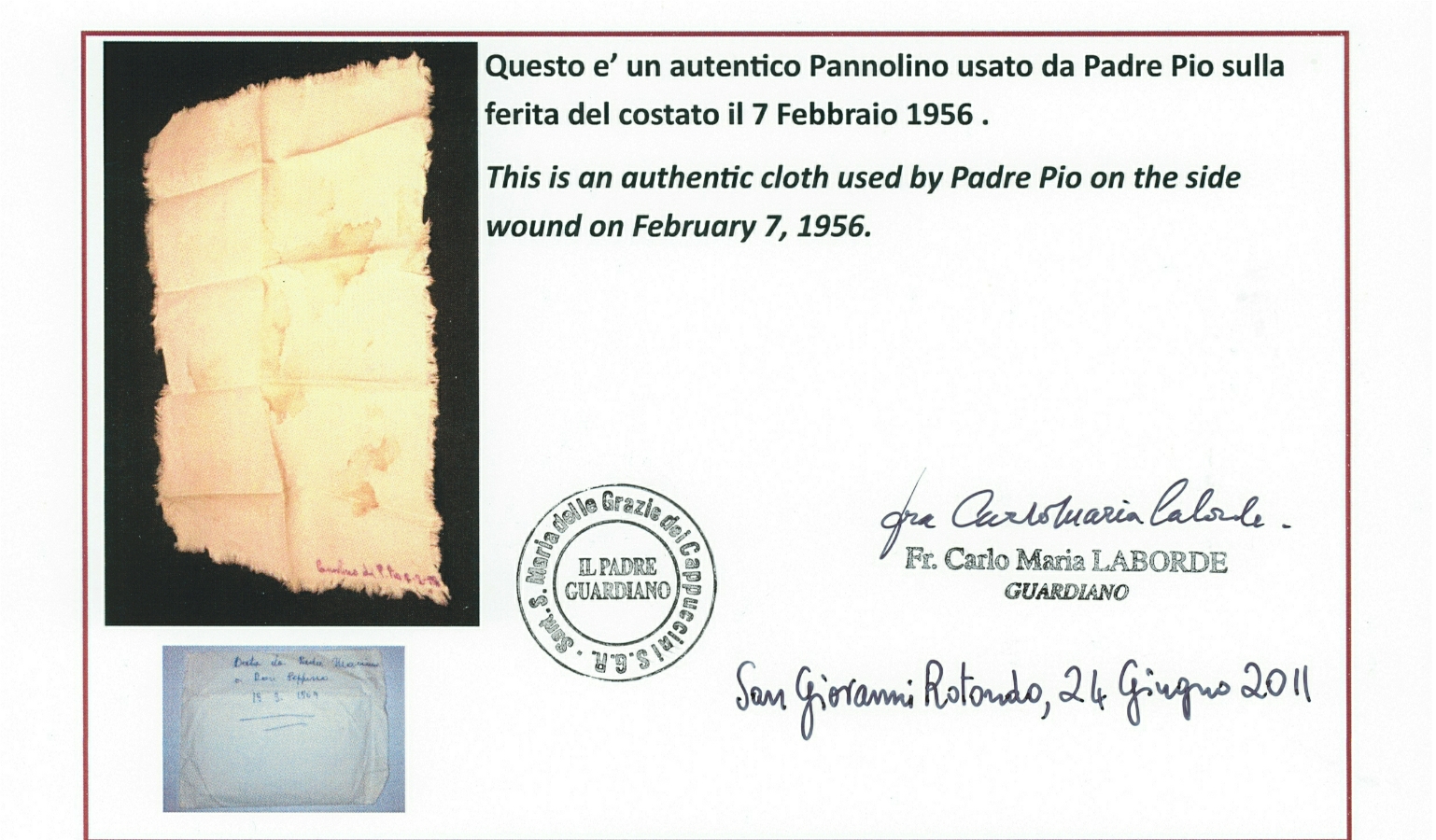 Amish and purifier used by Padre Pio on 21 and 22 of February 1956.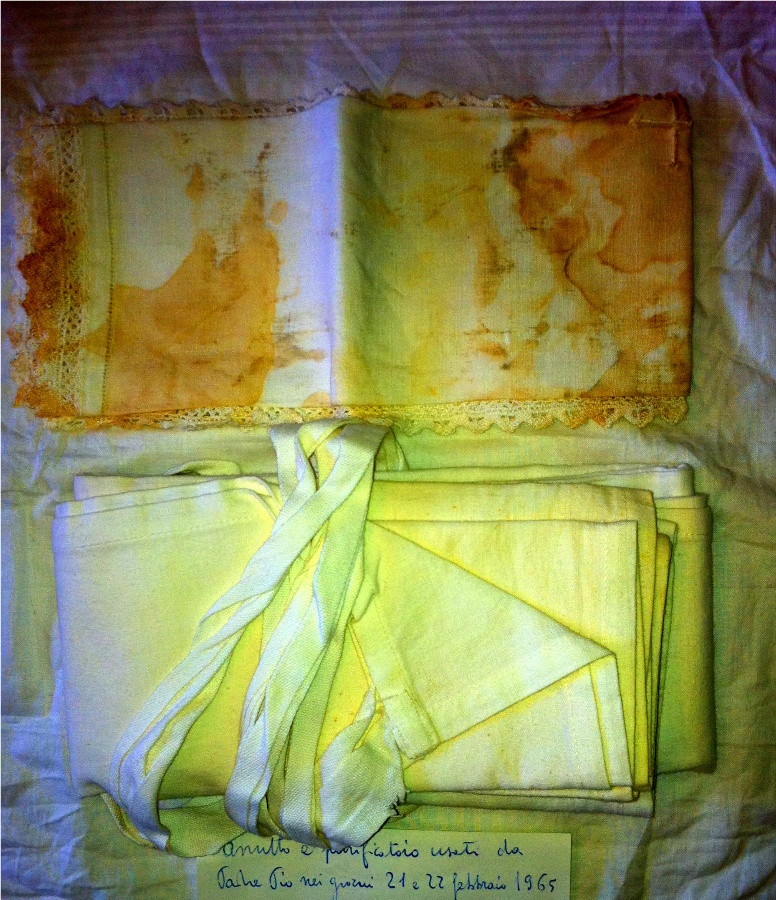 The amish and purifier are part of the vestments for Mass.
The amish is a large white square of fabric that was worn over the shoulders and around the neck.
The purifier is used to clean the chalice after the communion, towards the end of Mass.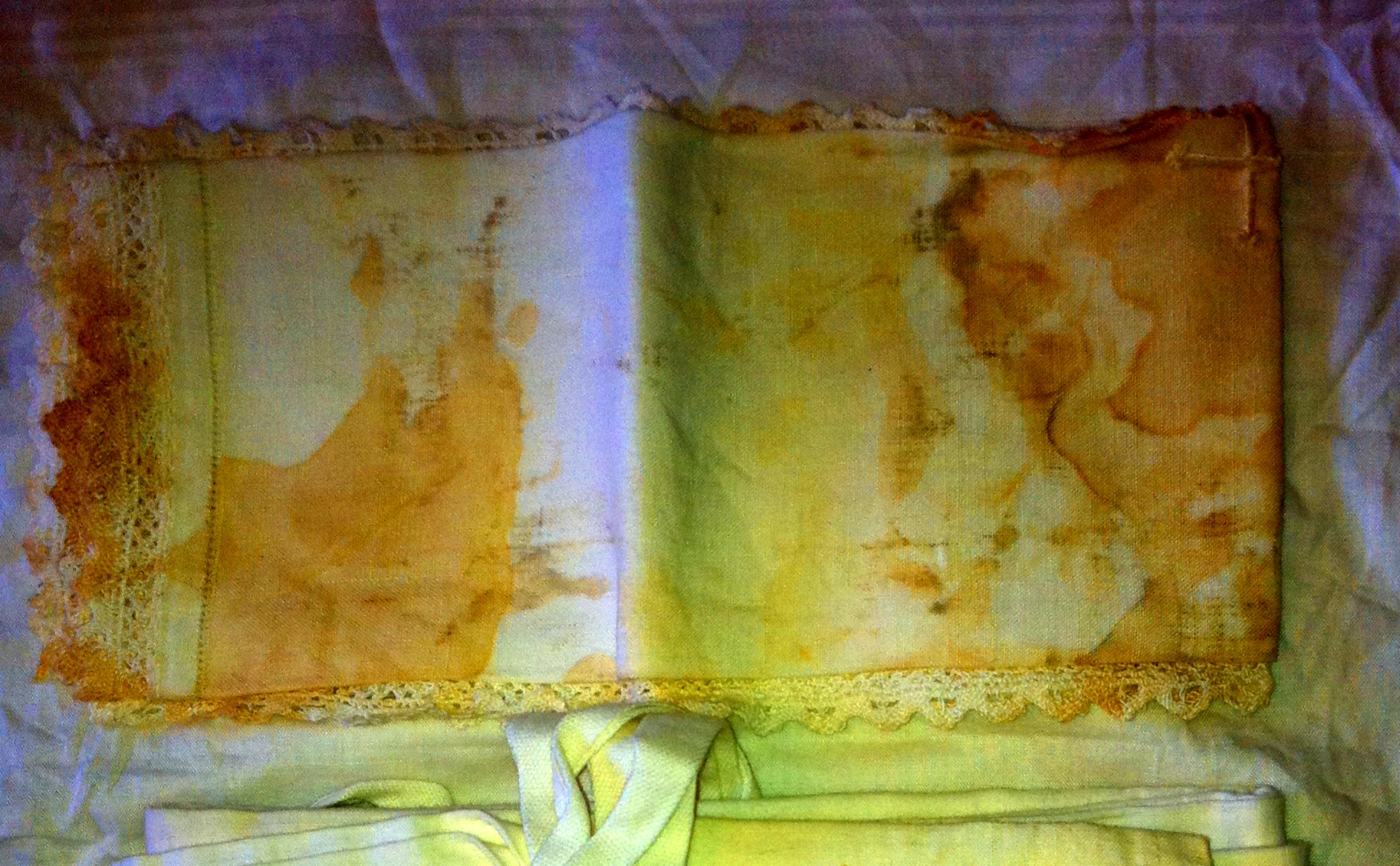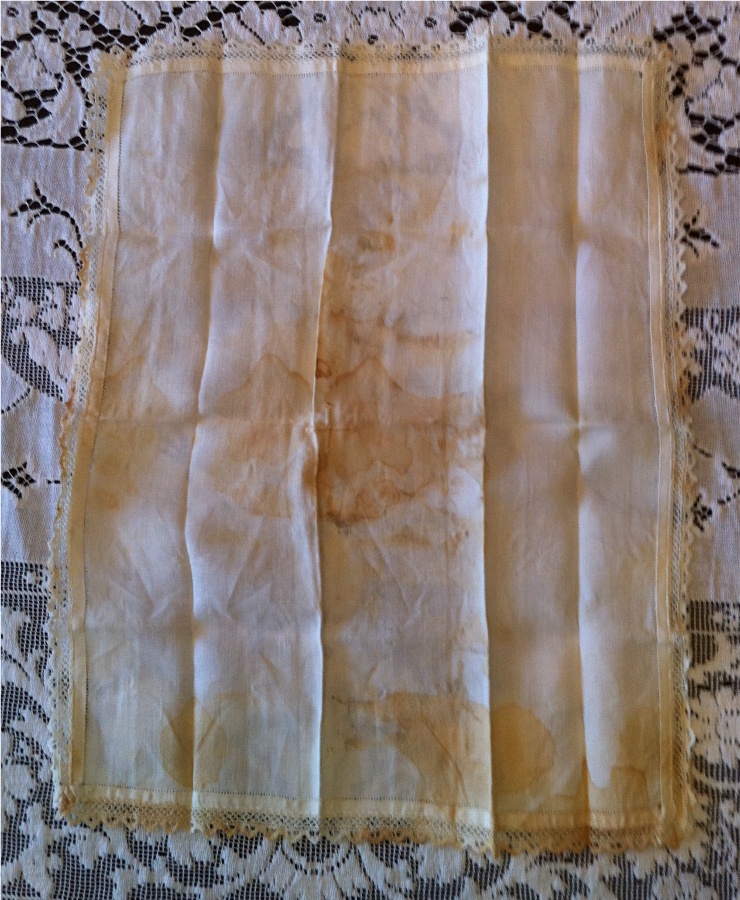 This purifier bears marked stains of Padre Pio's blood, because before ending the Mass he used to put back on the half gloves
and at that time drops of blood would fall on the purifier, and clots of blood would fall on the corporal.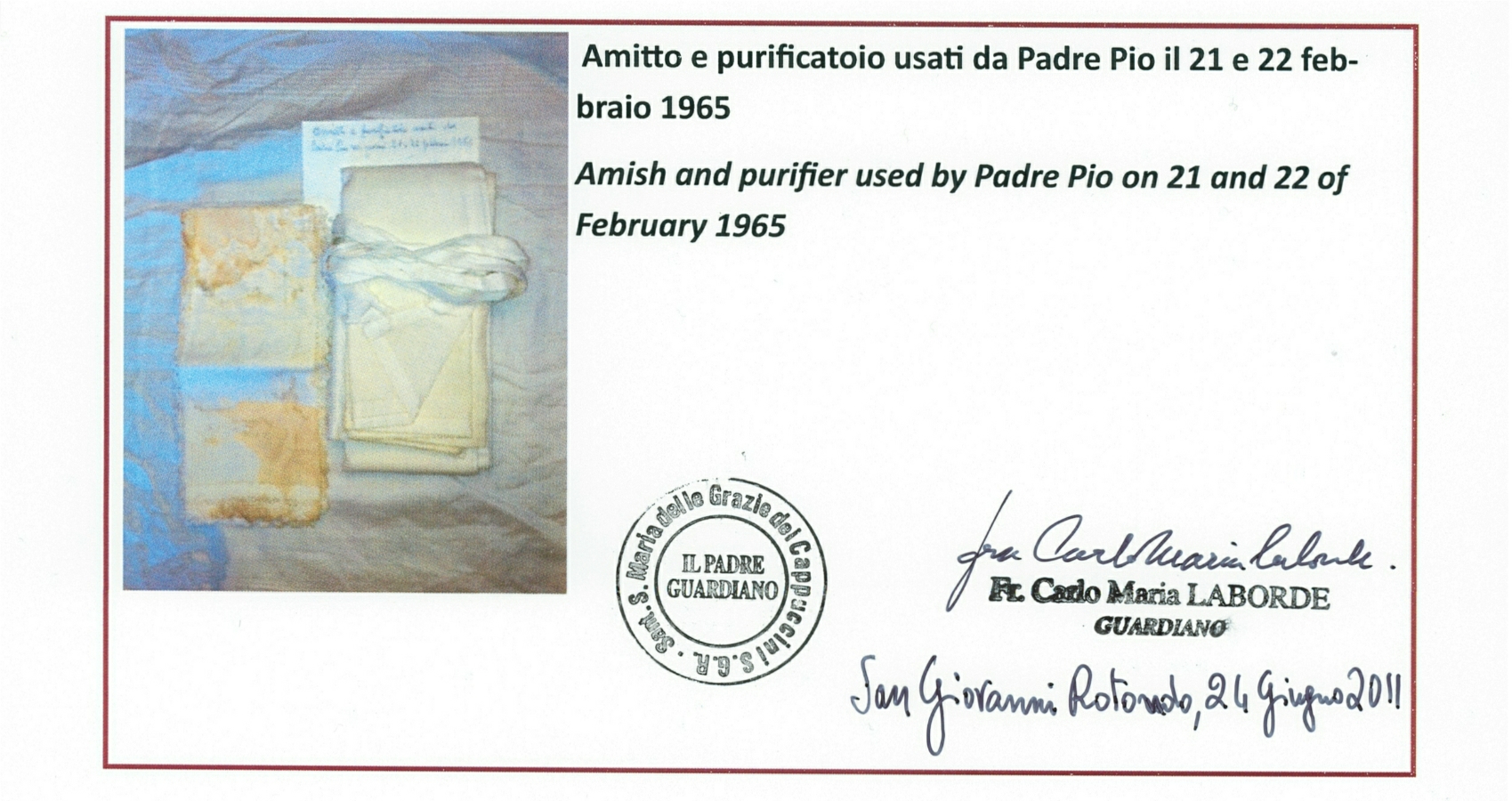 These cloths of blood were collected from the corporal after Padre Pio celebrated Mass on September 28, 1965.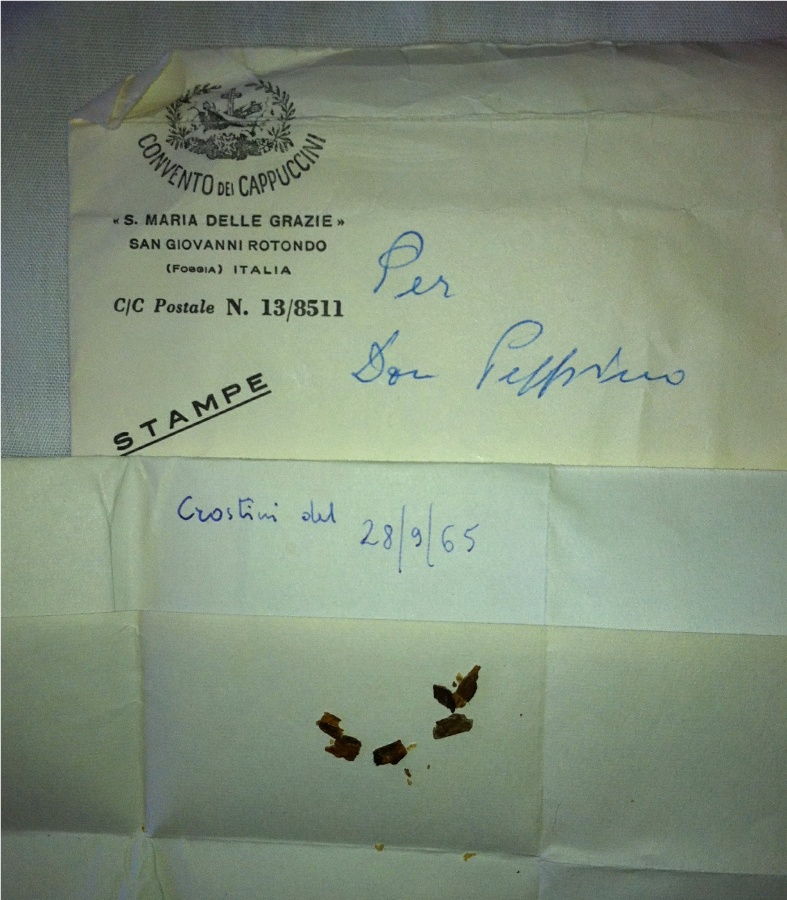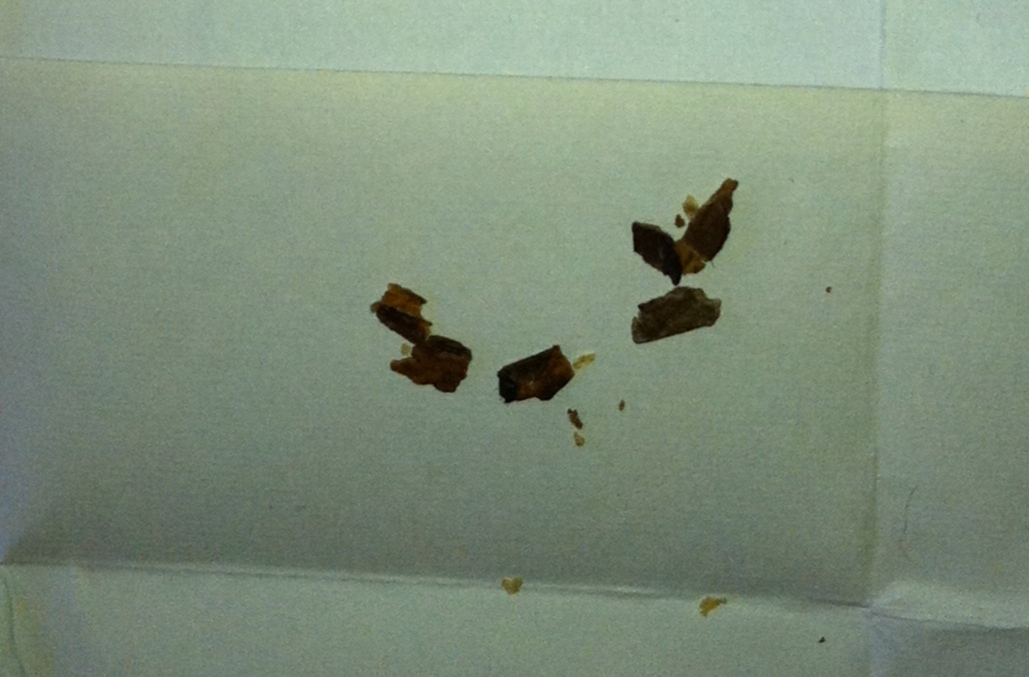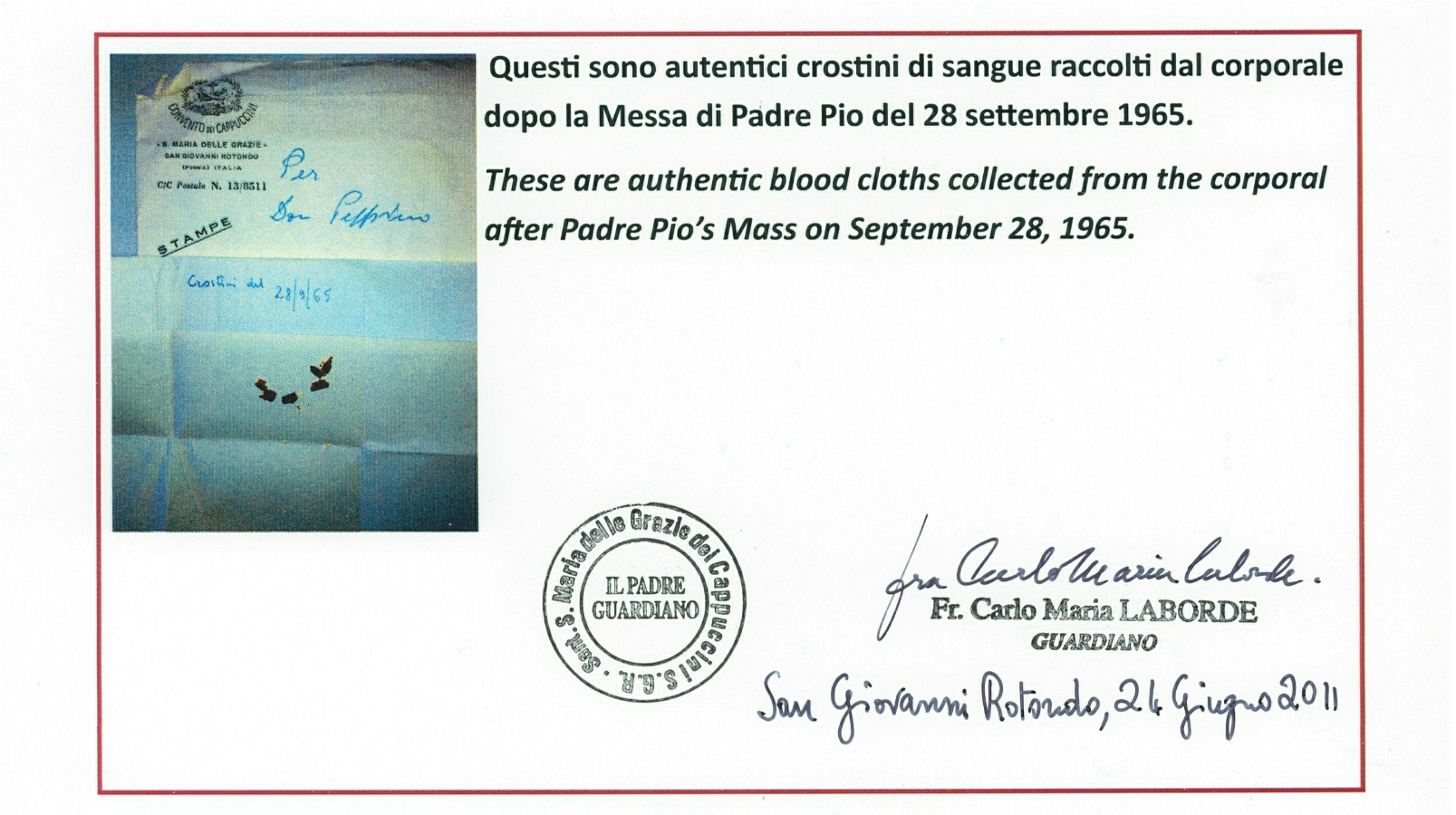 Padre Pio had an haircut on September 28, 1965.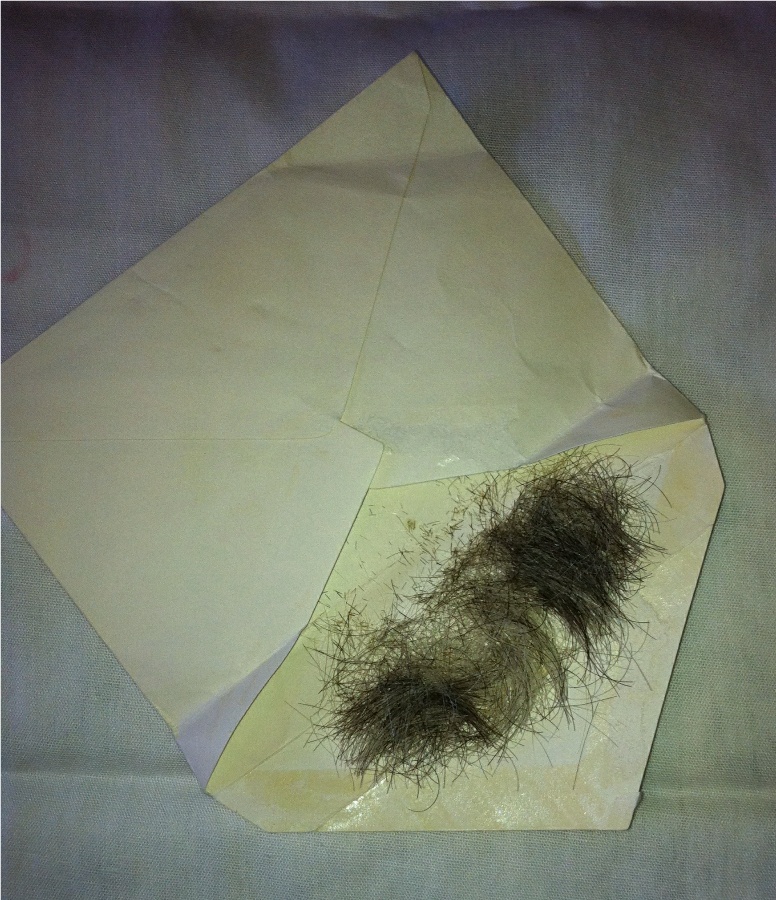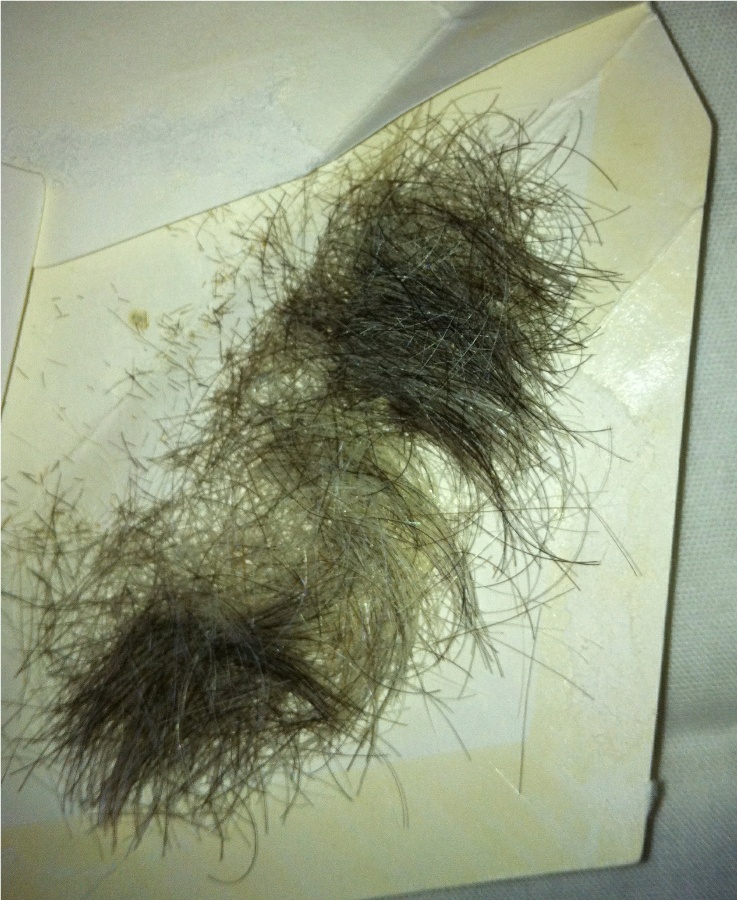 Some of the hair was collected and put in an envelope with the marking of the convent.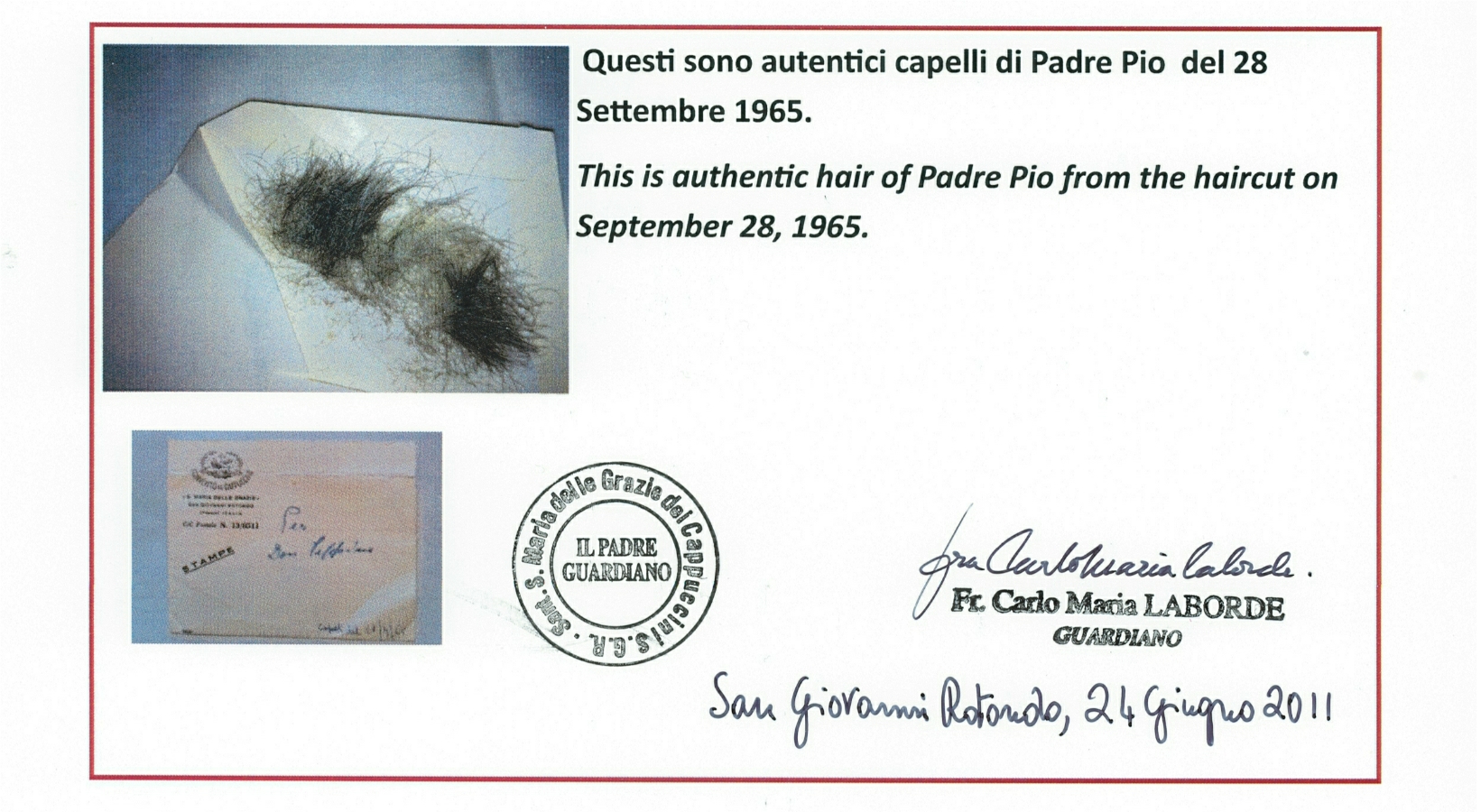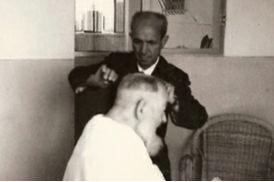 Padre Pio having an haircut
Padre Pio used to write inspirational words on prayer cards and give them to his spiritual children.
Here are three prayer cards with Padre Pio's handwriting.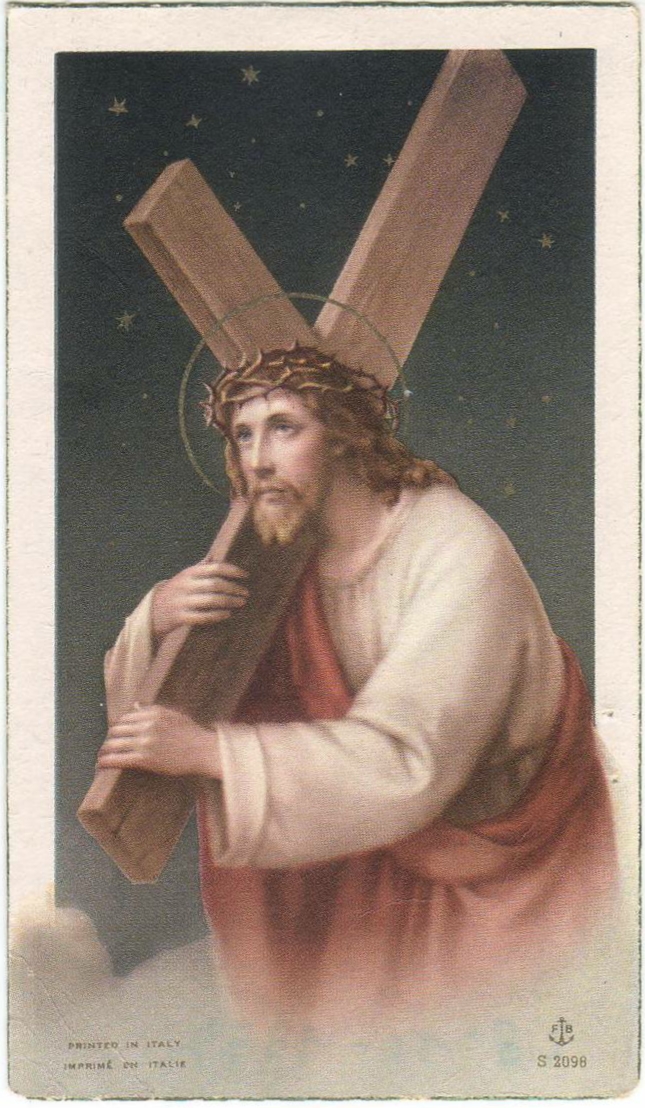 Jesus carrying the Cross.
Handwriting by Padre Pio on October 28, 1957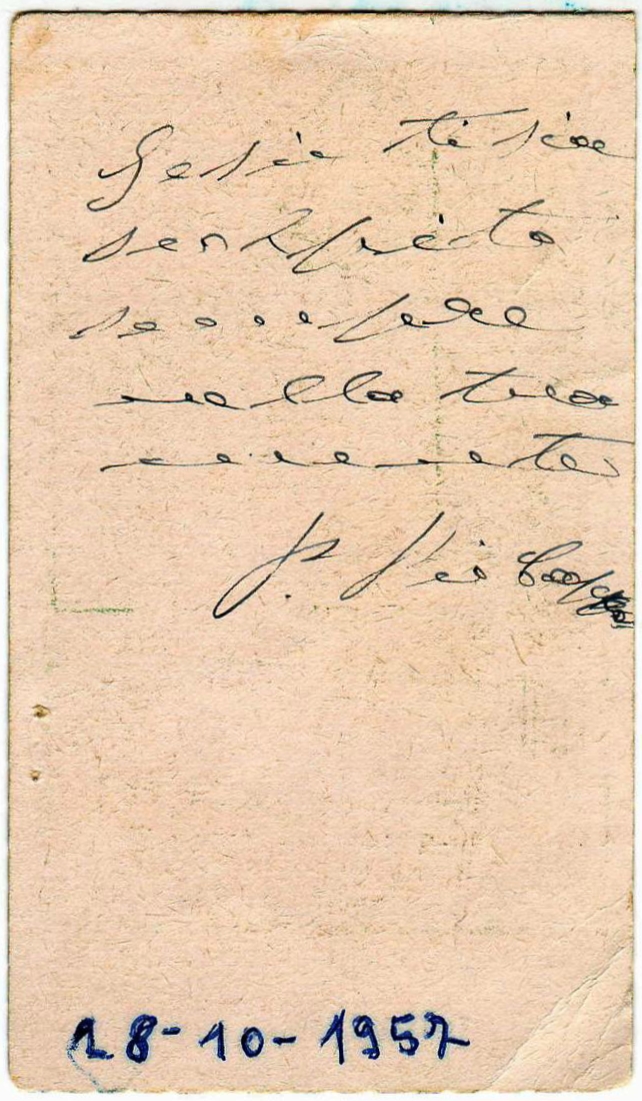 "Gesù ti sia scolpito sempre nella tua mente. P. Pio Cappuccino"
"May Jesus always be etched in your mind. P.Pio Capuchin."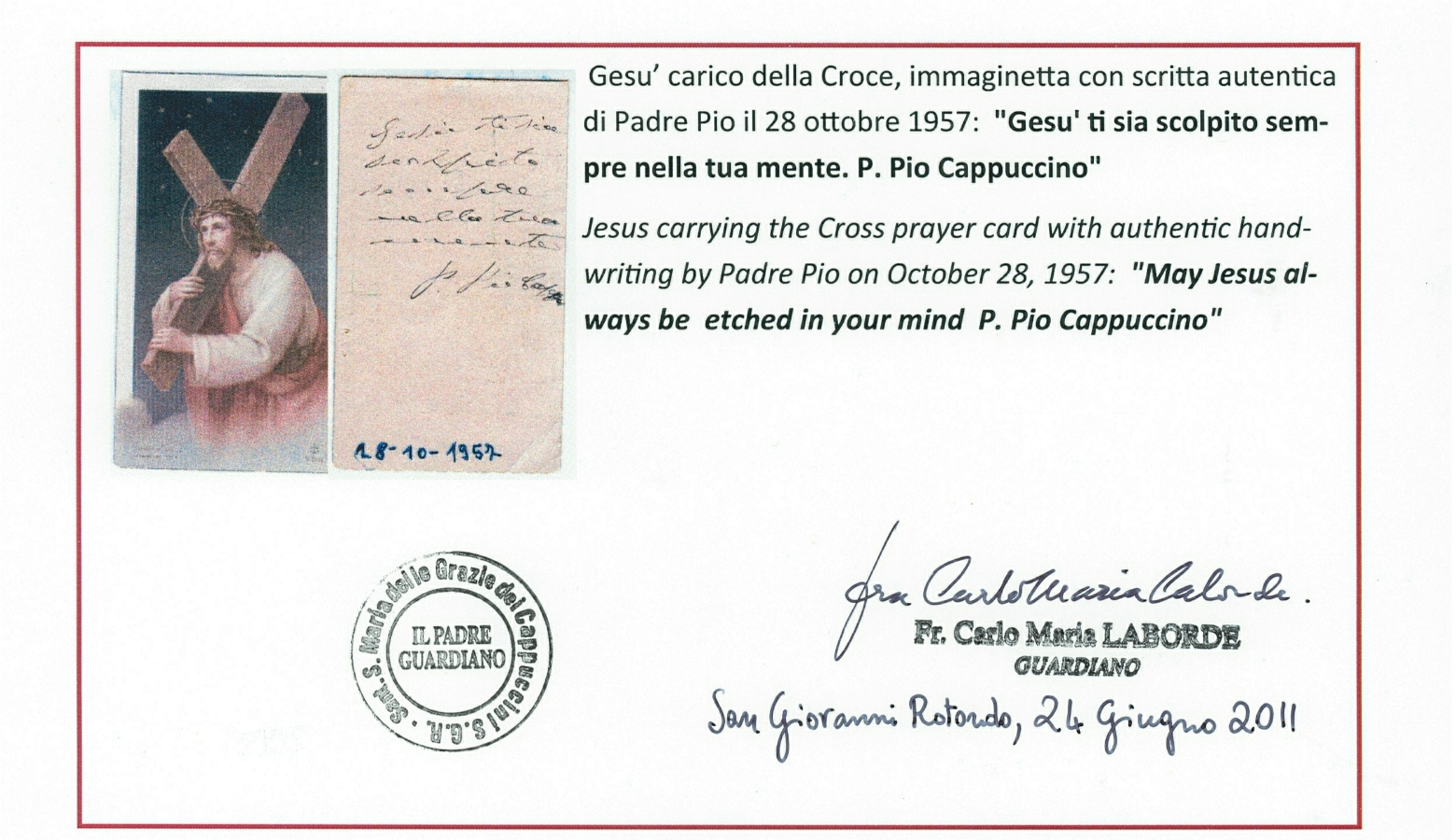 Mary Immaculate.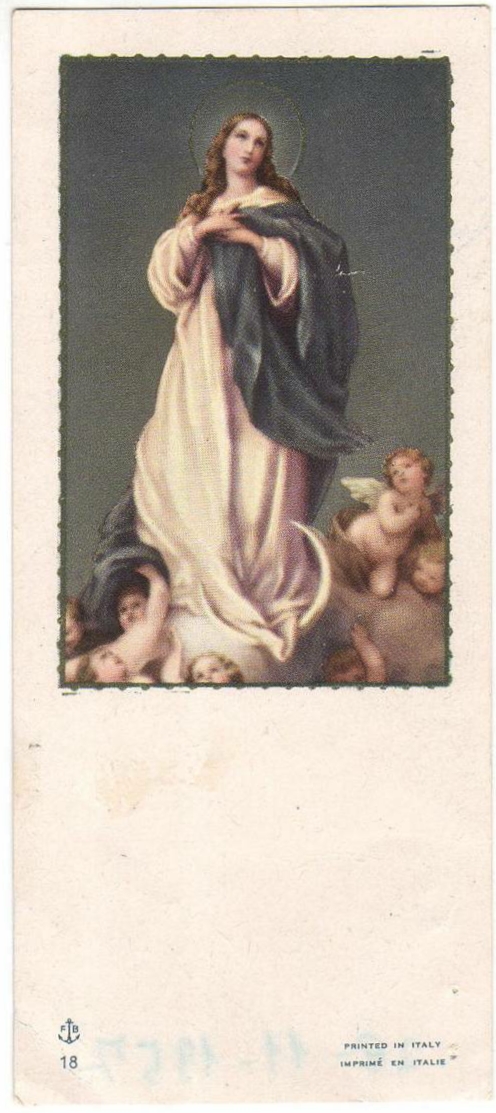 Handwriting by Padre Pio on November 28, 1956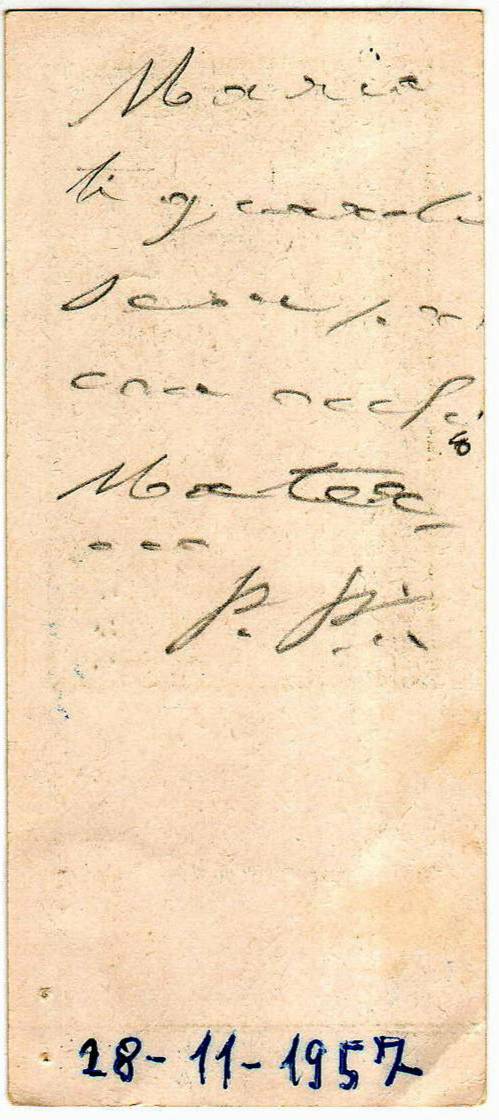 "Maria ti guardi sempre con occhio materno. P. Pio"
"May Mary gaze upon you with maternal eye. P. Pio"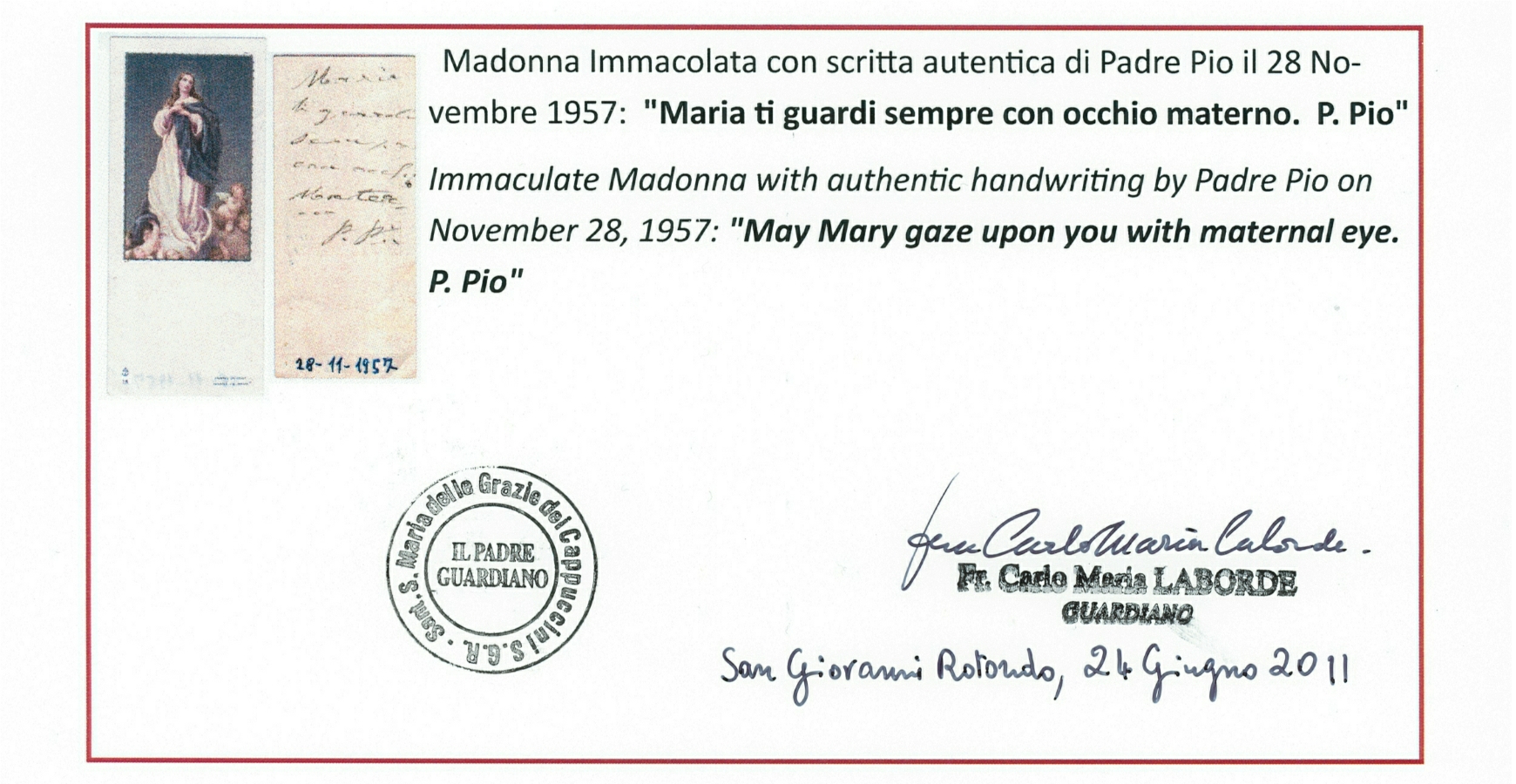 Consoled Virgin.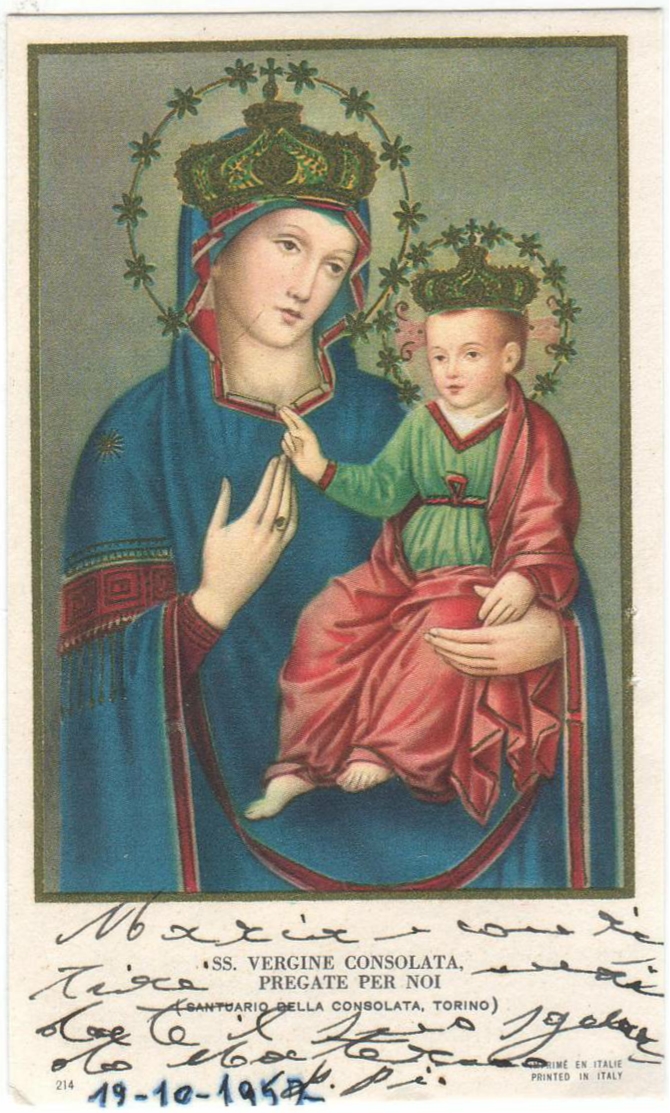 Handwriting by Padre Pio on October 19, 1957

"Maria non ritiri mai da te il suo sguardo materno. P. Pio"
"May Mary never withdraw from you her maternal sight. P. Pio"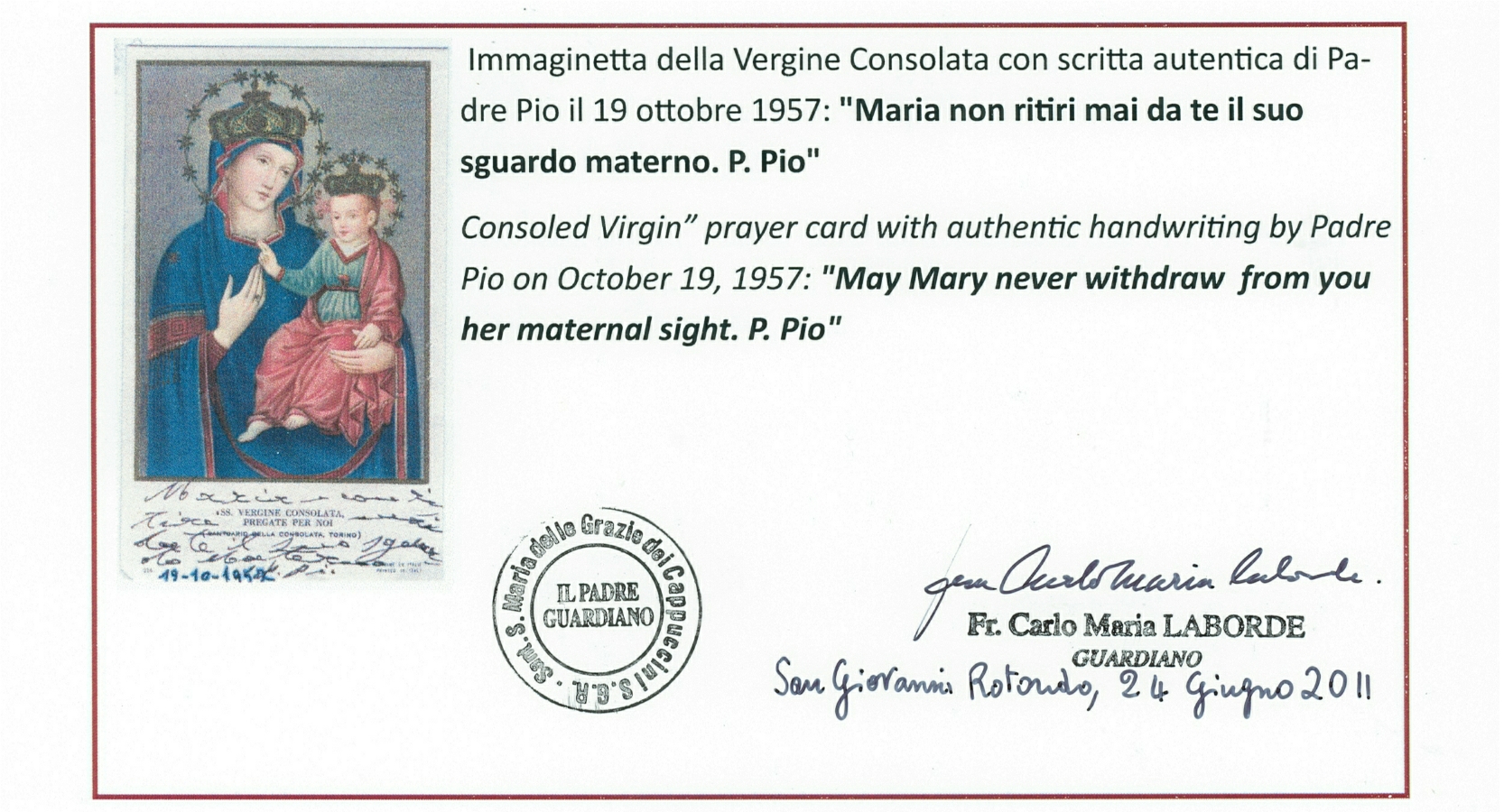 Authentication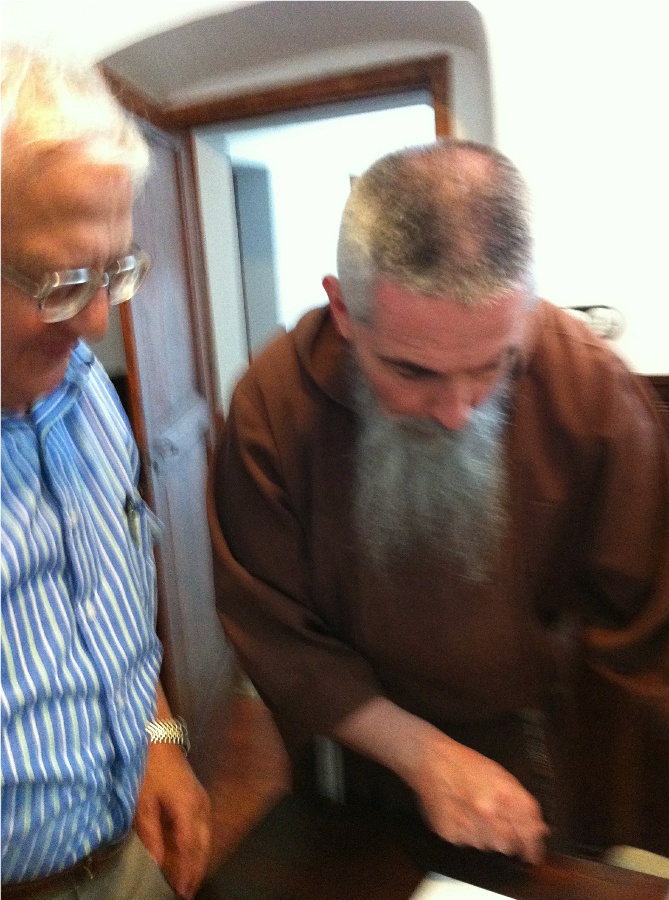 Father Labrode examining the relics on June 24, 2011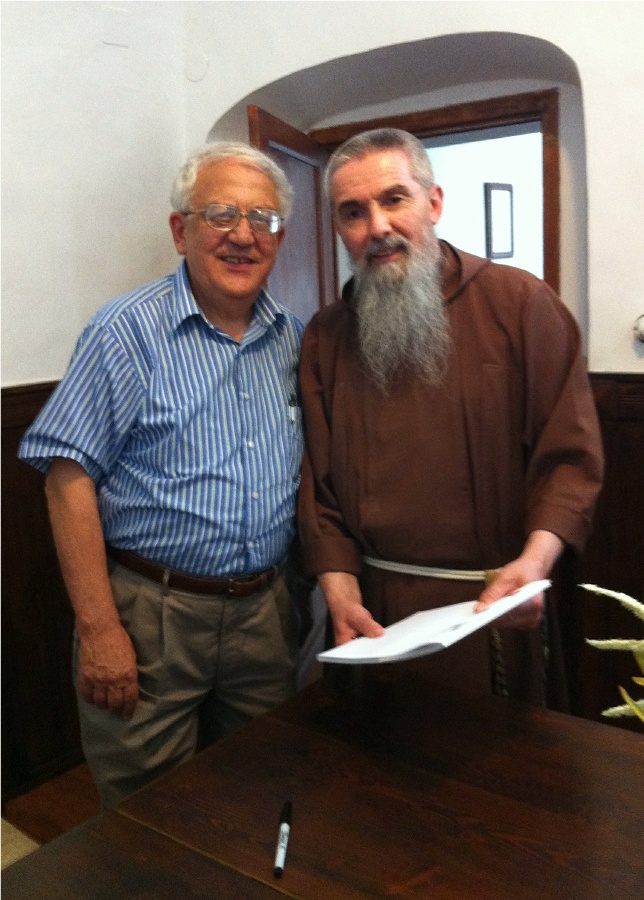 Father Labrode gives the certificates of authentication.
Next: original painting and original icon of Padre Pio
Close Encounters of the Special Kind with PADRE PIO: hallways, backyard; around the world, ecstasies; Purgatory, Guardian Angel, devil; Americans; confessional, baptisms, first Communions, weddings; Virgin Mary, Rosary; Wounds; Mass; himself, God, Jesus, Cross, Christmas, Church; spiritual children, meditation, prayer, Prayer Groups; child, novice, priest, soldier, fevers; first inquisition, Saint Mary of the Graces, Home for the Relief of Suffering (Casa Sollievo della Sofferenza); the most famous picture, children, blessings, at the ballots downtown, eating; second inquisition, last ten years, death; the Capuchin friars; entombed in first resting place, blessed, saint, exhumed, displayed, final resting place in golden crypt; mosaics of the life of Padre Pio, Jesus, Saint Francis of Assisi; fists class relics with certificates; original painting, original icon.