Close encounters of the special kind with Padre Pio's mind and soul
Padre Pio's own words about himself
"I'm a mystery to myself."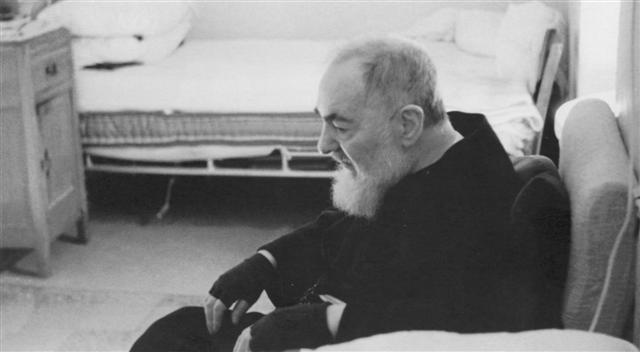 "My true mission will begin after my death."
"When I am in heaven I will be able to do more".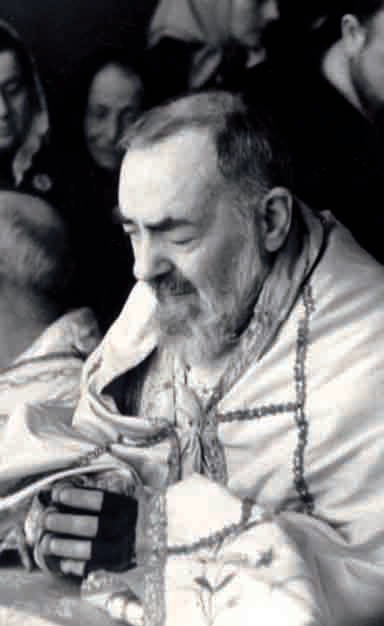 "I pray constantly"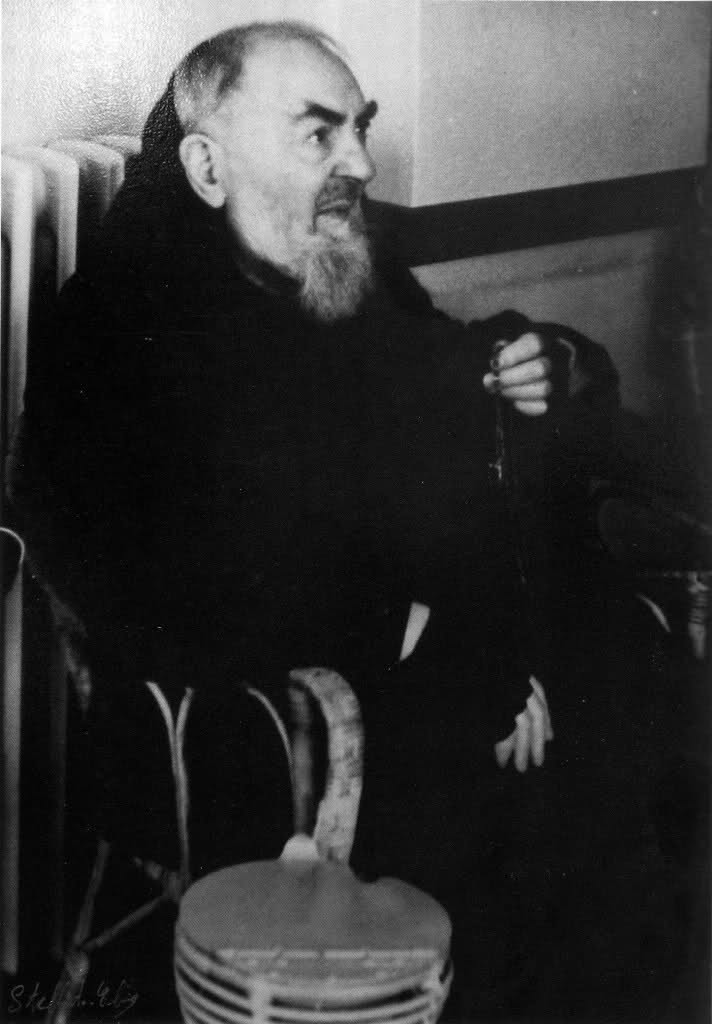 "I'm only a poor friar who prays"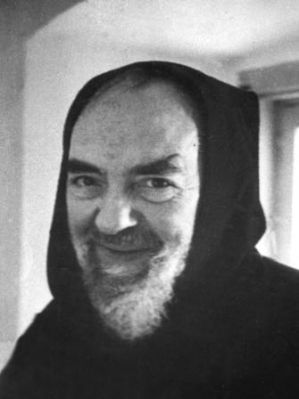 "I belong entirely to everyone."
"Everyone can say: Padre Pio is mine."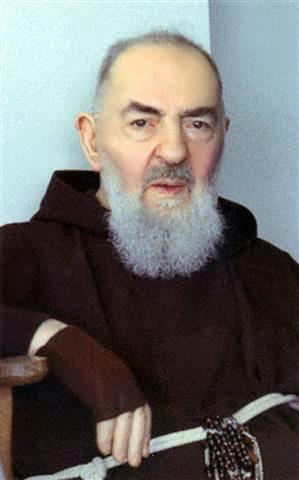 "I offer myself as a victim for everyone."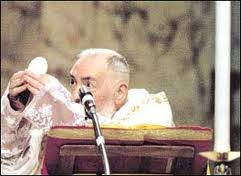 "The Mass is the complete union between Jesus and me."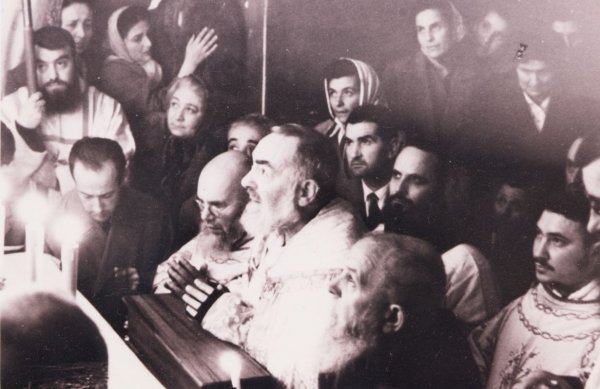 "I will never tire of praying to Jesus."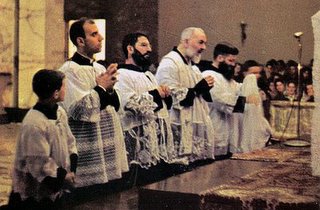 "I want to Save souls by continuous prayer."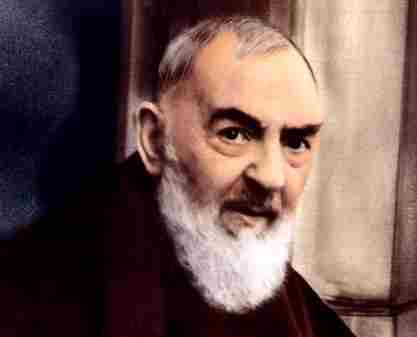 "I am all aflame although there is no fire."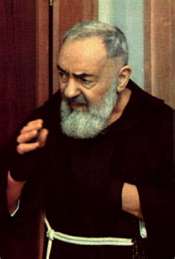 "A thousands flames consume me."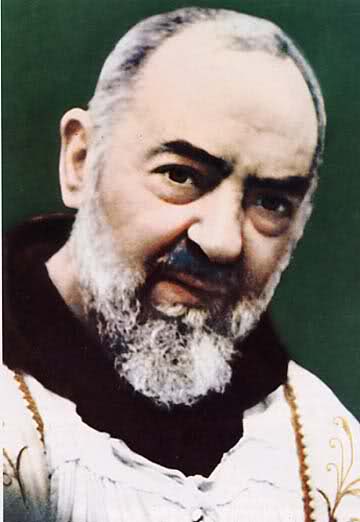 "I feel I am constantly dying, yet I'm still alive."
"The thought of revenge has never crossed my mind."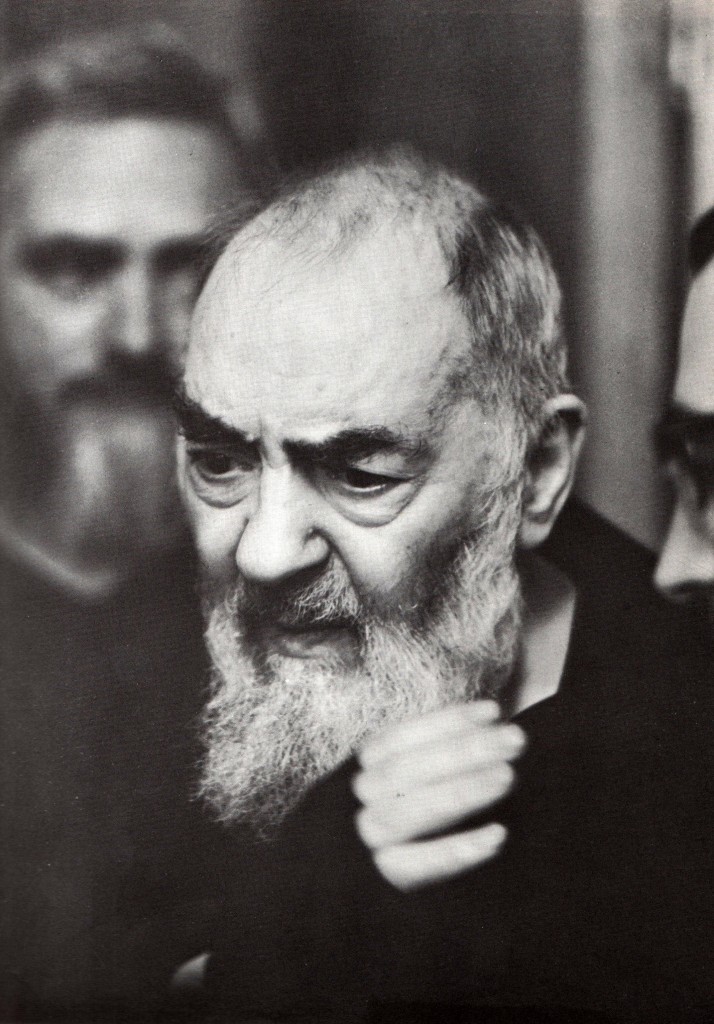 "The devil is trying to snatch me from the arms of Jesus".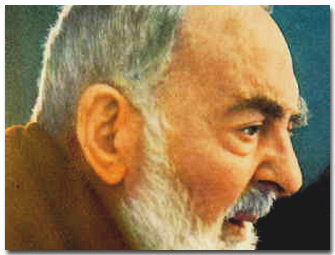 "The devil wants me for himself at all costs".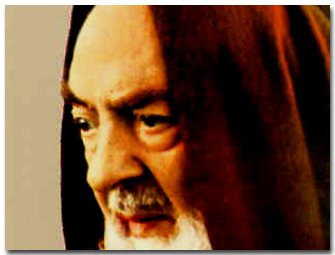 "My sufferings are pleasing."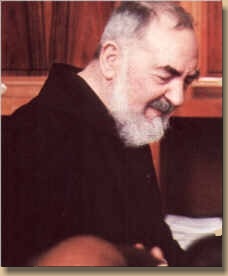 'I suffer only when I don't suffer."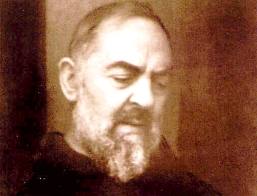 "I want to suffer, but in secret."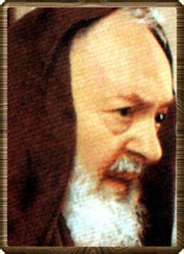 "I desire nothing else than to love and suffer"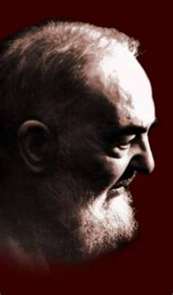 "Jesus, let me suffer, and let me die from suffering."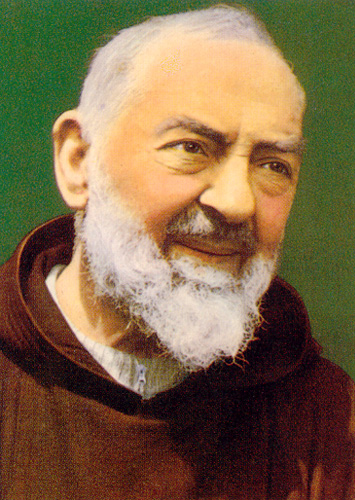 "I suffer because I cannot win all my brothers to God."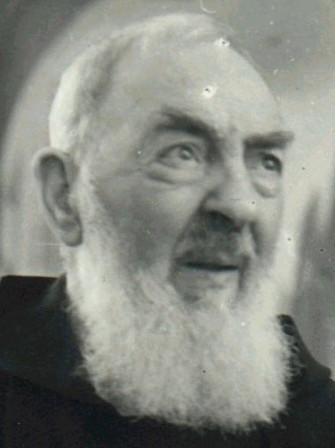 "I suffer everything that Jesus suffered in the Passion."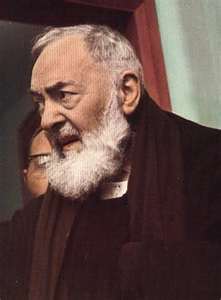 "I suffer as much as anyone who has the whole of humanity on his back."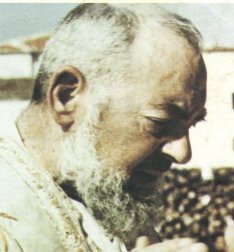 "My suffering gives glory to God, saves my brothers in exile, frees the souls from Purgatory."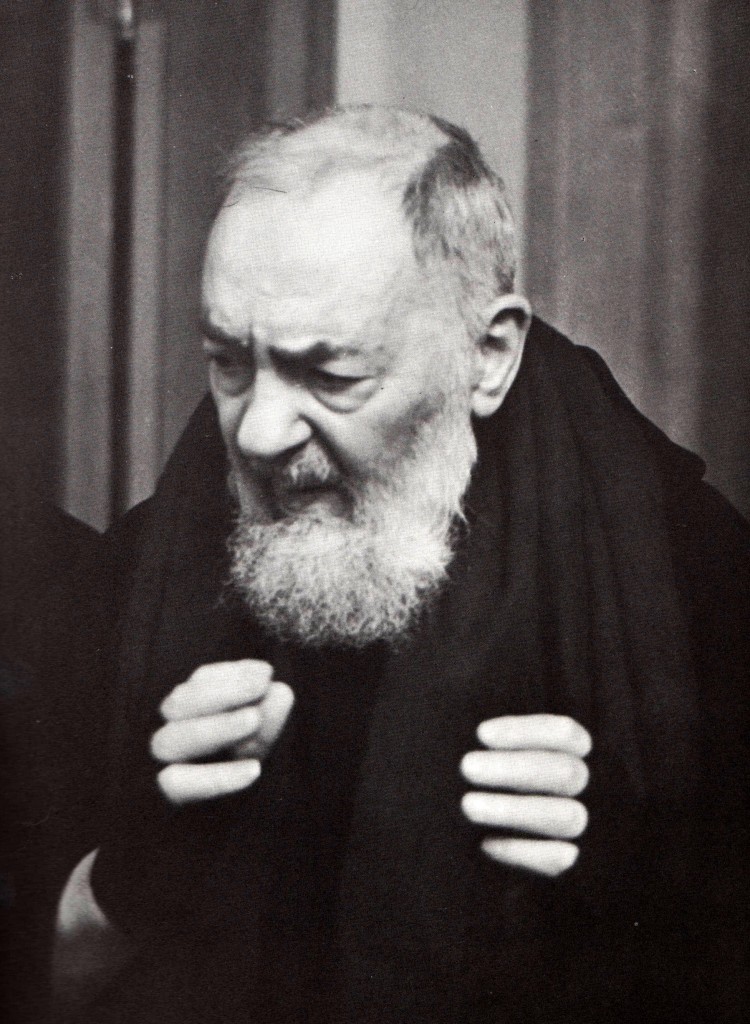 "Like St. Christopher carried the child Jesus on his shoulders across a river, on my shoulders is the whole world."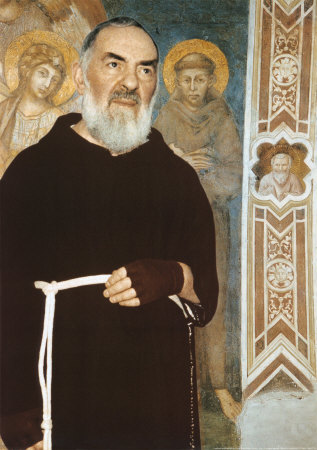 "My past, O Lord, to your mercy; my present, to your love; my future, to your providence!
"
Padre Pio's own words about God
Father, I don't believe in God. "Why you telling me? Tell Him!"
Father, I don't believe in God. "But God, my son, believes in you."
"God loves man with an infinite love"
"God tolerates us, even when we offend him."
"God enriches a humble heart with his gifts."
"God goes in search of obstinate souls."
"God is terrible justice and infinite mercy."
"God will always give us more than we deserve."
"Time spent for the glory of God is never wasted."
"Life without the love of God is worse than death."
"Always remember that God sees everything."
"My past, O Lord, to your mercy; my present, to your love; my future, to your providence!
"
"If God would take back what he gave us, we would be left with our rags."
"God is always fixed in my mind and imprinted in my heart.
"
"As long as one has God as a foundation everything else falls into place."
"When God punishes He does so with reverence, almost fearing to hurt.
"
"Confidence and fear of God go together like two sister."
"Let's look beyond the hand of men, to find the hand of God."
"Honor and praise the Creator and not the creature."
"Endure tribulation, sickness and pain for the love of God."
"One day the slightest transgression of God's law will be considered."
"Before going to sleep examine your conscience and turn your thoughts to God."
"The Lord allows us to discover who we are a little at a time."
'Don't wait for Tabor to see God: you already see Him on the Sinai and on the Calvary."
"The sinner who is ashamed of his bad deeds is closer to God than the just ashamed of acting well."
God's fear (Timor di Dio)
"Implore the Lord to increase two things in us: love and fear."
"As long as you are afraid to fall, you will not sin.
You should be afraid when you are not afraid anymore."
On Ash Wednesday Padre Pio received the Ashes with great devotion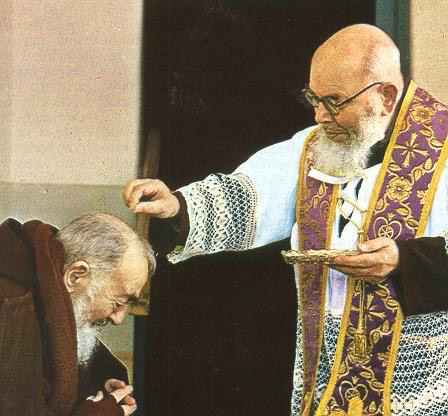 Padre Pio on Ash Wednesday
Jesus
Padre Pio reached the highest possible fusion for a human being with the God Man Jesus, from the Garden to the Cross.
No other priest, besides Padre Pio, has had such complete uncompromising unwavering
unconditional unrestricted unlimited unselfishness from the cradle to the grave.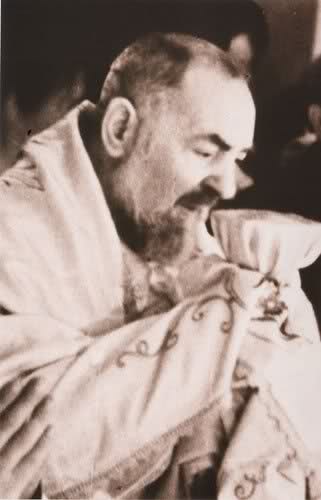 Padre Pio carrying the ciborium containing consecrated Hosts for the adoration of the Blessed Sacrament on Good Maundy Thursday
"Without Jesus you can do nothing."
"I live for Jesus Christ, I live for his glory, I live to serve him, I live to love him.
"
"In Jesus everything has an answer. Without him - only a big void."
Monstrance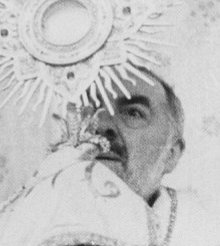 Padre Pio holding the monstrance with the consecrated Eucharistic Host
Way of the Cross
"If He asks us to carry the Cross, the Lord will help and give strength."
"Jesus doesn't ask you to carry the heavy Cross with Him; just a small piece."
"Bearing physical and spiritual ailments is the worthiest gift we can offer to Jesus."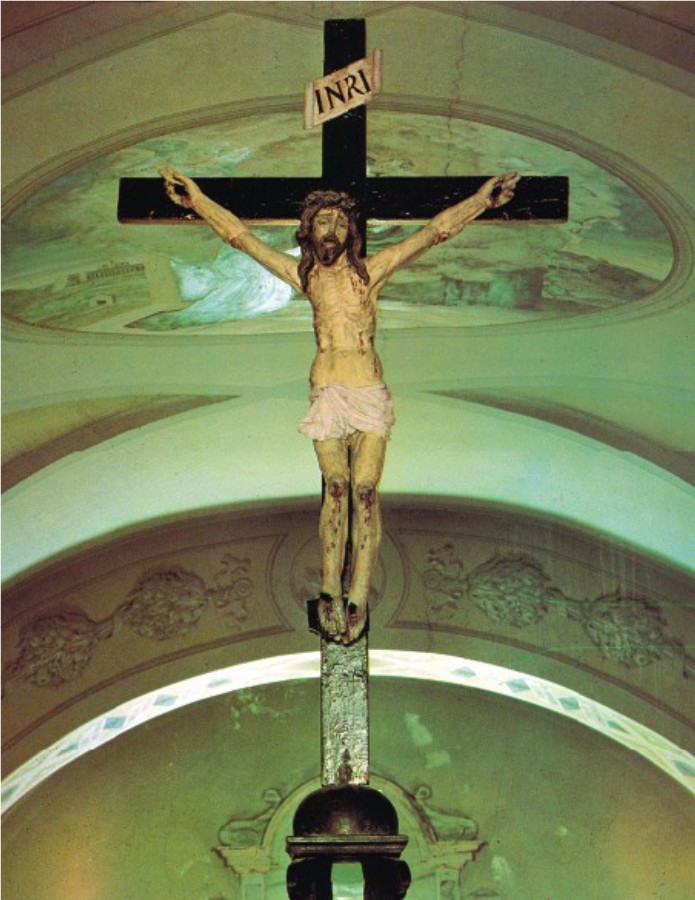 The Crucifix that gave the wound to Padre Pio
Calvary
"Life is a Calvary, but we must climb it cheerfully."
"From the Calvary we go to the Tabor."
"On the Calvary Jesus redeemed us, and salvation must be accomplished there."
Cross
"The foot of the Cross is the gate to Heaven."
"Everybody has his own Cross. We must be like the good thief and not like the bad one."
"As the body needs nourishment, the soul needs the Cross to purify and detach."
On Good Friday's celebration, wearing the alb and a black stole, he used to venerate and carry the Cross, and kiss the Crucifix.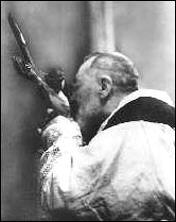 Padre Pio and Jesus Crucified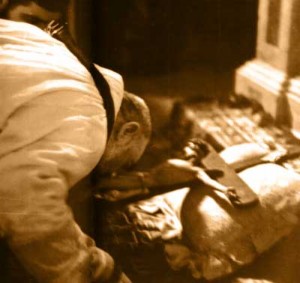 Padre Pio on Good Friday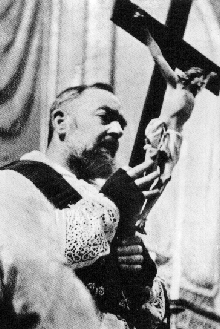 Padre Pio holding the Cross on Good Friday.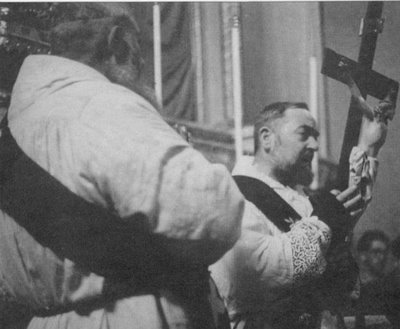 Padre Pio holding the Cross
Padre Pio with Padre Agostino reading prayers from the liturgy of Good Friday.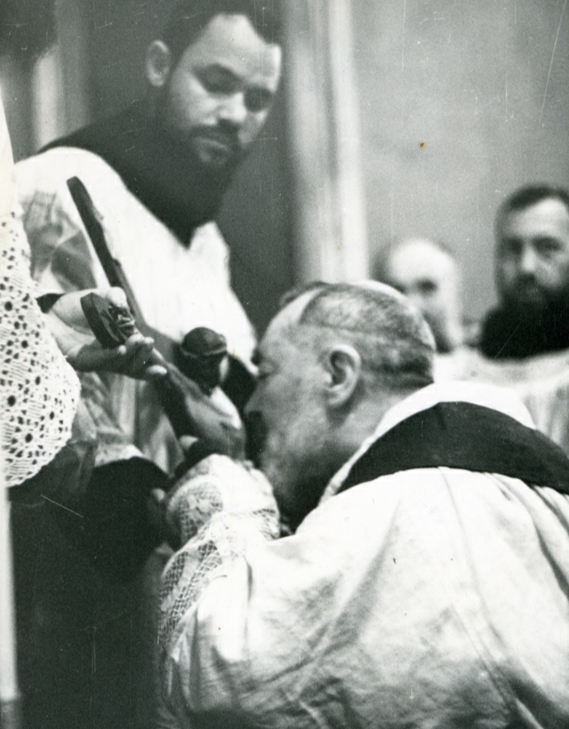 Padre Pio kissing the Crucifix on Good Friday.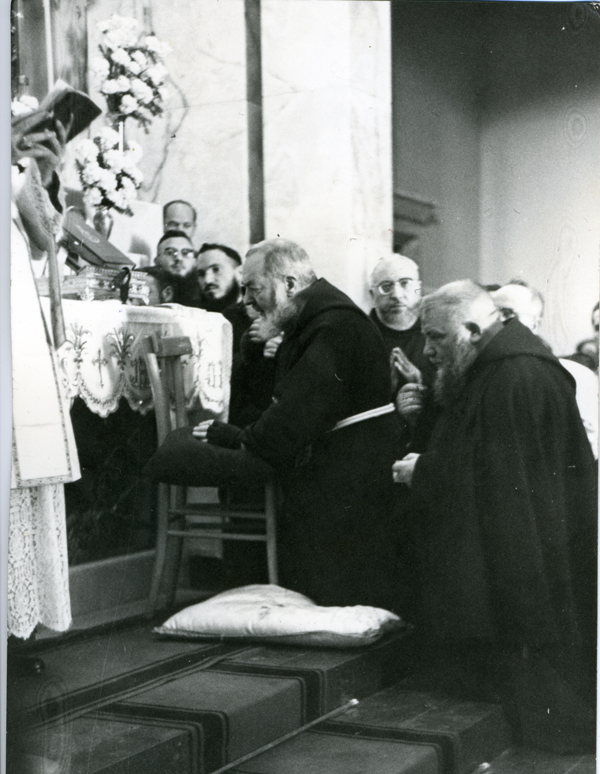 Receiving a blessing after Mass. Liturgy color white. Missal folded to the end.
Baby Jesus
"In the end, the gamble of our life is all in this Child."
On Christmas night celebration, at the end of the Mass, Padre Pio used to carry a little Baby Jesus statue, and put it in the Nativity scene.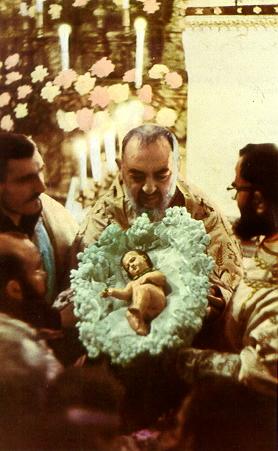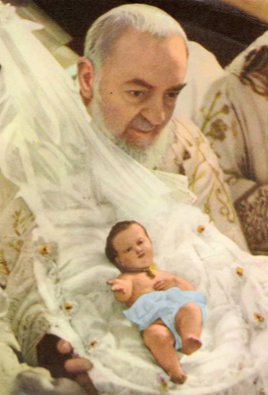 Padre Pio holding a pillow with Baby Jesus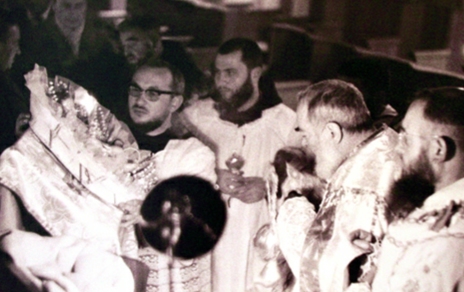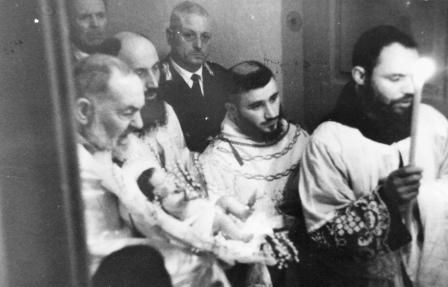 Padre Pio has special emotions in celebrating Christmas night.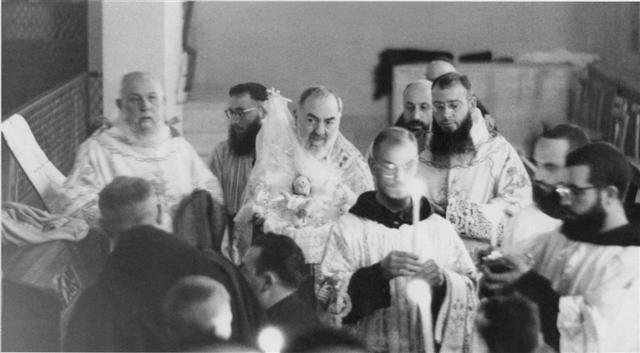 Padre Pio carrying in procession Baby Jesus.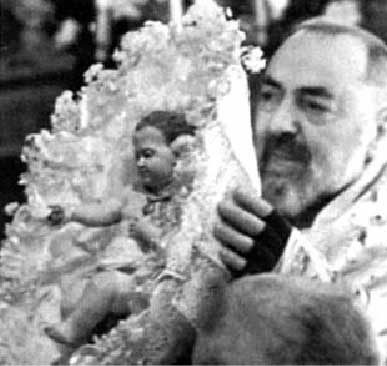 Padre Pio showing Baby Jesus.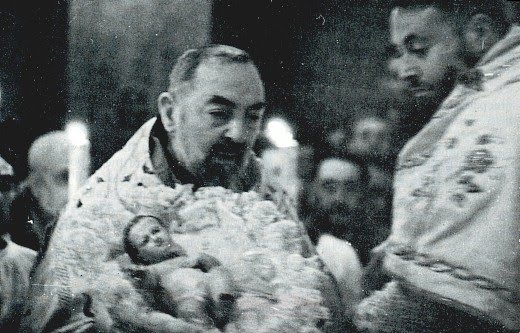 Padre Pio about to depose Baby Jesus in the manger.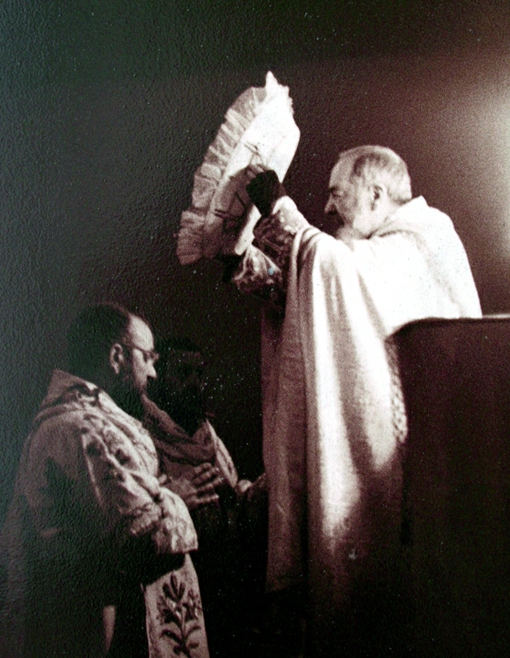 Padre Pio blessing the faithful with Baby Jesus.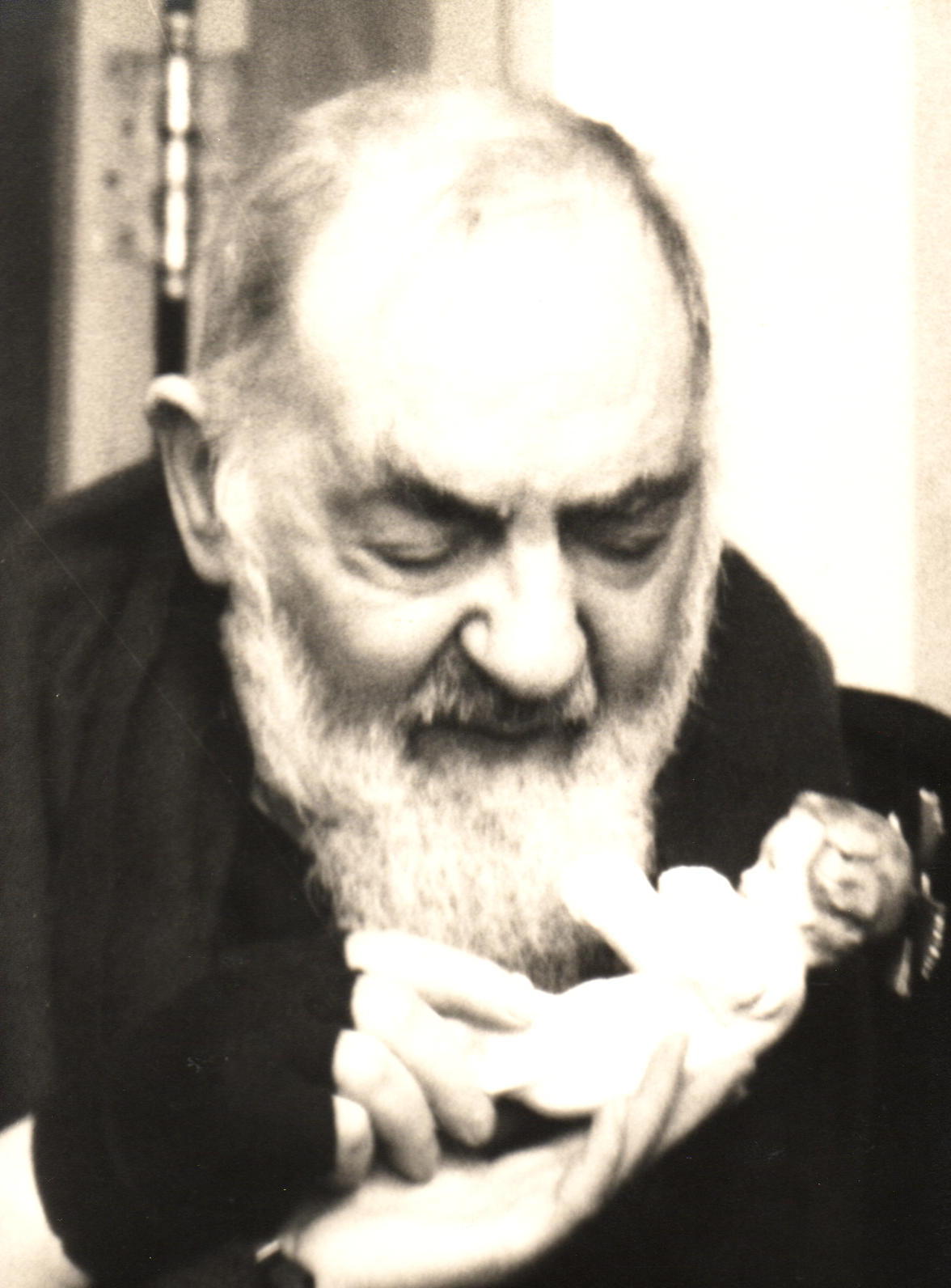 Padre Pio holding a statue of little Baby Jesus.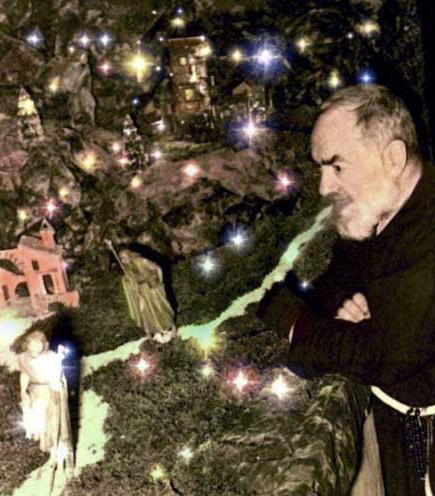 Padre Pio visiting the Presepio (Nativity scene with houses, people, lights, animations).
Padre Pio, helped by Fra' Giovanni, carrying the Baby Jesus.
Communion
"How could I live failing even for a single morning to receive Jesus in the Communion?"
Tabernacle
"When I am no longer here, go before the tabernacle. In Jesus you will find me, also".
Holy Spirit
"Let's pray the Paraclete Spirit that he enlightens us about three thing:
understanding the importance of being Christians,
understanding the immensity of the eternal heritage to which we are destined,
understanding the extreme greatness of the miracle of 'justification'.
Padre Pio favored blessing anything from a meal to a new car, a building, new crops, religious objects,
often using holy water, and praying
in the name of the Father, the Son, and the holy Spirit.
Suffering
"Suffering is expiation."
"Suffering is necessary for our souls."
"In suffering we give something to God, witch we cannot do in Paradise."
"He who begins to love must be ready to suffer."
"Suffering is a most powerful lever to raise man up again."
"Glory will be ours on condition that we endure suffering."
"The Angels are jealous of us because they can't suffer."
"Bearing physical and spiritual ailments is the worthiest gift we can offer to Jesus."
"Suffering is a sure sign that God loves us."
"Accepting the sufferings we will perfect and sanctify us."
"I want to live and die in the (Roman Catholic) Church."
"The Church is always a mother even when it strikes."
"The Church is our most tender mother."
"Thank God for being a child of the Church."
"Only the Catholic Church possesses Jesus in the Blessed Sacrament."
"The first person I remember in prayer is the Pope, Christ's Vicar."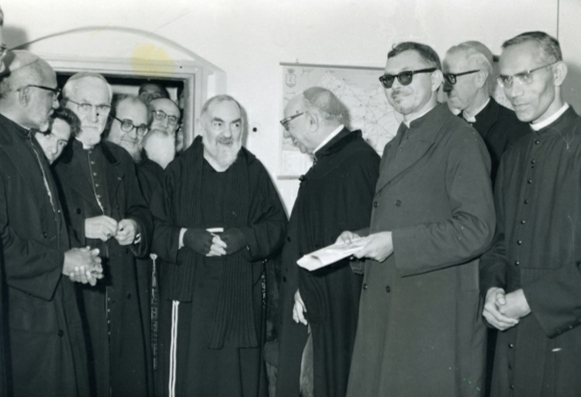 Padre Pio with visiting bishops at the time of the Ecumenical Council in 1964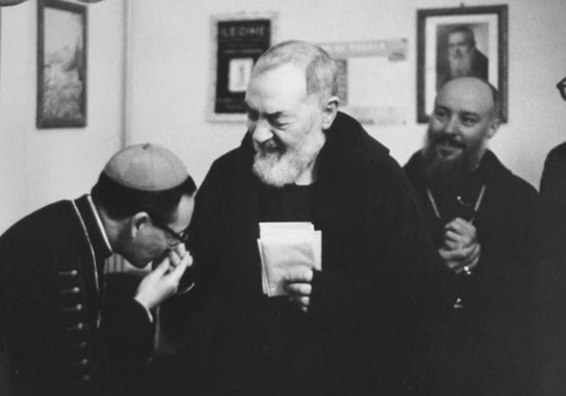 Padre Pio smiling with two roman catholic bishops.
Next: Padre Pio and his Spiritual Children. His words on meditation and prayer
Close Encounters of the Special Kind with PADRE PIO: hallways, backyard; around the world, ecstasies; Purgatory, Guardian Angel, devil; Americans; confessional, baptisms, first Communions, weddings; Virgin Mary, Rosary; Wounds; Mass; himself, God, Jesus, Cross, Christmas, Church; spiritual children, meditation, prayer, Prayer Groups; child, novice, priest, soldier, fevers; first inquisition, Saint Mary of the Graces, Home for the Relief of Suffering (Casa Sollievo della Sofferenza); the most famous picture, children, blessings, at the ballots downtown, eating; second inquisition, last ten years, death; the Capuchin friars; entombed in first resting place, blessed, saint, exhumed, displayed, final resting place in golden crypt; mosaics of the life of Padre Pio, Jesus, Saint Francis of Assisi; fists class relics with certificates; original painting, original icon.