After his death in 1968, Padre Pio's body was placed to rest In the crypt of the Sanctuary of St. Mary of Graces.
The body was exhumed in 2008, and displayed for the veneration of the faithful until 2009.
In 2010 the body was transferred in the new San Pio church, and placed to rest in the golden crypt.
Padre Pio was declared Blessed in 1999, and Saint in 2002
First Resting Place
Padre Pio's body was placed in the crypt of Saint Mary of Graces.
He had expressed a whish that couldn't be fulfilled:
"When I die I wish to be buried underground, because I am a worm, a great sinner."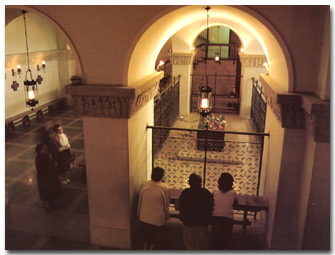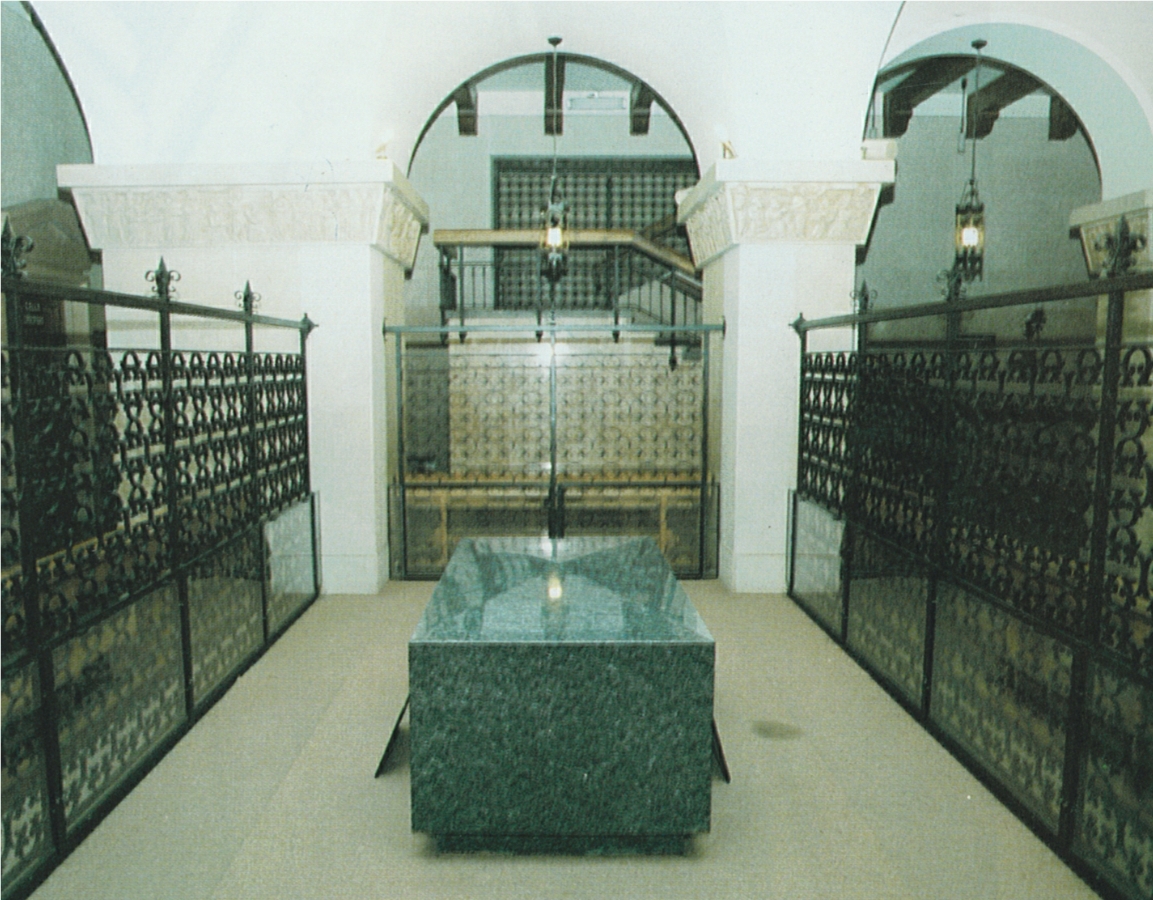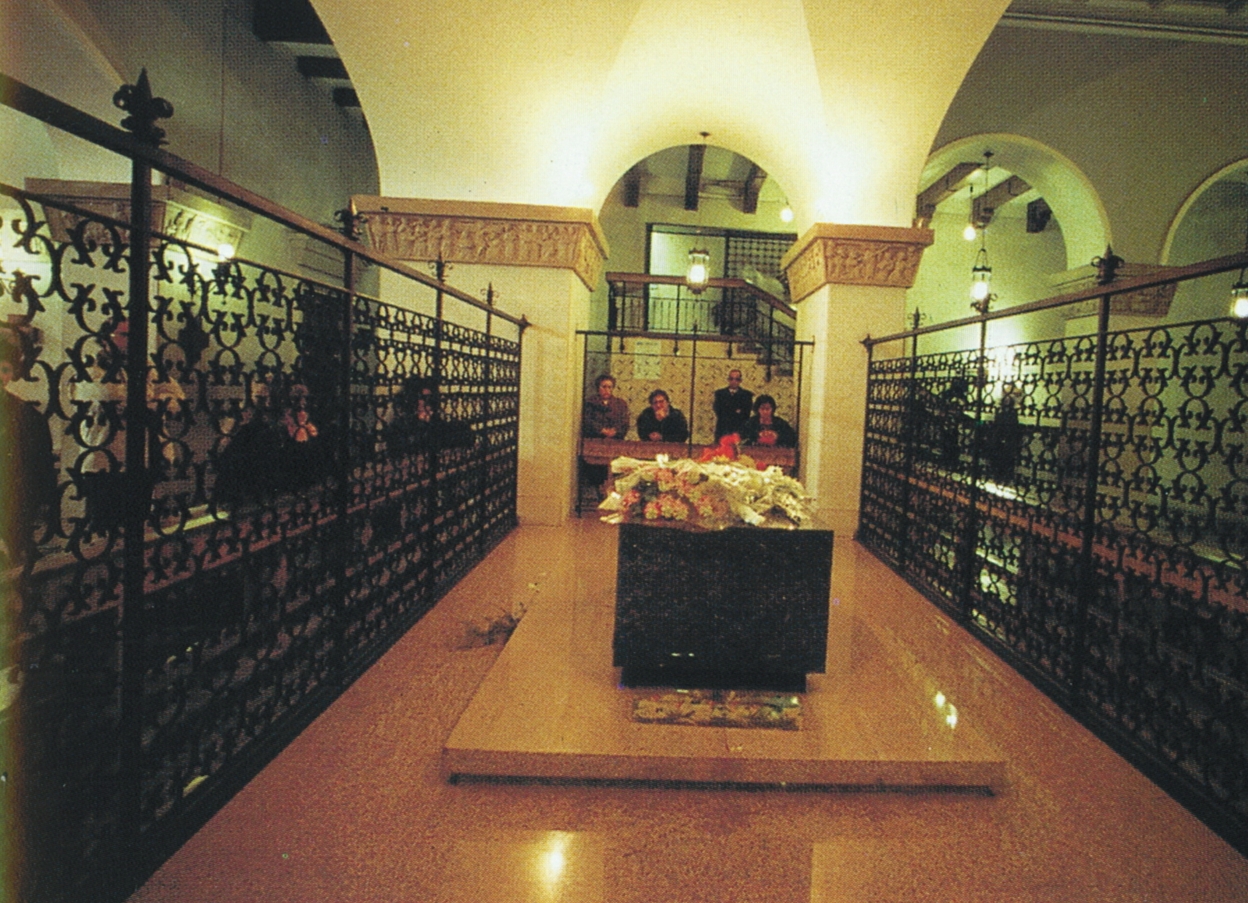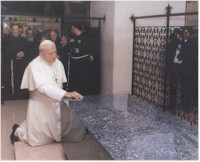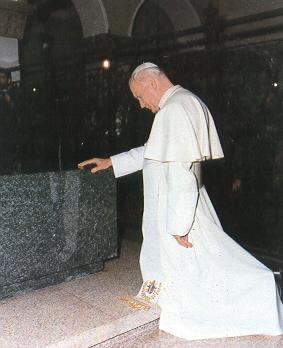 Pope John Paul II visited Padre Pio's grave on May 27, 1987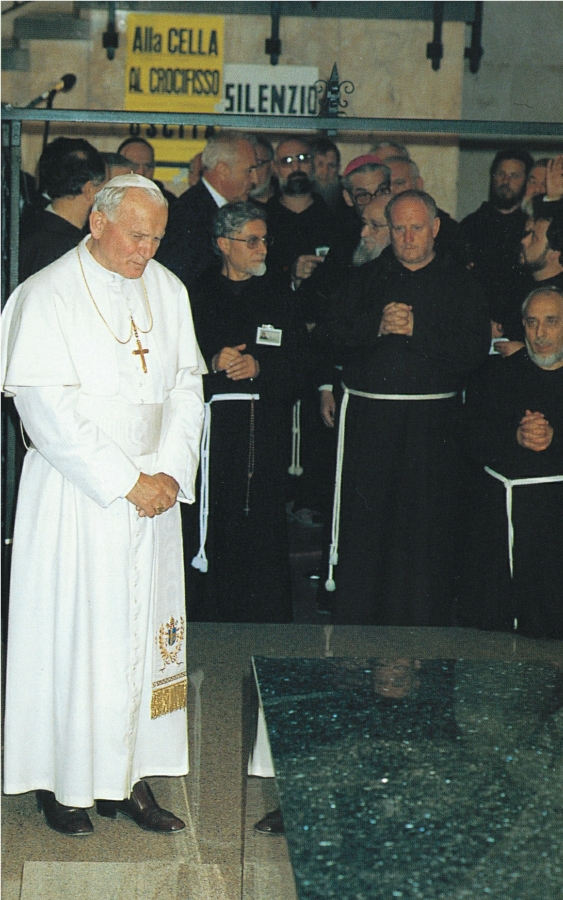 Padre Pio Was Proclaimed Blessed on May 2, 1999.
He was proclaimed a saint on June 16, 2002.
The ceremonies were presided by the pope John Paul II, in Saint Peter's square.
Hundreds of thousands of pilgrims were present.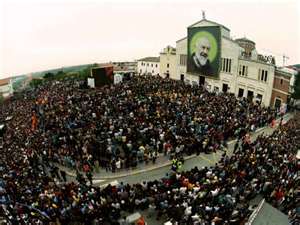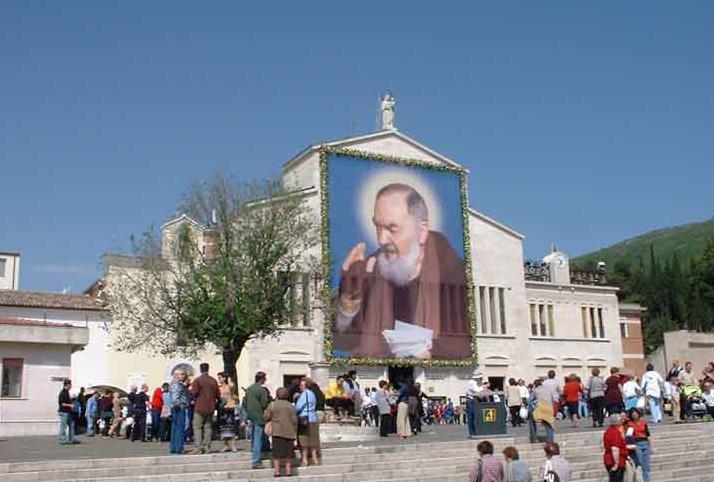 Padre Pio's church in San Giovanni Rotondo the day of the ceremony: Blessed. Canonized Saint.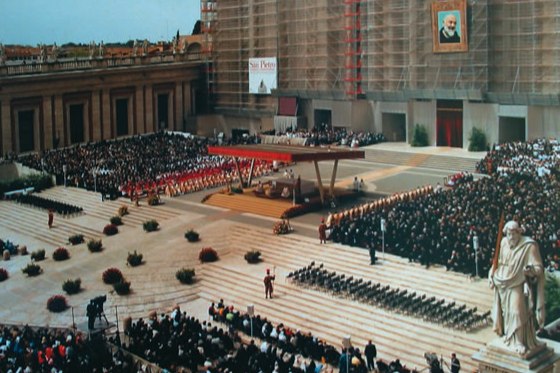 Pictures from St. Peter's Square: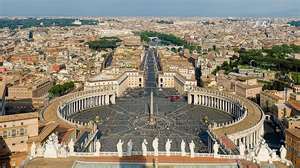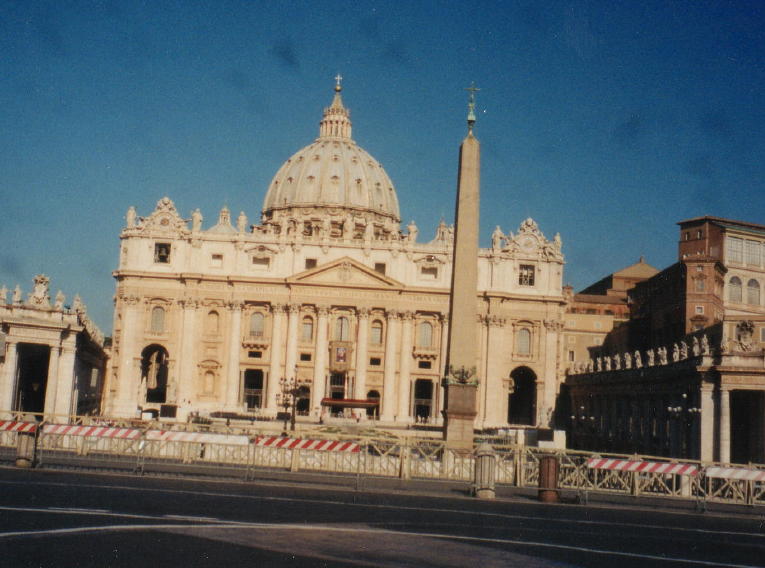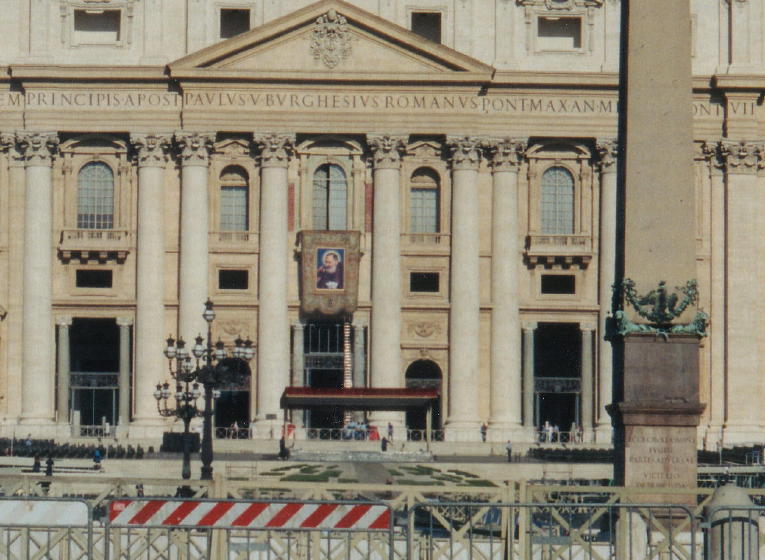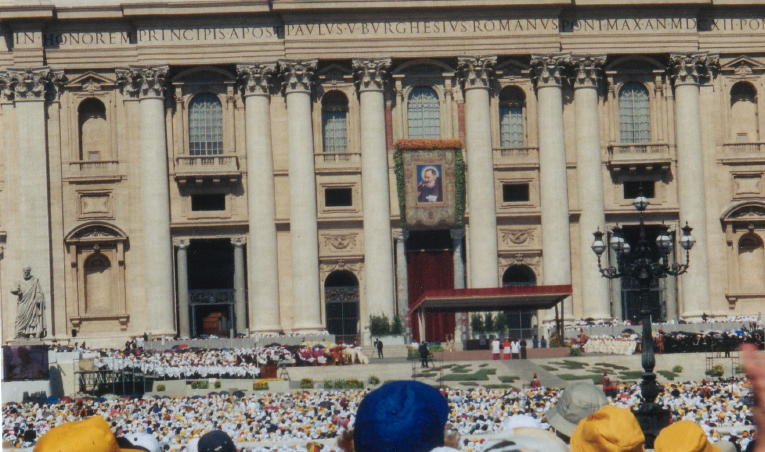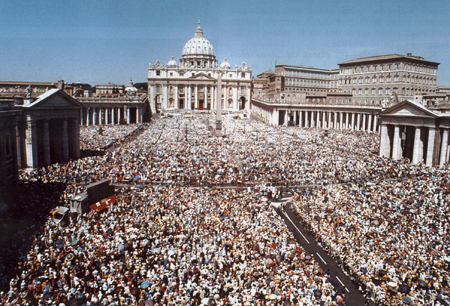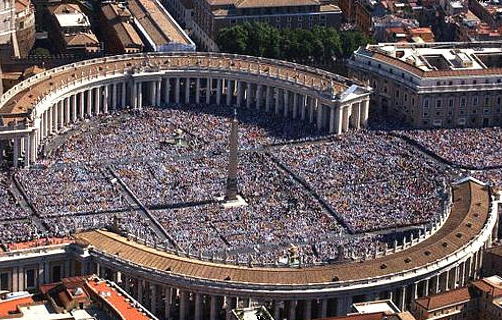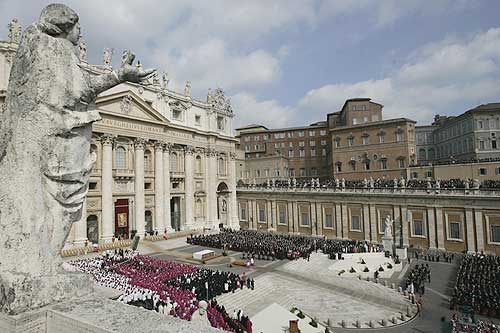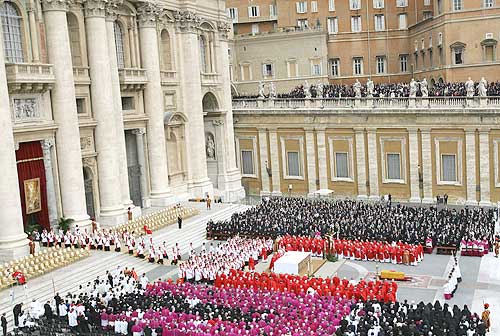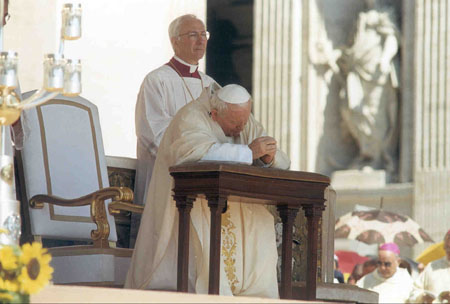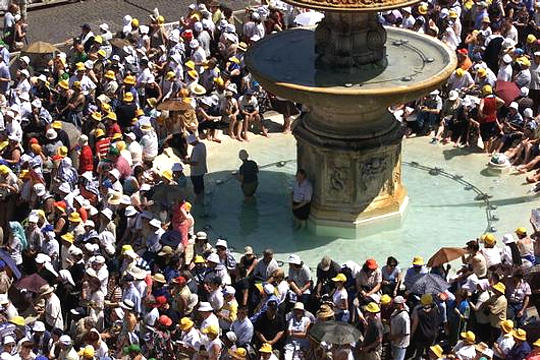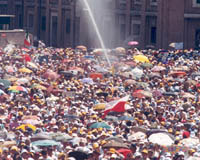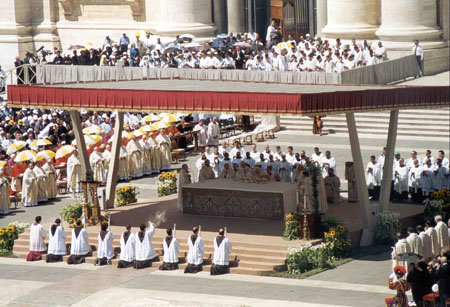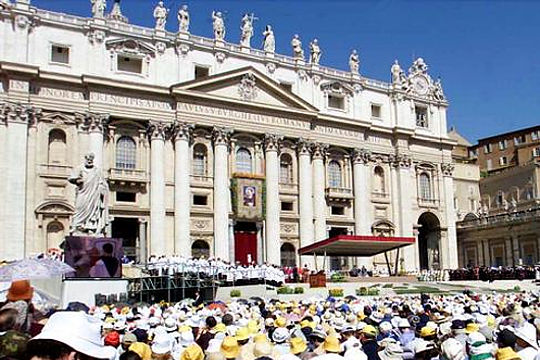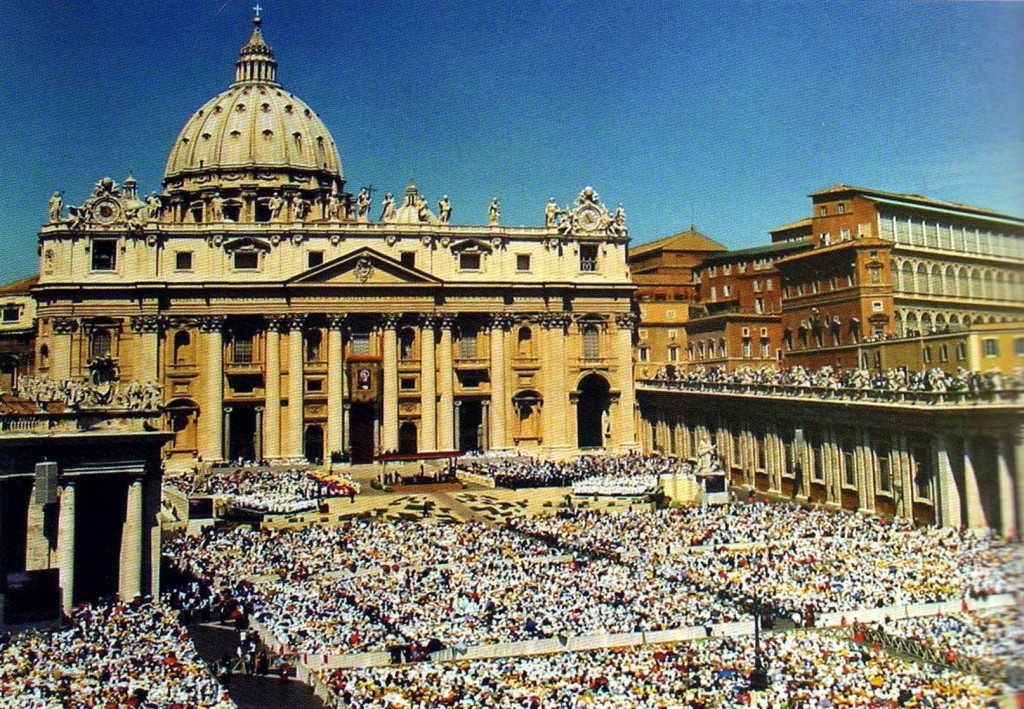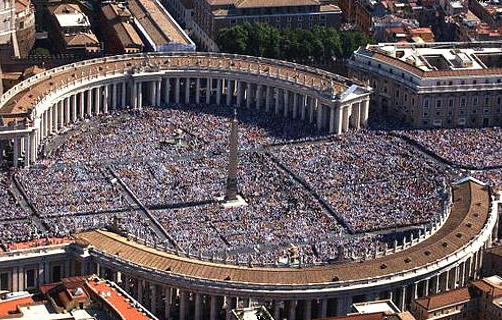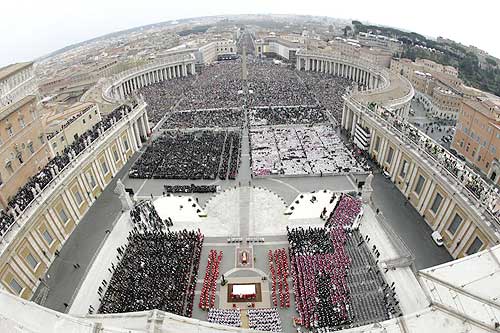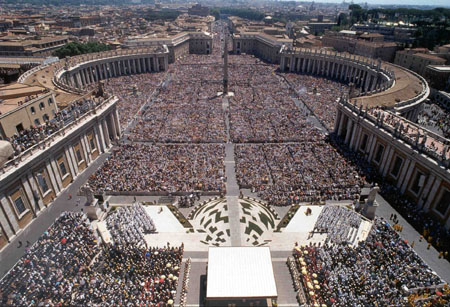 In 2008-10 Padre Pio's body was exhumed, displayed, and placed in the new golden crypt.
On February 28, 2008 the monolithic block of green marble was removed.
On March 2, 2008 archbishop Mons. D'Ambrosio controlled the integrity of the seals put on September 26, 1968, and broke and removed them.
Than the triple casket (metal, wood and zinc) was opened. Saint Pio was exhumed 40 years after his death.
On April 24, 2008 the body was put on display at the Shrine of Holy Mary of Grace.
800,000 pilgrims worldwide made reservations to view the body but only 7,200 people a day were able to file past the crystal coffin.
Officials extended the display through September, 2009.
On June 21, 2009 pope Benedict XVI visited the shrine and blessed the new church with the golden crypt.
On September 24, 2009 at the closing of the public viewing, Padre Pio's body was enclosed in a silver casket-reliquary.
On April 19, 2010, Padre Pio's body was moved to the golden mosaic crypt of the new San Padre Pio church, built by architect Renzo Piano.
This new crypt of outstanding mosaics can only be described by 'seeing it.' Picture are included on next pages.
Exhumation: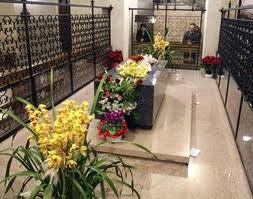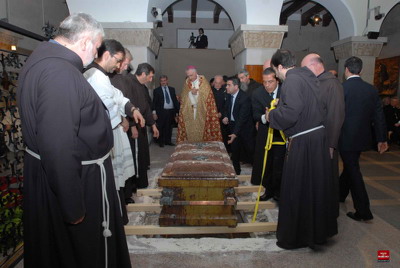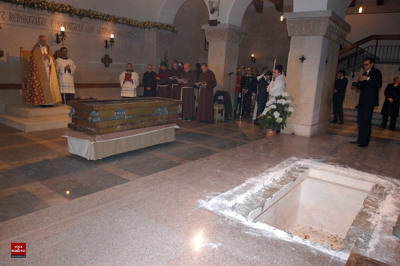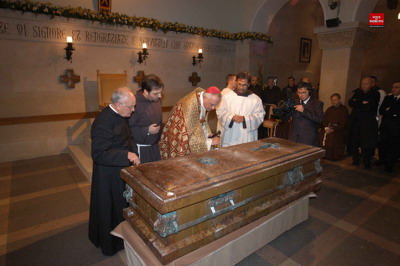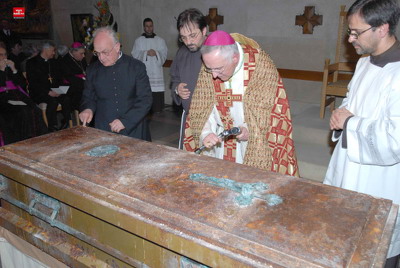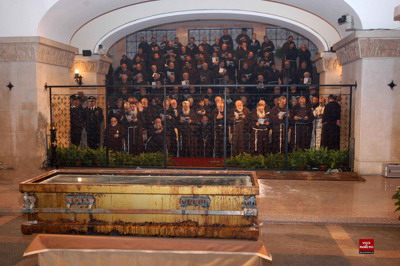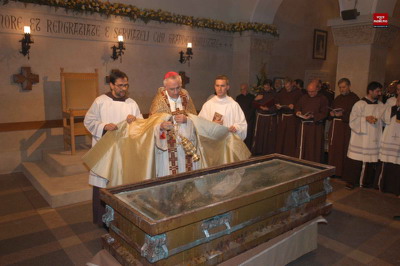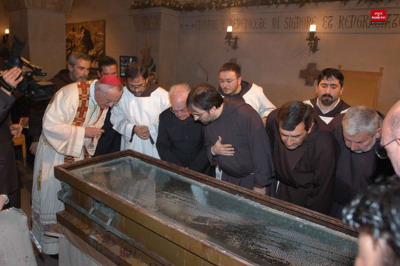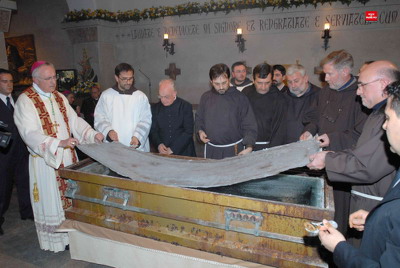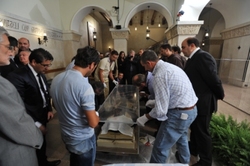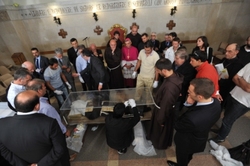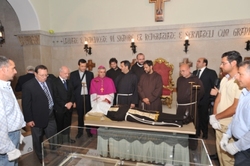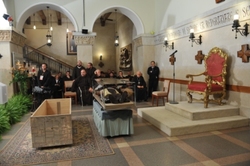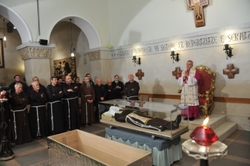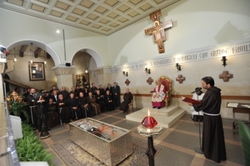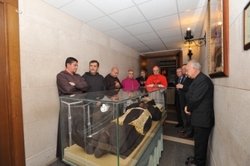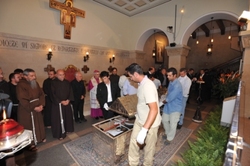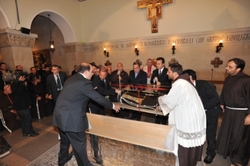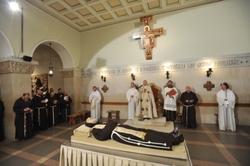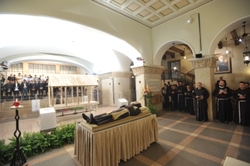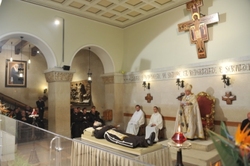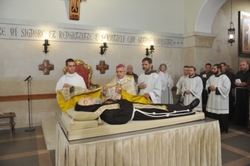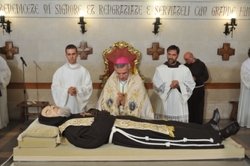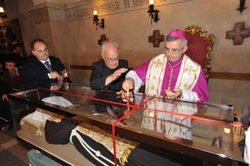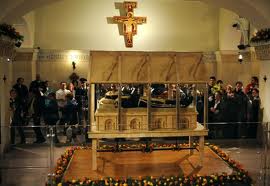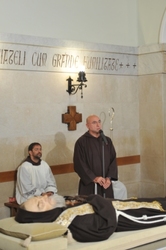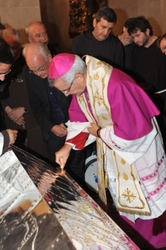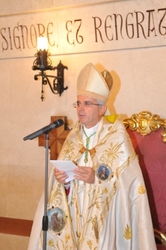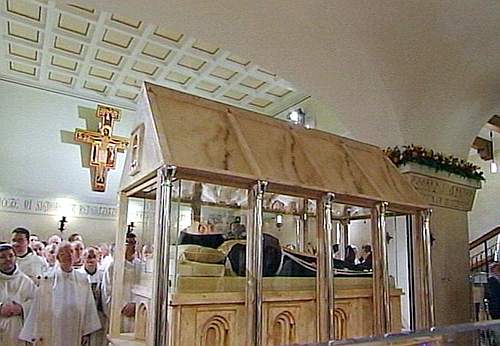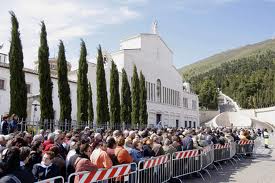 Visit of Benedict XVI: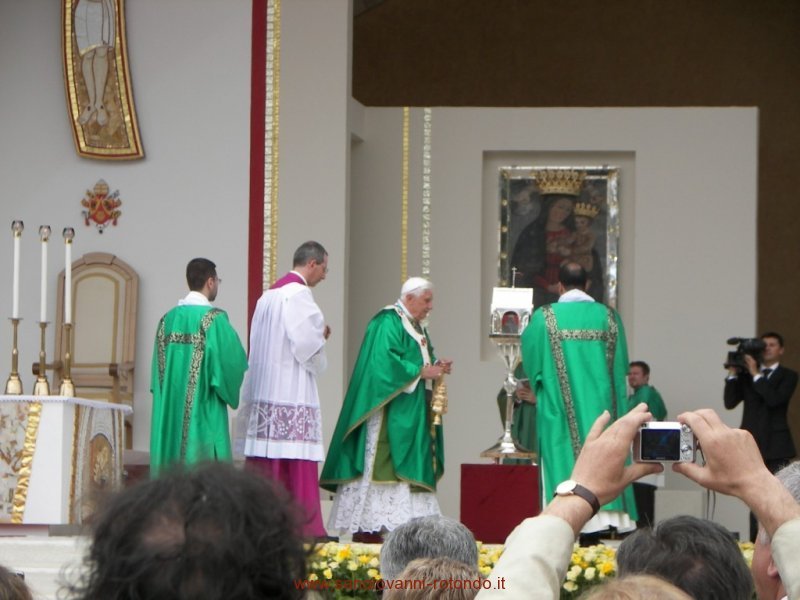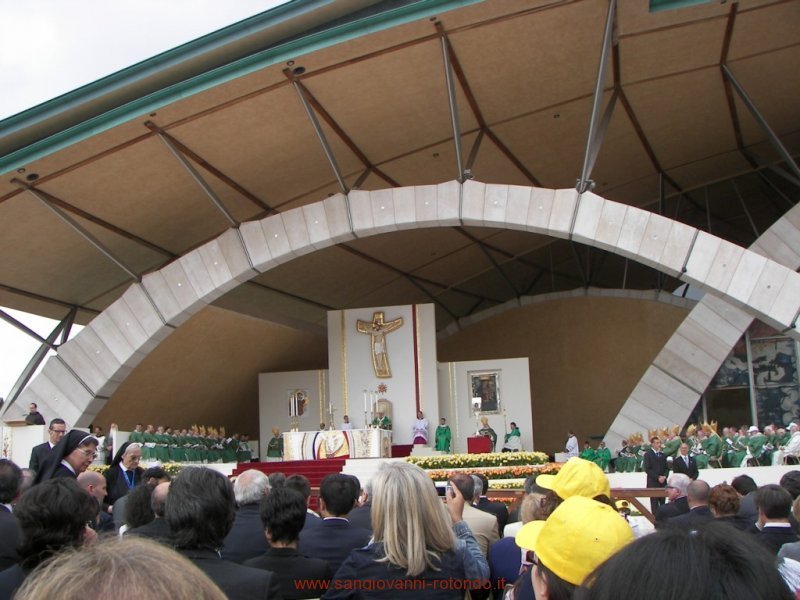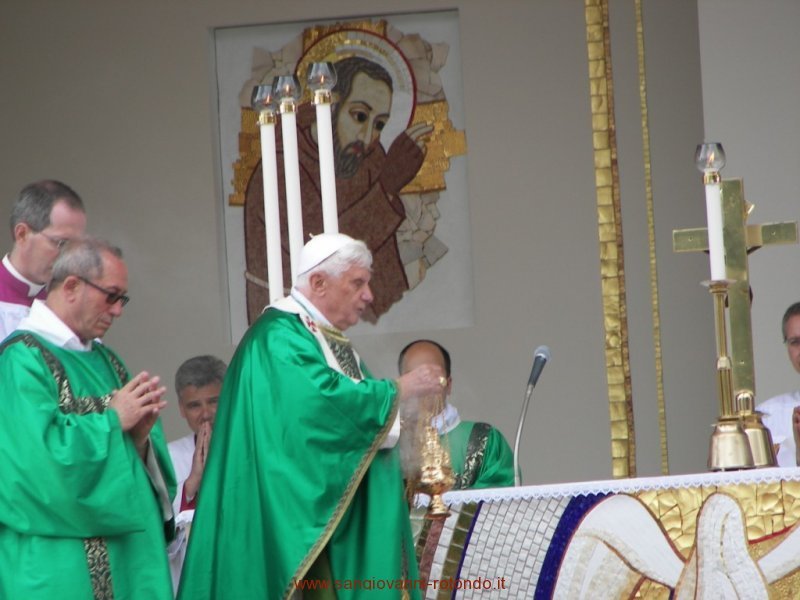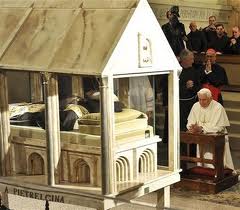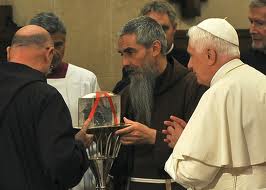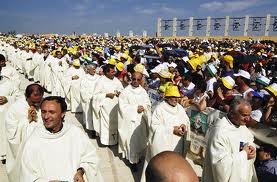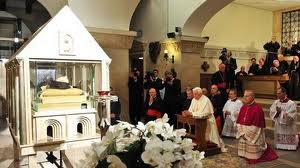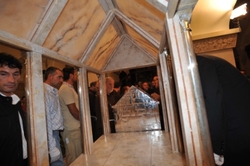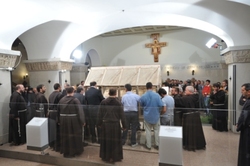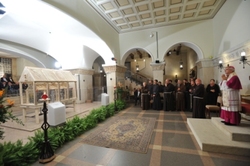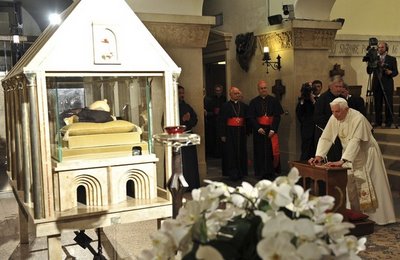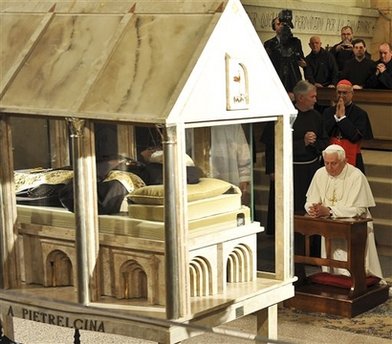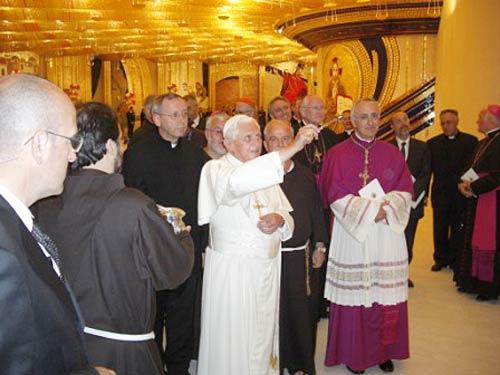 display: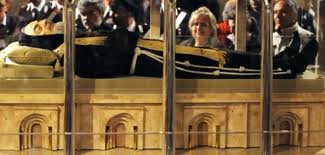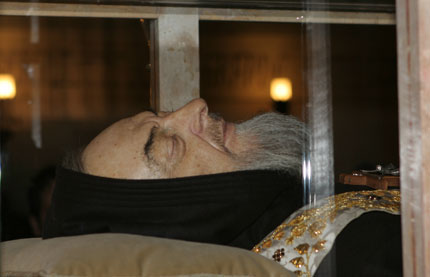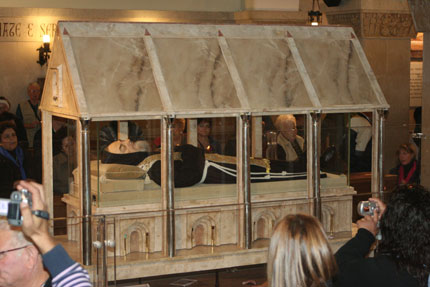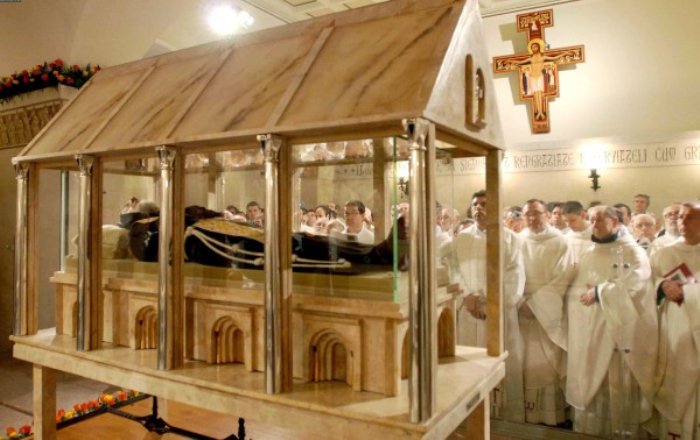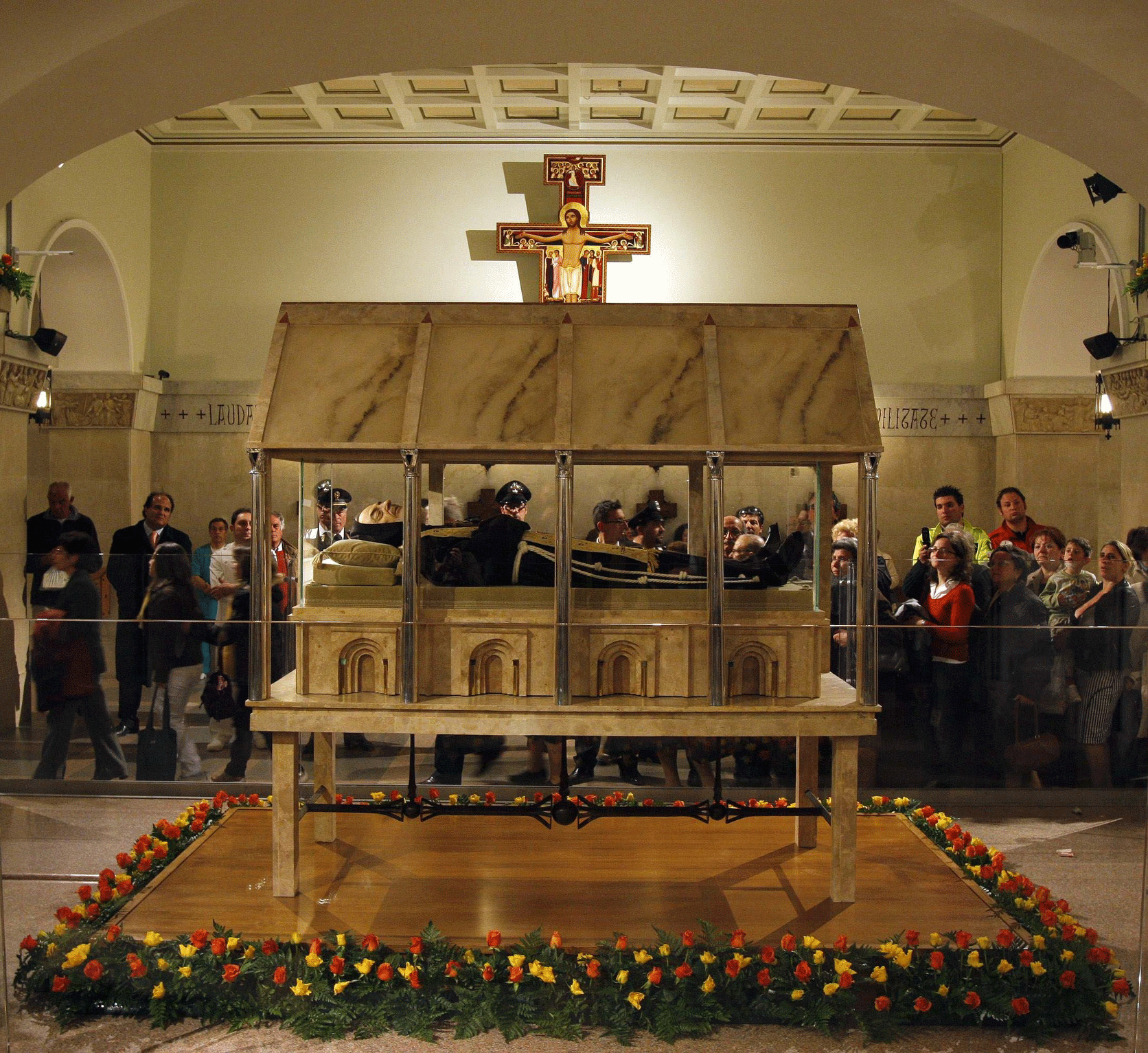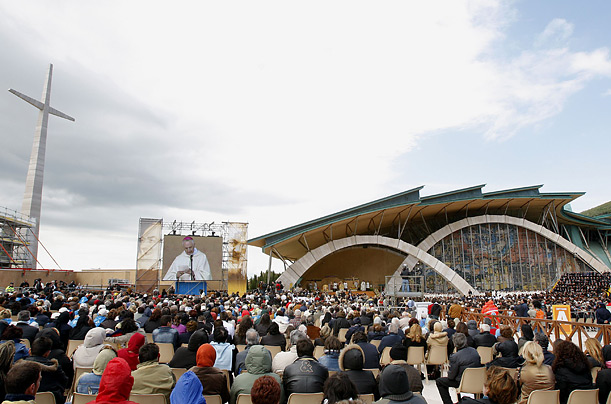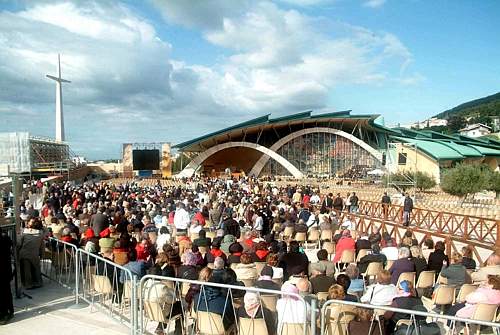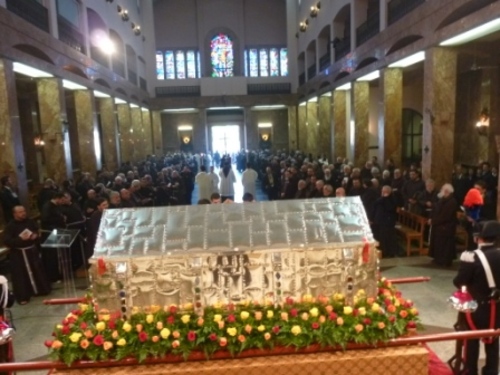 Transfer from St. Mary of Graces to the new church of Saint Pio: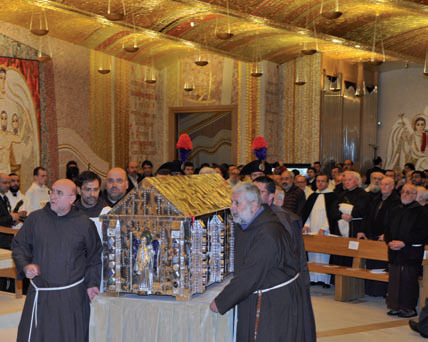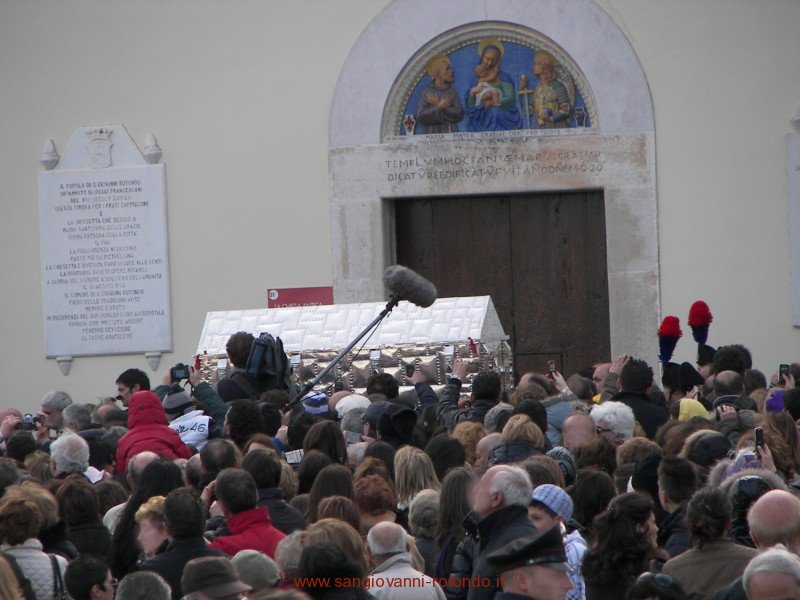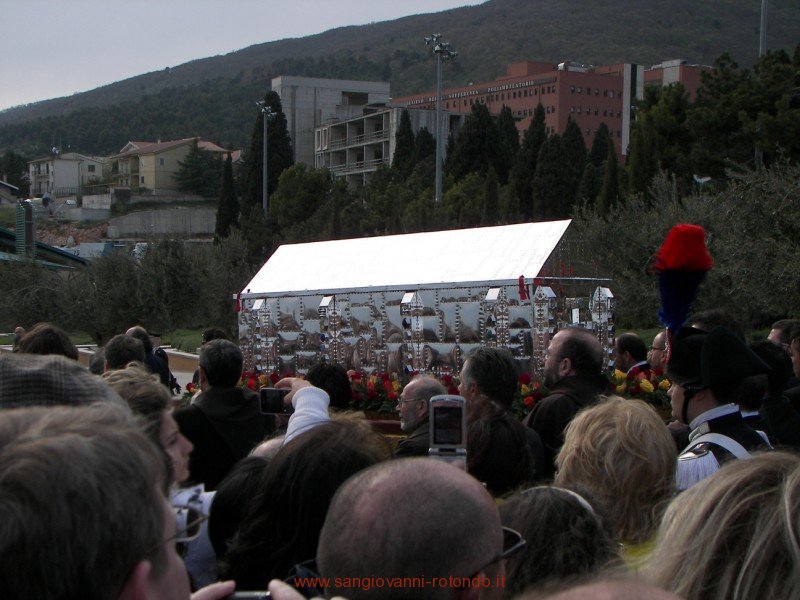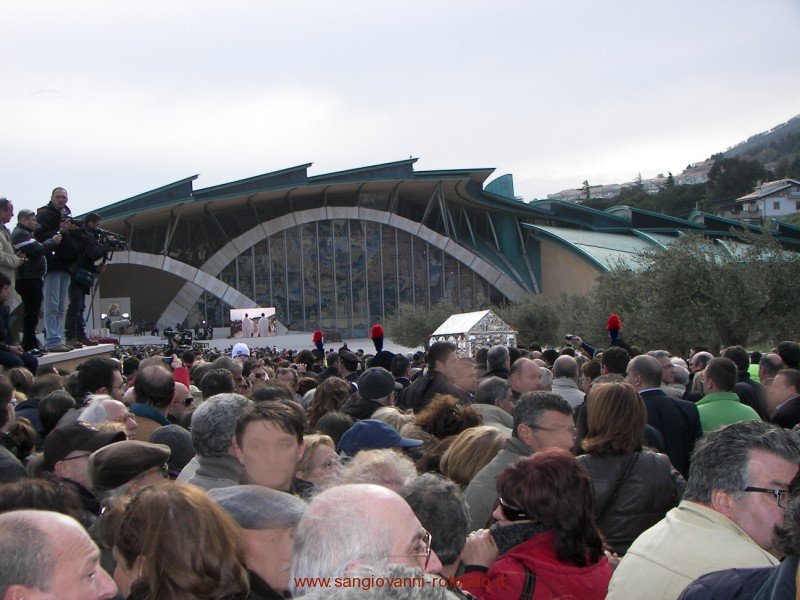 In the new golden crypt: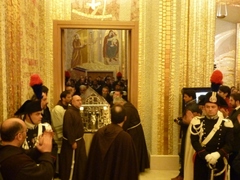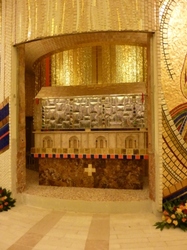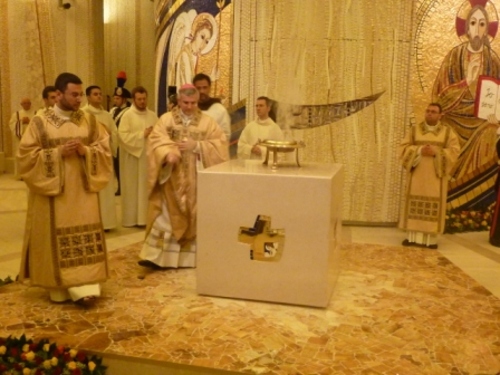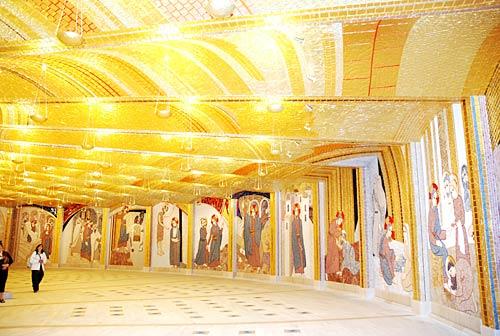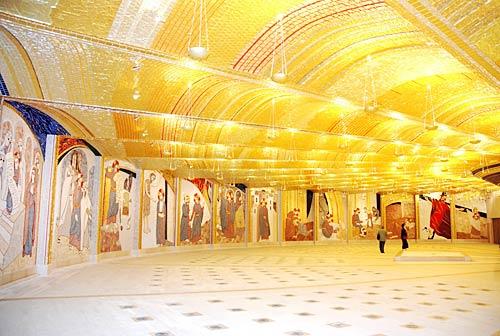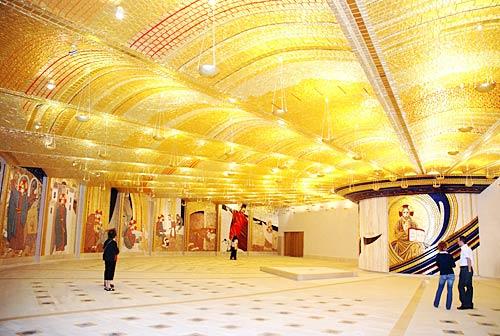 Final Resting Place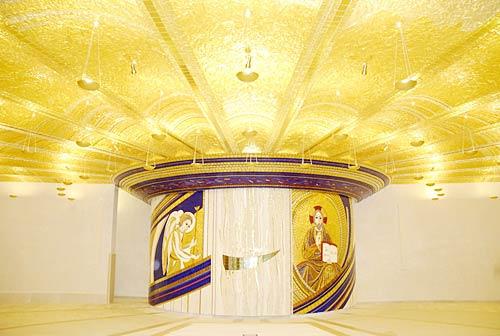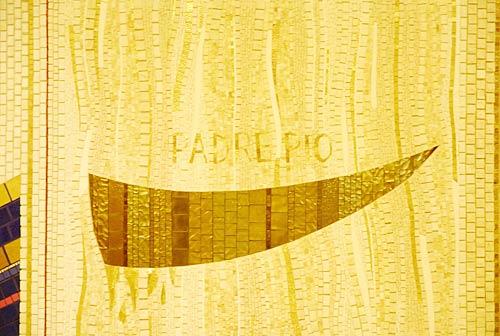 Next: Close encounters golden crypt Mosaics of the life of Padre Pio
Close Encounters of the Special Kind with PADRE PIO: hallways, backyard; around the world, ecstasies; Purgatory, Guardian Angel, devil; Americans; confessional, baptisms, first Communions, weddings; Virgin Mary, Rosary; Wounds; Mass; himself, God, Jesus, Cross, Christmas, Church; spiritual children, meditation, prayer, Prayer Groups; child, novice, priest, soldier, fevers; first inquisition, Saint Mary of the Graces, Home for the Relief of Suffering (Casa Sollievo della Sofferenza); the most famous picture, children, blessings, at the ballots downtown, eating; second inquisition, last ten years, death; the Capuchin friars; entombed in first resting place, blessed, saint, exhumed, displayed, final resting place in golden crypt; mosaics of the life of Padre Pio, Jesus, Saint Francis of Assisi; fists class relics with certificates; original painting, original icon.