Close encounters of the special kind of Americans with Padre Pio:
Father Joseph Martin, Father Dominic Meyer, Mary Pyle, Marge and Joe Spada, Frank Tenaglia, Umberto and Clara Longo,
American Servicemen in WWII: Joe Peterson, Joe Peluso, Mario Avignone, Leo Fanning, Joe Asterita, Jim Cunningham,
Dan Steele, Bill Carrigan, Gerald Adamic, Loyal Bob Curry, Alfonso D'Artega),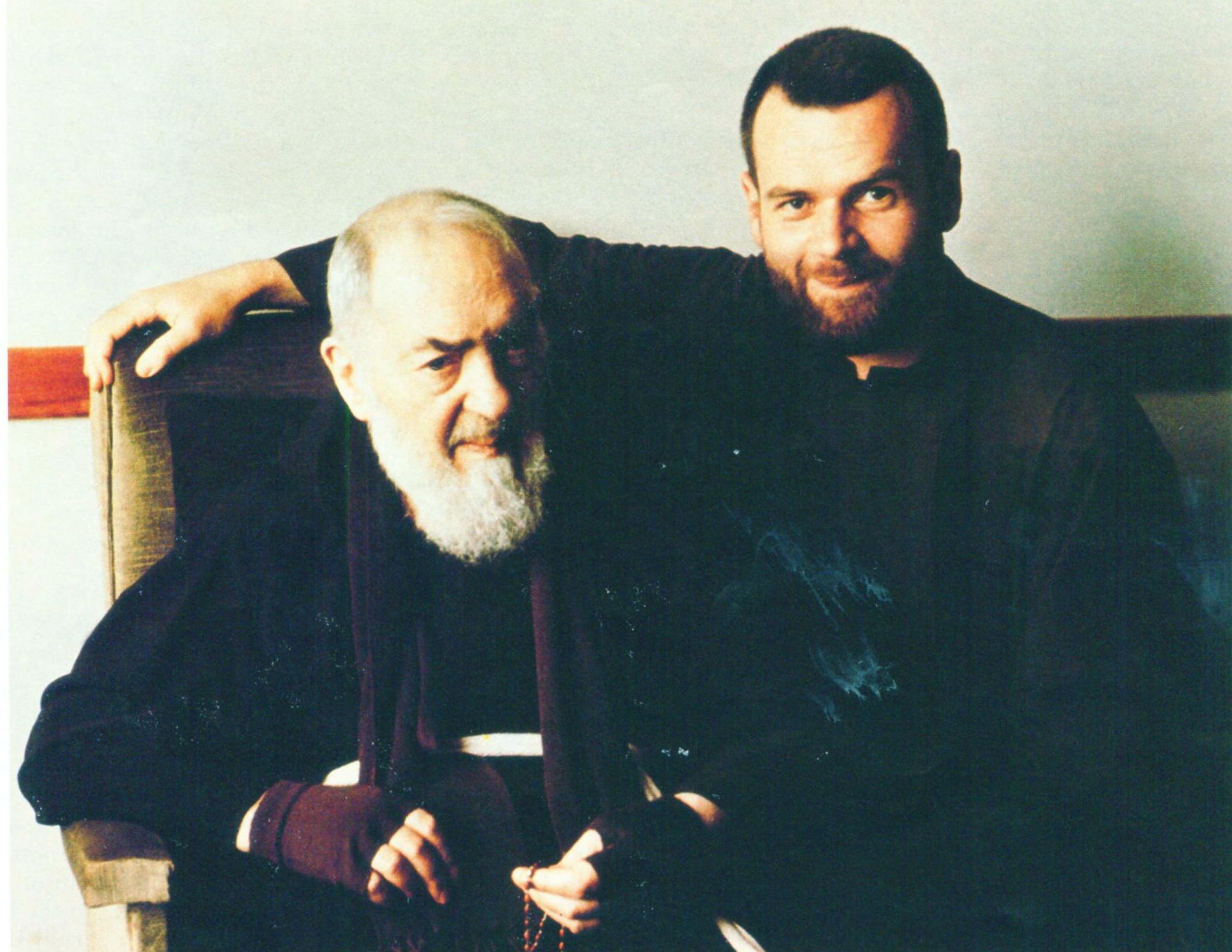 Brother Bill Martin, later Father Joseph Pius, with Padre Pio.
Brother Bill Martin was born in Brooklyn, New York, August 1, 1938. He first visited Padre Pio in 1959. He returned in 1964 and entered the convent as a lay friar. He helped Padre Pio last three years (1965-1968).
In 1969, after the death of Padre Pio, brother Bill Martin entered the Morcone novitiate assuming the name of Joseph Pius, and was ordained priest in 1974. He caught Padre Pio falling in his last Mass. He died May 3, 2000.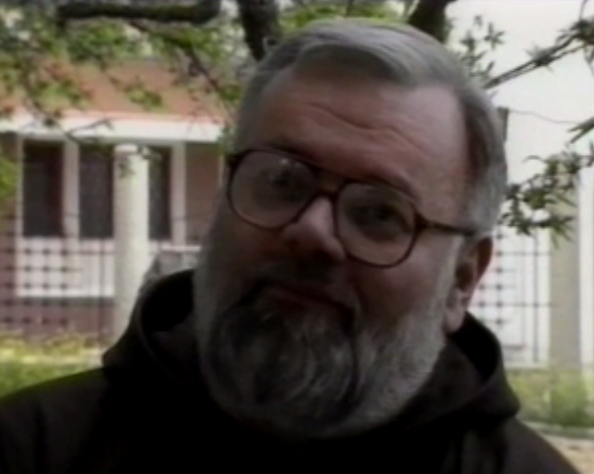 Father Joseph Pius Martin
"It was near the end of his life. Another brother and I were helping him to the altar. He was going to say Mass. I remember thinking 'Why his weight on my arm feels like nothing at all."
That's when I looked at the floor. Padre Pio's feet were six inches off the ground. He was just gliding. He was levitating on his way to say Mass.
I exchanged a glance with the other monk. We had come to the same realization at about the same time. We never spoke about it. We just knew."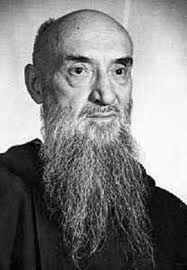 Father Dominic Meyer
Padre Dominic Meyer, from Belleville, Illinois was sent in 1947 to the Convent to take care of the more than 250 letters Padre Pio receive daily in English and German.
He did it for the next thirteen years. He described in September 1949 a bout with "sister fever" in which Padre Pio's temperature was measured by dr. Sanguinetti with a
special thermometer as 114 F degrees.
Padre Pio visited in bilocation his father on his deathbed in Milwaukee, Wisconsin, as testified by his daughter and son in law, and later confirmed to
Padre Dominic that he was saved in Heaven. He gave many details of Christmas 1949 passed close to Padre Pio, a
and of the daily activities of Padre Pio in his letters to his relatives in Wisconsin and Illinois.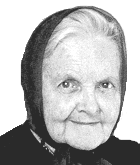 Adelia Mary Pyle
Mary Pyle was born in 1888 in New York City, and died April 26, 1968 in San Giovanni Rotondo.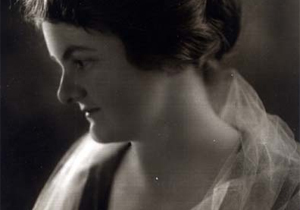 From a very wealthy family, Mary traveled extensively. While in Europe she met Maria Montessori, the educator who developed the Montessori Method.
She became her assistant and interpreter.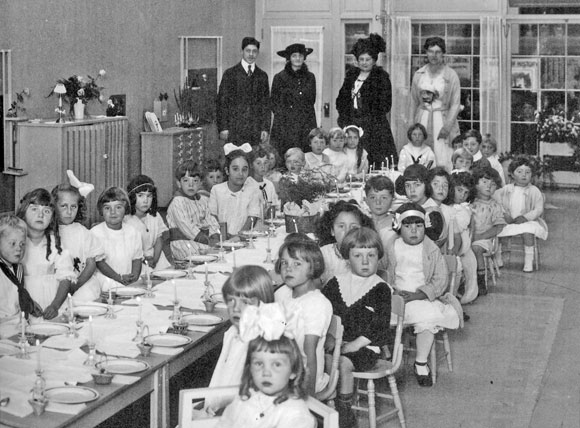 Above Photo: Individuals in the back of the classroom, from left to right, are Mario Montessori, Helen Parkhurst, Maria Montessori, and Adelia Mary Pyle.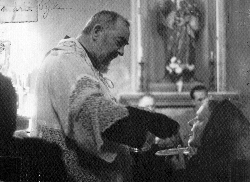 Mary Pyle met Padre Pio on October 4, 1923. Mary herself said later: "We looked at one another only. Then, I fell on my knees and said: 'Padrè.
He put his wounded hands on my head and said to me: 'My daughter, do not travel anymore. Stay here.'"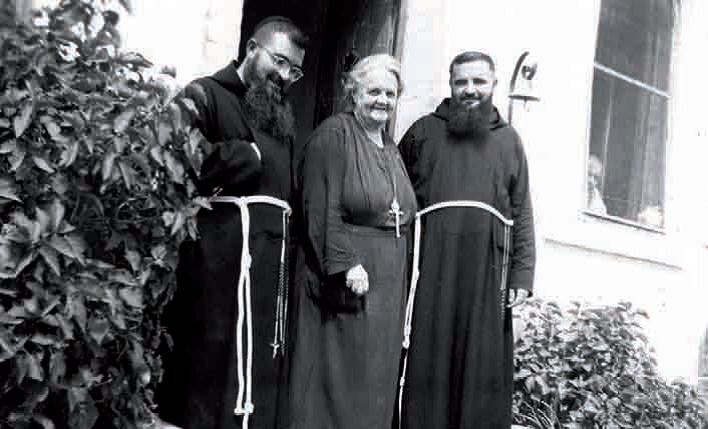 She built a house near the convent, and went daily to Padre Pio's Mass, received daily Communion, and confessed weekly with Padre Pio.
In the mornings she helped with the correspondence coming to Padre Pio: 'He knew the contents of each letter before it was opened.'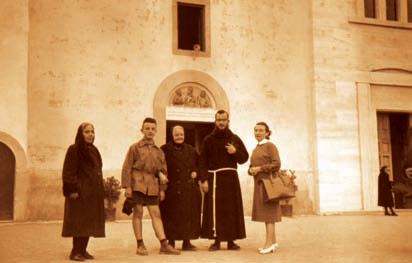 Generous with the pilgrims, the poor, and the friars, became a member of the Third Order of Saint Francis.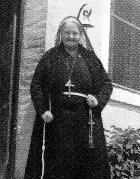 In Pietrelcina a young Padre Pio had prophesized that one day a convent and a church would be built, for the sons of St. Francis.
Years later he told Mary to build it. "...and dedicate it to the Sacred Family".
So she financed the church of the Holy Family, a convent and a seminary for the Capuchin students in Pietrelcina.
During the building Mary stayed in Pietrelcina in the same house in Via Santa Maria degli Angeli where Padre Pio had lived from 1910 to 1916.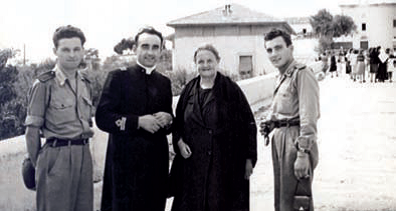 Mary Pyle was very hospitable towards the American servicemen visiting Padre Pio during WWII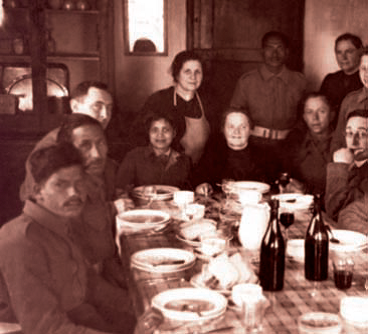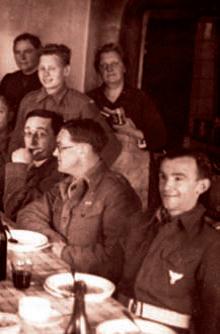 American servicemen at Mary Pilès home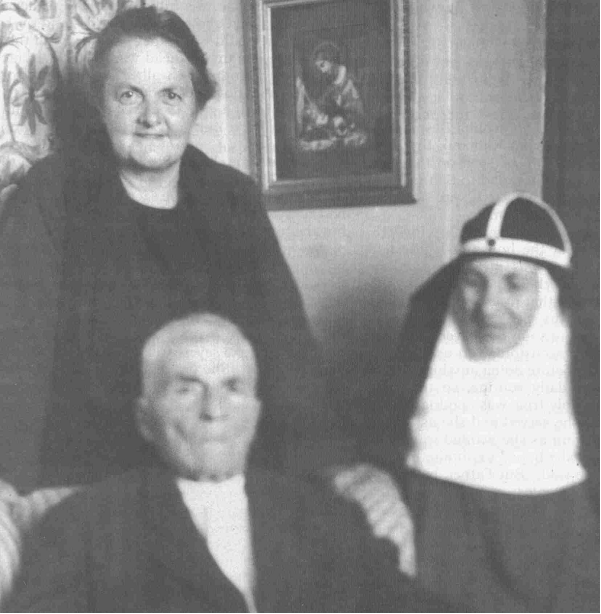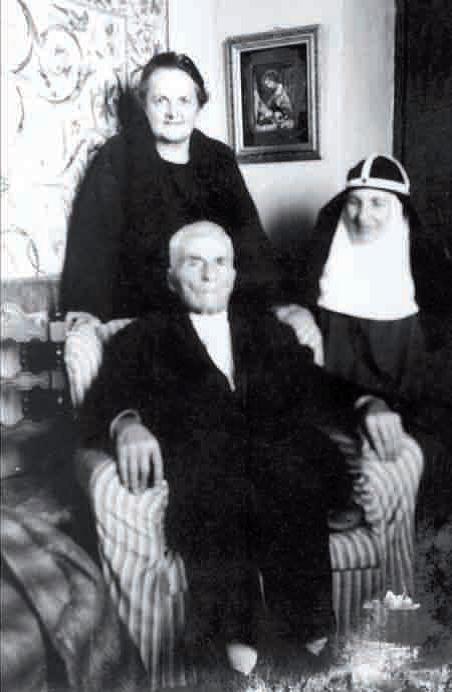 Mary Pyle with Padre Pio's father Grazio and sister.
In December 1929, Mary took Mamma Peppa and "zì" Grazio to San Giovanni Rotondo so that they could be closer
to their son and cared for them, in her home, until they died.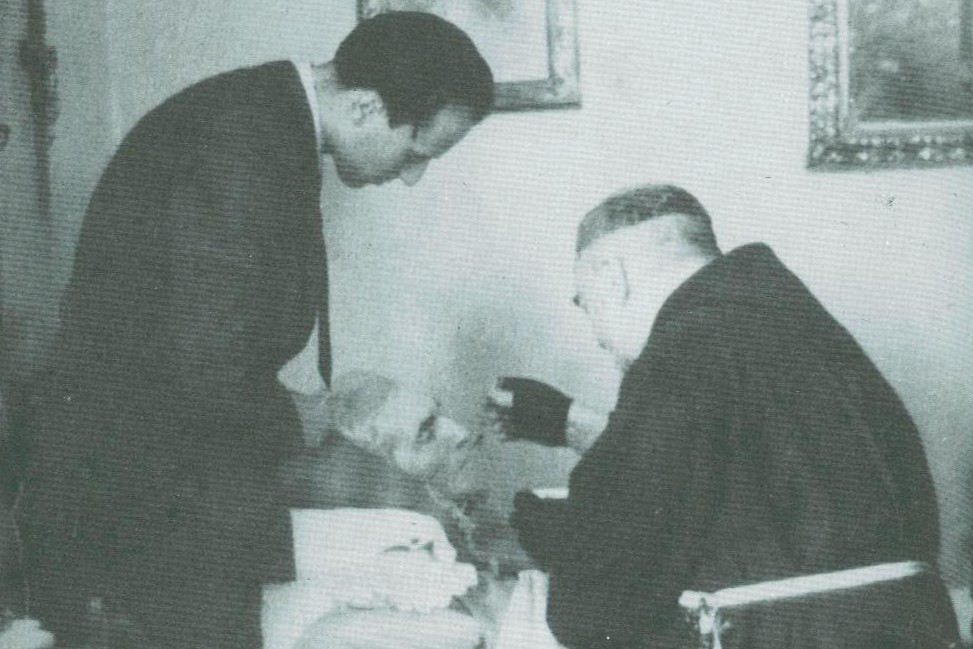 Padre Pio caring for his father at the home of Mary Pile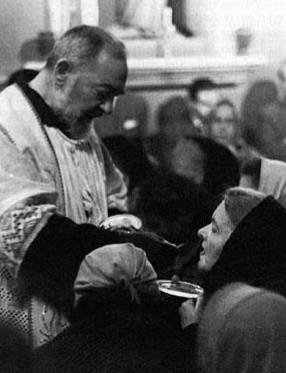 Mary Pyle receiving Communion from Padre Pio
Mary Pyle is the only spiritual child of Padre Pio featured in the mosaics of the Crypt.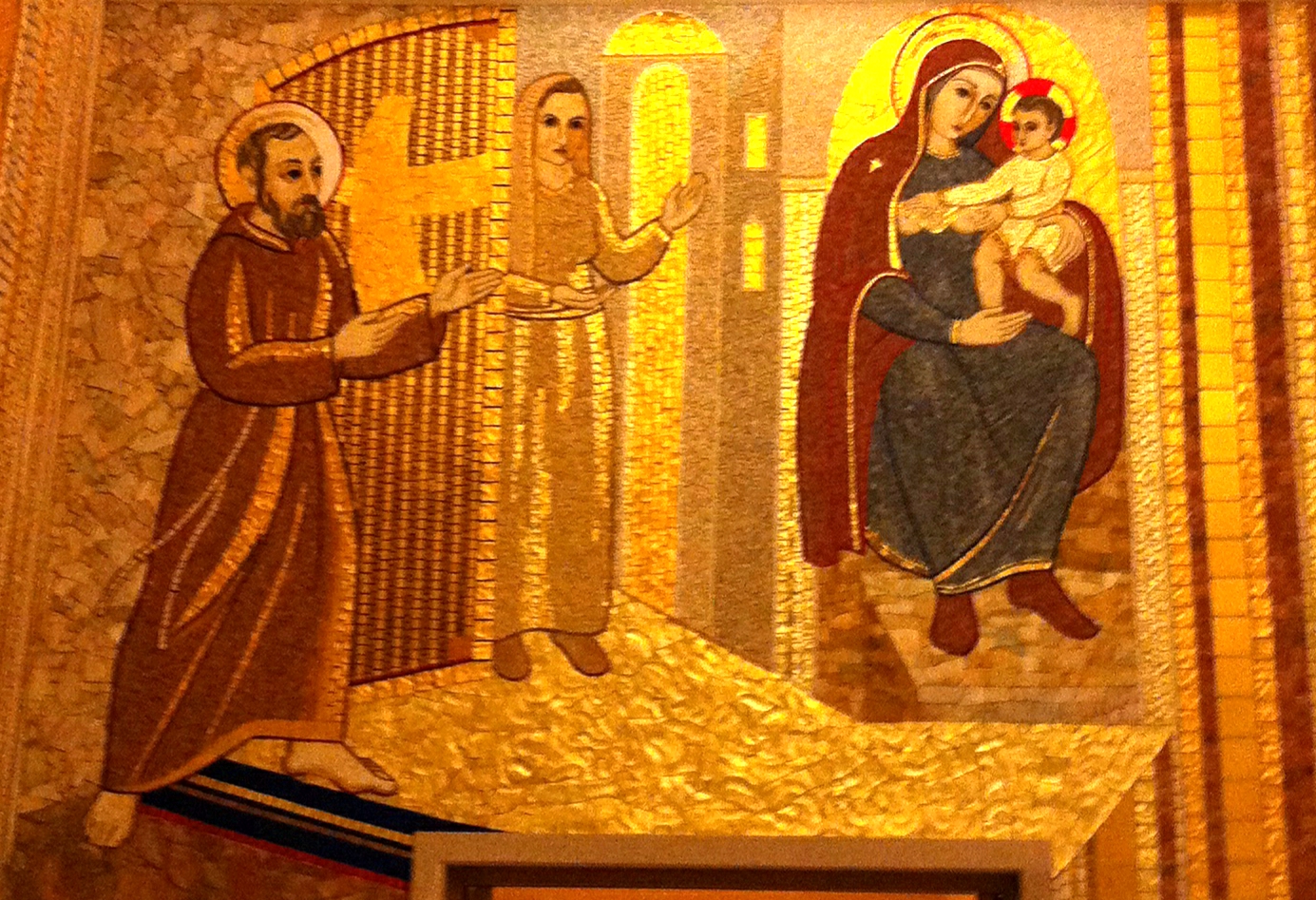 Mary Pyle, with Our Lady of Grace, greets Padre Pio at the entrance to Paradise.
"I have made a pact with the Lord: I will take my place at the gate to paradise,
but I shall not enter until I have seen the last of my spiritual children enter."
Mary Pyle telling something to Padre Pio.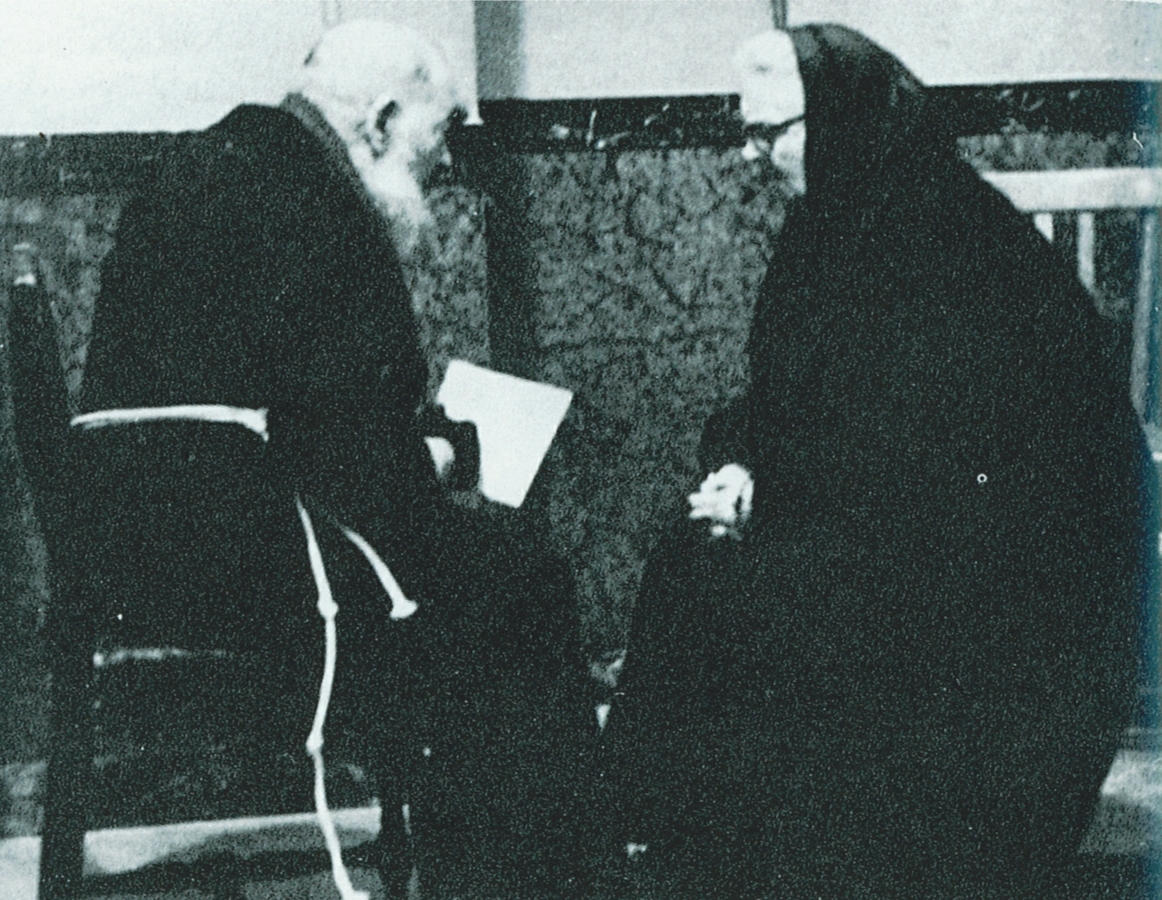 Padre Pio giving advice to Mary Pyle.
Marge and Joe Spada
The Padre Pio Foundation of America, founded by Marge Spada in Cromwell, CT has completely restored the Sant' Anna Chapel in Pietrelcina,
where Padre Pio was baptized and served as an altar boy. Not a single detail was omitted in making this little Church conform to the exact condition that existed in 1887.

Joe Spada was hospitalized with terminal cancer in 1975. He, his wife, the nurses an other people at the hospital were frequently overcome by the beautiful aroma of fresh flowers.
One night Joe was alone and saw Padre Pio sitting beside him. When Margie returned her eyes fell on a handkerchief that she did not recognize.
As she reached for it, Joe said, "That's Padre Pio's handkerchief. He put it there on the stand just before he left."
Still today on several occasions, Padre Pio's handkerchief has given off the aroma of fresh flowers.
Frank Tenaglia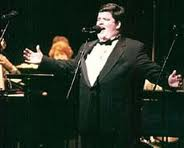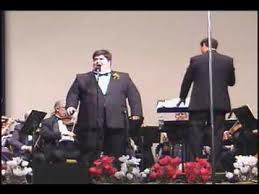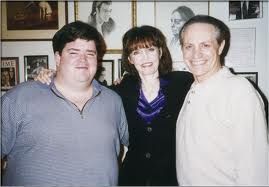 Frank Tenaglia singing, and with his parents.
Frank Tenaglia of Philadelphia was born in 1965 with severe neurological brain malformations. His parent went to Padre Pio:
"Don't worry about little Francis. He will be fine and I will always look after him".
Frank became a opera tenor, performing with mayor orchestras.
Umberto and Clara Longo; Vincenzo Miniscalchi.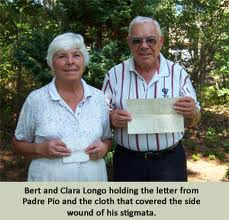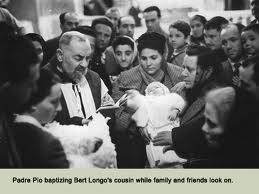 Umberto (Bert) and Clara Longo
Umberto (Bert Longo) in 1951, at 20, moved with his mother to Leominster, MA, from San Giovanni Rotondo, to stay with his father Matteo. He Married Clara di Nardo.
When Matteo migrated, Bert's uncle Gerardo Miniscalchi became very close to him.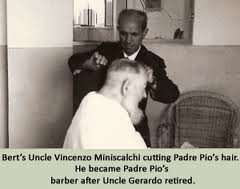 Vincenzo Miniscalchi
Gerardo had a barber shop in town, and for many years was Padre Pio's barber and cut his hair.
He always wore a suit and tie when he went to the convent, as a sign of respect.
In 1939 Gerardo started taking Bert with him when he was 8, and Padre Pio was always kind to him. One day he said:
"Just like my own father your father emigrated to the United States in order to make a living.
Many people believe that the United States is so rich that the tiles on the roofs of the homes are made of pure gold.
That is why so many people want to leave Italy and move there."
Each Sunday afternoon there was Vespers service at the monastery. Vespers included singing, prayers, and a benediction, and lasted almost one hour.
The English count John Telfener owned a villa near the convent. Gerardo used to direct the religious plays that were performed in the hall adjacent to the church of Our Lady of Grace.
They used to go to Mary Pylès home to rehearse the plays.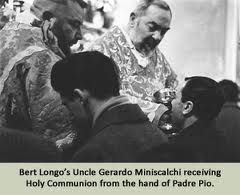 When the Holy Family Capuchin monastery and church were being built in Pietrelcina, they didn't have enough water. Padre Pio was shown a blueprint of the area
and pointed to a certain spot on the blueprint and said : Dig five meters in this area and you will find all the water you need. They did and found plenty of water
for the construction, and for the town. When Gerardo retired, his brother Vincenzo assumed the privileged task of cutting Padre Pio's hair.
Uncle Gerardo gave Bert several precious relics of Padre Pio. He has saved some hair and a piece of bloodstained linen that covered Padre Pio's side wound.
Not long after he had moved to Massachusetts, Bert received a handwritten letter from Padre Pio.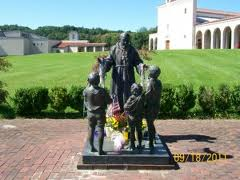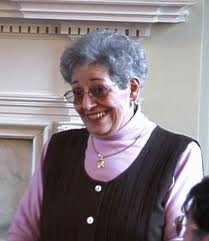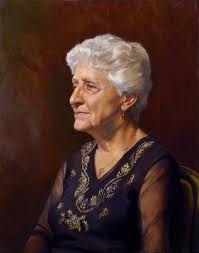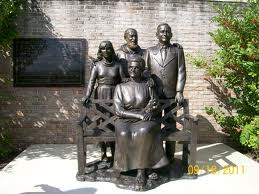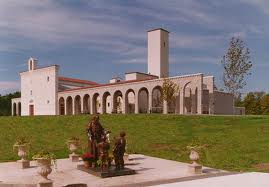 Vera Calandra from Barto, Pennsylvania, met Padre Pio in 1968. He blessed her and her children.
For years she traveled speaking about Padre Pio. She and her husband founded The National Center for Padre Pio. She died in 2004.
American soldiers
Servicemen Joe Peterson, Joe Peluso, Mario Avignone, Leo Fanning, Joe Asterita, Jim Cunningham,
Dan Steele, Bill Carrigan, Gerald Adamic, Loyal Bob Curry, Alfonso D'Artega,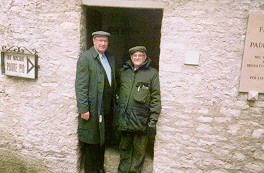 Joe Peterson and Joe Peluso in 1988 visiting Padre Pio's birthplace
Joe Peterson was stationed in Foggia, Italy during WWII and met Padre Pio several times. When he returned to the States in Yonkers, N.Y. he lectured about
Padre Pio throughout the Northeast for 40 years to more than 4,000 parishes, religious classes, and
Catholic high schools. He was a member of the Padre Pio Foundation's Board of Directors.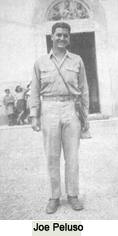 Joe Peluso, from a very small town in Pennsylvania, was stationed in Foggia, Italy during WWII and met Padre Pio on October 6, 1944.
He visited with him several times for the next ten months, until his Army unit was transferred to France on July 15, 1945. He met also Padre Pio's father Grazio,
his brother Michael, and Michael's daughter Pia Forgione, and her fiancé Mario Pennelli. He returned to Italy in 1988 as member of the
Padre Pio Foundation of America in Cromwell, CT, for a documentary on Padre Pio's birthplace.
Padre Pio: "Joe, when the war is over and you return to the United States, tell the American people,
that for those who would like me to be their spiritual father, my answer is yes.
I accept all Americans as my spiritual children.
I only have two requirements - that they lead very good Catholic lives
and that they regularly receive the sacraments.
And please, tell them never to embarrass me in front of Jesus and Mary. You must tell them, Joe."
Joe made a slide show presentation of Padre Pio's life and over the years he showed it to thousands of people.
Joe died in 1996 after having spent 50 years sharing the message of Padre Pio with more people than he could have imagined.
Padre Pio: "Joe, pick a name for your guardian angel and call him by the name always.
When you send him to me, he will come instantly."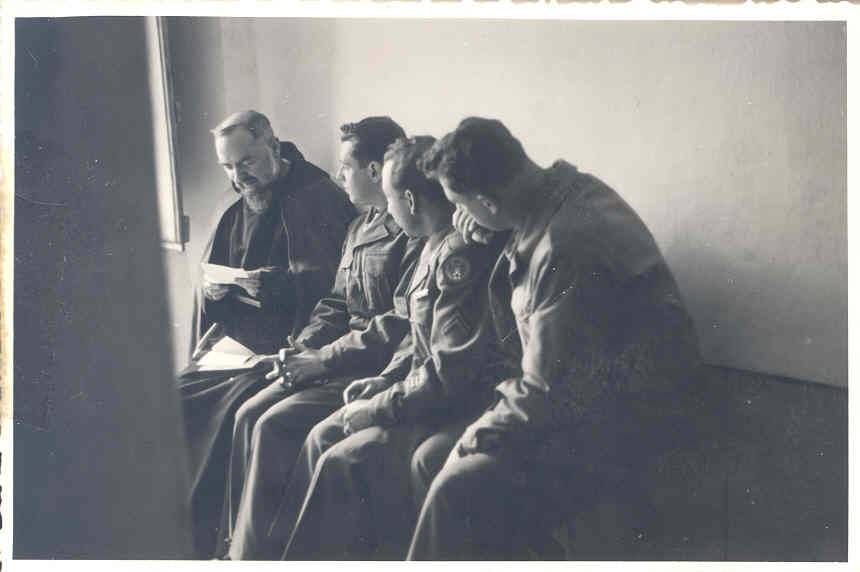 Padre Pio with Leo Fanning (besides him), Joe Asterita and Mario Avignone
Mario Avignone from Chicago
"I was stationed in Italy at Cerignola with the 304th Bomb Wing of the 15th Air Force under commanding general Nathan F. Twining.
We were told about Padre Pio. We had never heard about him. Four of us went to see him. My buddy Joe served at the Mass.
They say that when he said Mass he was with Christ being crucified. You could see the tears going down his face.
After padre Pio's birthday party, just before we left in '45, Leo, Joe and I were at the monastery, and we asked Father Ignatius if we could have a piece of one of his bandages
that he'd worn over his stigmata.
"Oh, no!" he said. What you're asking me to do is forbidden, and I could get into a lot of trouble.
We finally convinced him to get one of those bandages if we promised not to tell anybody — including Padre Pio. He got us one small bandage and divided it in three.
We came back to the monastery not so long after, and Padre Pio stopped us in the hallway. "You naughty boys," he said, really stern.
"You caused one of my brothers to commit sin!"
"Come on, Padre Pio," says Joe, "what did we do?" "You know what you did," he said.
"You had Father Ignatius sneak into my room and take one of the bandages and give it to you." Nobody told him, but you couldn't fool Padre Pio.
He just knew things, which is why he was such a popular confessor. He was serious.
But then he shook his head and his face sort of softened. He said to Father Ignatius, "I forgive you, Father. And I forgive you boys, too,
but don't go telling anybody. I wore those bandages over my heart. Go in peace." And we did.
"I told Padre Pio that it'd be great to come back and bring along my wife and kid.
"Don't waste your money," he said. "Every time you receive Communion at church, I'll be at your side."
But a year or so after he died, in 1968, my wife and I went to pay our respects. When we went to visit his tomb at the church,
my wife said I was in ecstasy, tears streaming down my face while I was there at his tomb, kneeling down and praying.
She said I was talking out loud, carrying on a conversation with Padre Pio, but she couldn't hear his voice, just mine.
But I could hear his voice. He said he was happy I came to see him.
Heck, who'd have thought a kid from the South Side of Chicago would end up back in Italy — you know, where my family came from,
in the Piedmont — get wounded when a German plane bombed our Liberty ship in the bay in Naples, and end up having a saint
as my friend and spiritual father. No, nothing surprises me.
Back in Chicago he expresses his devotion to the saint by sharing his experiences with others, visiting the sick, and praying with the aid of relics.
" For example, well, there was the undertaker. I still see him around the neighborhood. His wife called me up one day, and she was crying.
She said, "My husband's been diagnosed with cancer, and we wonder if you could have him come over and say some prayers to Padre Pio
and bless him with the things you've got." So he came over to my house. We went down to the basement with my little altar there.
And we prayed together to Padre Pio to ask him to help cure my friend's cancer. About 10 days or so later, his wife called me up.
She was crying and laughing and told me, "My husband just got home from the doctor and told us the cancer is gone."
And then she asked me, "How can I thank Padre Pio?" "Don't thank him, thank God," I tell her. "He's his boss."
In San Giovanni Rotondo the three buddies Mario Avignone, Leo Fanning (later Fr. Fanning), and Joe Astarita met also Padre Pio's father,
affectionately called "Zi' Orazio" and Padre Pio's American benefactor Maria McAlpin Pyle who helped Padre Pio's Casa di Sollievo della Sofferenza
hospital "dream" come true. They continued to correspond with Maria Pyle until her death in 1968.
Leo Fanning from Cornwall on the Hudson, New York.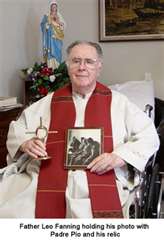 Father Leo Fanning
Assigns to the 304th Bomb Wing with Mario and Joe. "Joe told Padre Pio I want to introduce you to my friend, Corporal Leo Fanning.
" Padre Pio replied "But that is not correct. It is Father Leo Fanning." Padre Pio told him: You are to go to the altar of God. I do no want you to go anywhere else."
Back home Leo entered the seminary and was ordained in Paterson, New Jersey, on May 30, 1954.Ten minutes before the ordination Leo received a Western Union telegram:
"Congratulations on the day of your ordination. Padre Pio". Leo couldn't believe it. He had not told him.
One day Leo, Joe, and Padre Paolino made a surprise visit to Padre Pio. Padre Pio went in the convent to see weather Padre Pio was available. When Padre Pio saw him said:
"Oh, you have finally arrived. I have bee expecting you and the two American soldiers all morning."
Padre Pio invited Mario, Leo, and Joe for his 58th birthday on May 25, 1945. They brought a sheet cake with the words "Happy birthday, Padre Pio" on it.
They sung "Happy Birthday" and at the end, all the friars, including Padre Pio, broke into applause.
Joe Asterita
Joe, of the same Neapolitan origin as Padre Pio, was fluent in Italian and often translated for the other GI's. One day Padre Pio told Joe that five people needed a ride back to Foggia.
Joe refused because it was prohibited to transport civilians in military vehicles. Padre Pio said; "Remember this. Anytime I ask you to do something for me, it will work out.
You need have no fear." Joe was convinced, and allowed the two men, two women, and a little child in his military jeep. On the road Joe saw two Military Police Officers.
They looked into the jeep and passed right on. At that moment the air become filled with the perfume of Padre Pio. As they continued, they encountered many MP's but Joe was never pulled over.
The perfume was smelled until the five Italians were dropped off safely. Before leaving Joe told Padre Pio he was thinking of entering the trappist order.
"Joe, you talk all the time. You cannot keep silent even for a minute. You could never be a Trappist. Your vocation is to the married life."
When the was coming to an end, Joe, Mario and Leo got word that their new assignment. Leo to Japan, Mario in other part of Europe, and Joe back to New York.
This was on a new military point system. They told Padre Pio before leaving. Padre Pio replied: "Points or no points I tell you that you will go home together."
When they returned to the Base, their transfer orders had been changed. They were all to go back to the United States.
Jim Cunningham
Jim Cunningham, from Coral Springs, Florida, stationed in Foggia, was assigned to a photo reconnaissance squadron. Visited Padre Pio in 1945 for 3 times .
He was 21. "Meeting Padre Pio and attending his Mass truly changed my life."
Dan Steele
Dan Steele from Long Beach NY, as military police officer was stationed in Trieste in 1947. After he met his future wife Clara, she went to Padre Pio for advice.
He was Protestant and felt a very strong desire to become Catholic.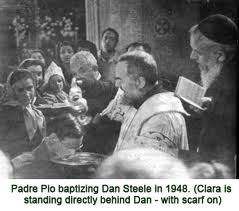 He was baptized by Padre Pio in 1948.
Bill Carrigan
William Carrigan, of the 15th Air Force, assigned at Christmas time 1943 to the American Red Cross Field Office in Foggia.
Was told about Padre Pio nearby by two soldiers, and they went to meet him.
"There is always a crowd at his Mass. The men are allowed in the Sanctuary, and crowd even to the Altar steps.
Our soldiers are always accorded the favor of the Sanctuary, that they may see Padre Pio better. His Mass is often two hours long, but no one minds the time.
As he began the consecration he seemed to be in great pain, shifting his weight from side to side, hesitating to begin the words of consecration which he would start
and repeat-biting them off with a clicking of his teeth as if in great pain. His cheek muscles twitched and tears were visible on his cheeks.
He reached for the chalice and jerked back his hand because of the pain in the wound which was fully visible to me.
After the Elevation he seems to be lost to the world and pleads with Christ for the needs of his vast spiritual family.
It is well known that once he accepts a person into his family of spiritual children, he never forgets them.
After his communion he leaned over the altar for sometime as if he was in communion with Jesus.
it is easy to understand why he is long with Christ during the Consecration and at his Communion.
A peace and calm seem to settle over his pain wracked countenance immediately after he receives the Sacred Body of Our Lord.
There are always many Communicants, and while distributing the Sacred Host he is most watchful of every particle.
Many times he will take the paten and examine it closely, picking off or shaking a particle into the Ciborium. Often one that he alone can see.
When I asked him to remember the father of one of our soldiers, he said to me, "I will pursue him with constant diligence and love."
He is most patient and kind to all who come to him at this time, especially this is true for our soldiers who often get a word and a gentle pat on the cheek from him.
All want to return again, most every one has a buddy who wants to go, too. So the word spreads and more and more soldiers are turning to a new and better interest here.
From careless, carefree soldiers they turn to sober thought of their future, their family, and their relationship to God.
Back in Camp the soldiers think and talk about this wonderful Priest and what he must be.
Padre Pio is a designer of souls.
Great artists are rare in this field. Would not you like to have your soul designed by so great a spiritual artist? Think about it.
No spiritual experience quite equaled Holy Week with Padre Pio. His Masses convinced the most incredulous of the truth and meaning, of the Last Supper.
For many he became the answer to the crises of faith.
Padre Pio told Mr. Carrigan in 1945:
"HYPOCRISY IS THE GREATEST EVIL OF OUR TIME.
It exists in all levels of our society, in high places and in low places."
To convince the gullible, nearly everything from cosmetics to religion, in medicine, commerce, politics, education, on TV, the press,
and any possible electronic means, is presented as seeming different than what it really is.
Mr. Carrigan visited with Padre Pio many times, and back in America he spread the experience, knowledge and devotion, for may years until his death in 2000.
He distributed over a million of Padre Pio prayer cards.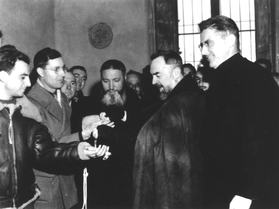 This picture shows Padre Pio distributing blessed medals to soldiers in the sanctuary after a Sunday Mass.
To the right of Padre Pio is Father St. John S.J., Chief of Chaplains.
Gerald Adamic, May 1945
Gerald. J. Adamic: "I was a S/Sgt. in the Photo section of the 463rd Bomb Group. I was also a member of a choir organized by Father George Rice
of the 463rd Bomb Group at the Celone airfield outside of Foggia, Italy. Twice we went in 1945 to San Giovanni Rotondo to see Padre Pio.
We sang the Mass of the Angels in Latin for Padre Pio as he celebrated Mass. After Mass we went into the sacristy where we were allowed to kiss
Padre Pio's hands and receive his special blessing. He took us into the Monastery and showed us his cell and gave us medals of the Holy Mother. "
Enclosed are most of the pictures I have of our visits to San Giovanni Rotondo. I regret that I didn't take more.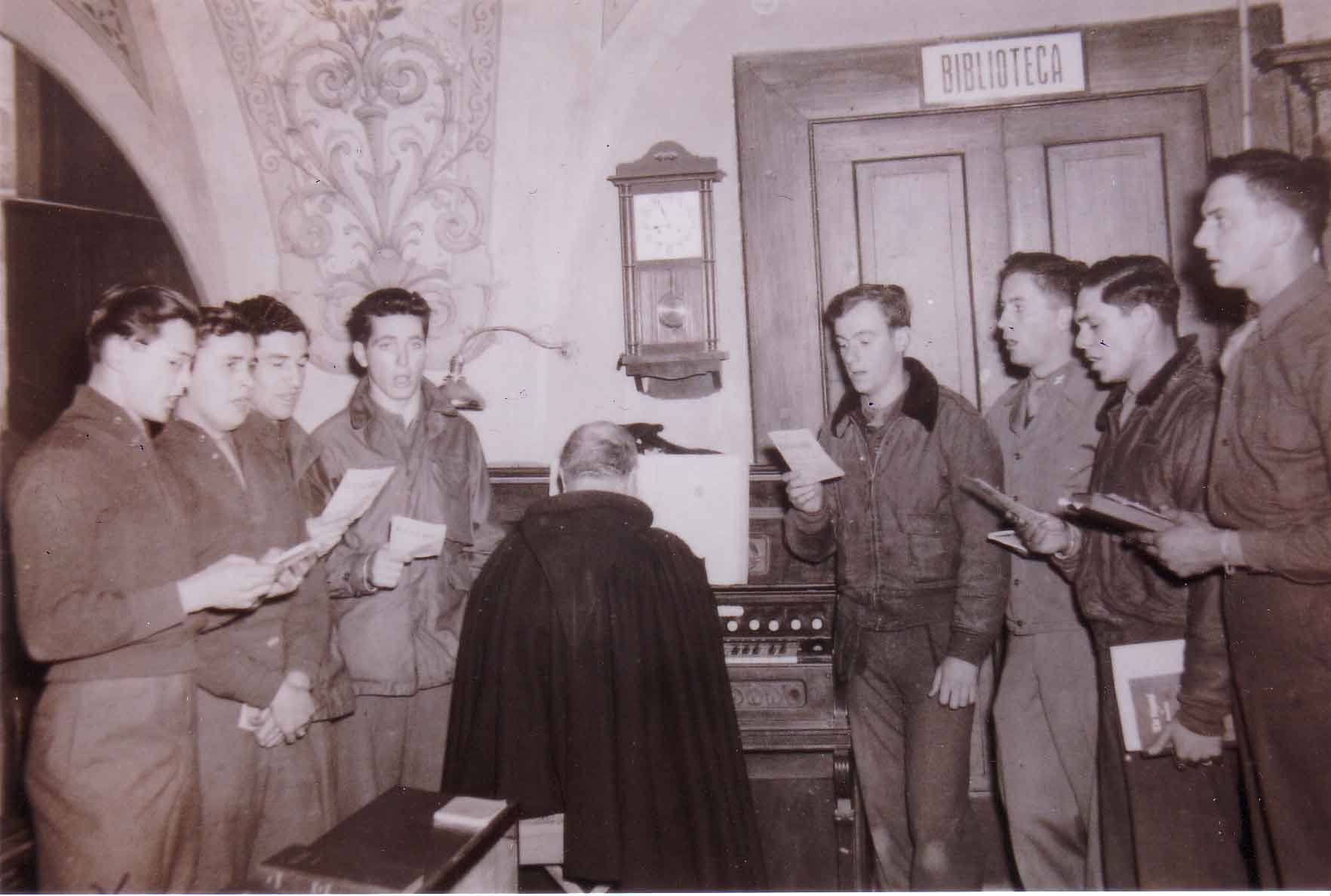 463RD Bomb-Group Choir: May, 1945
"In the Choir Loft singing the Mass of the Angels in Latin for Padre Pio's Mass. I am the person on the Left end."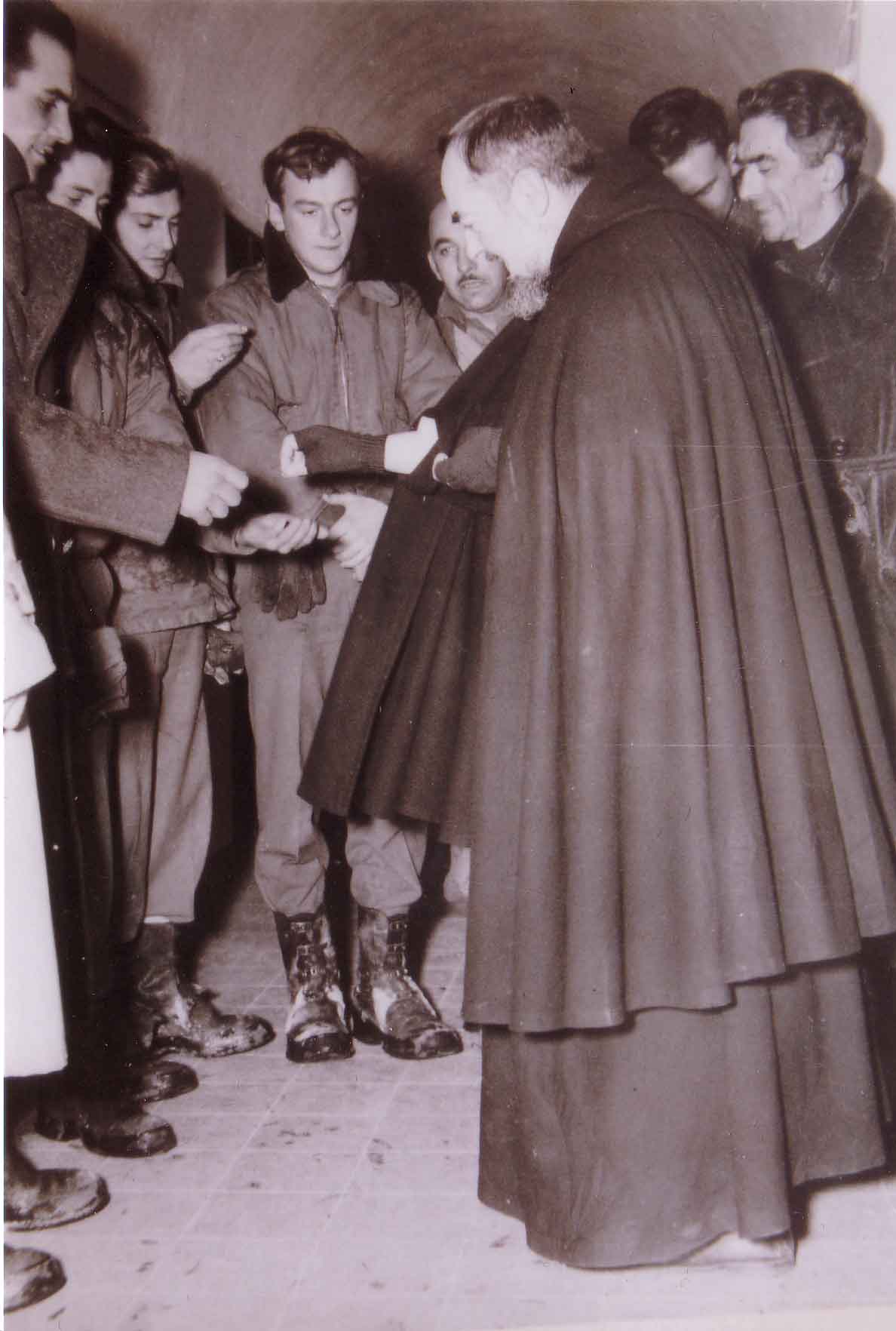 Padre Pio: May, 1945"
"in the hallway in front of Padre Pio's cell, giving us Medals" of the Blessed Virgin Mary.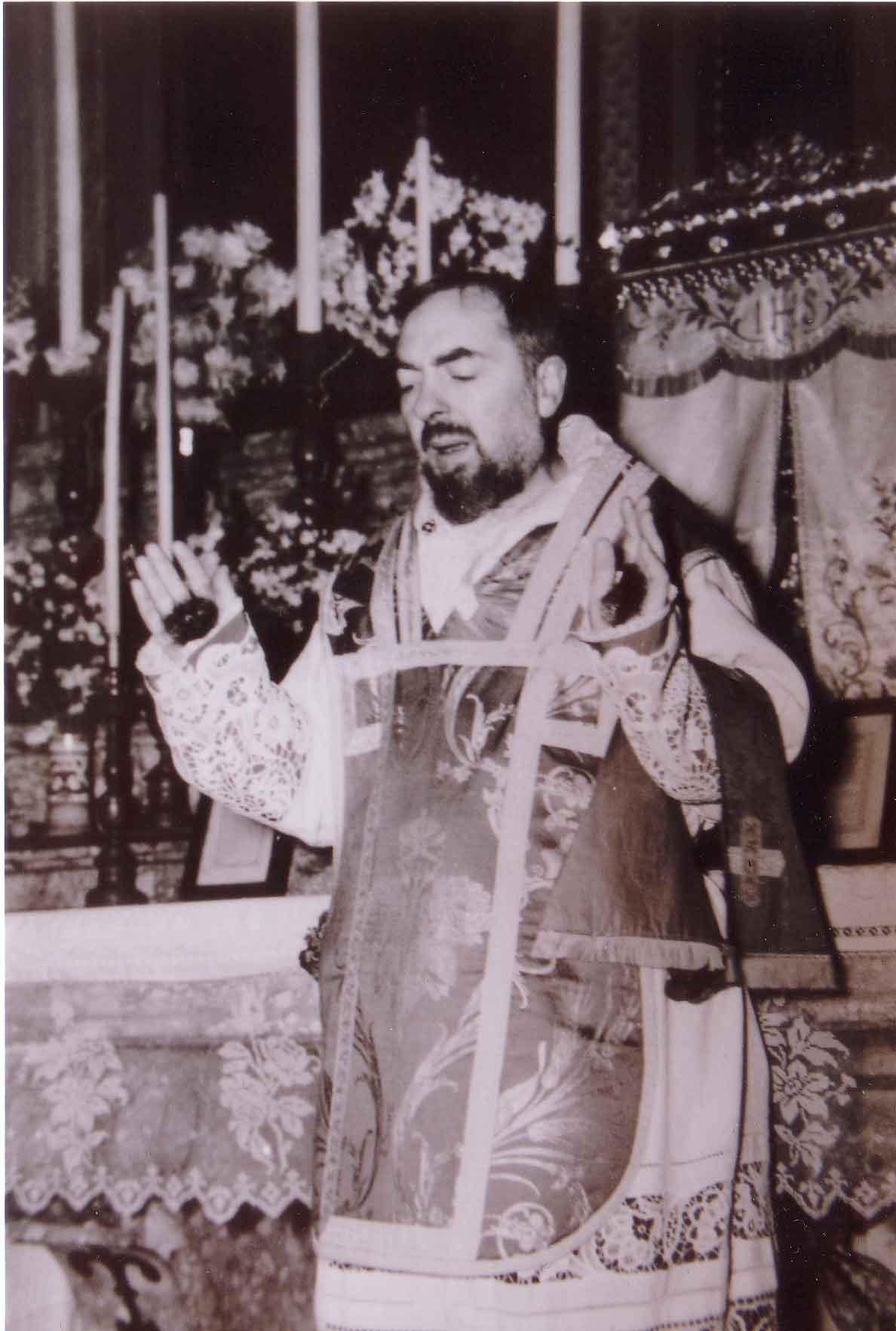 Padre Pio at Mass: May, 1945

As he turns to say, "Dominus vobiscum", the Stigmata on his hands are clearly visible.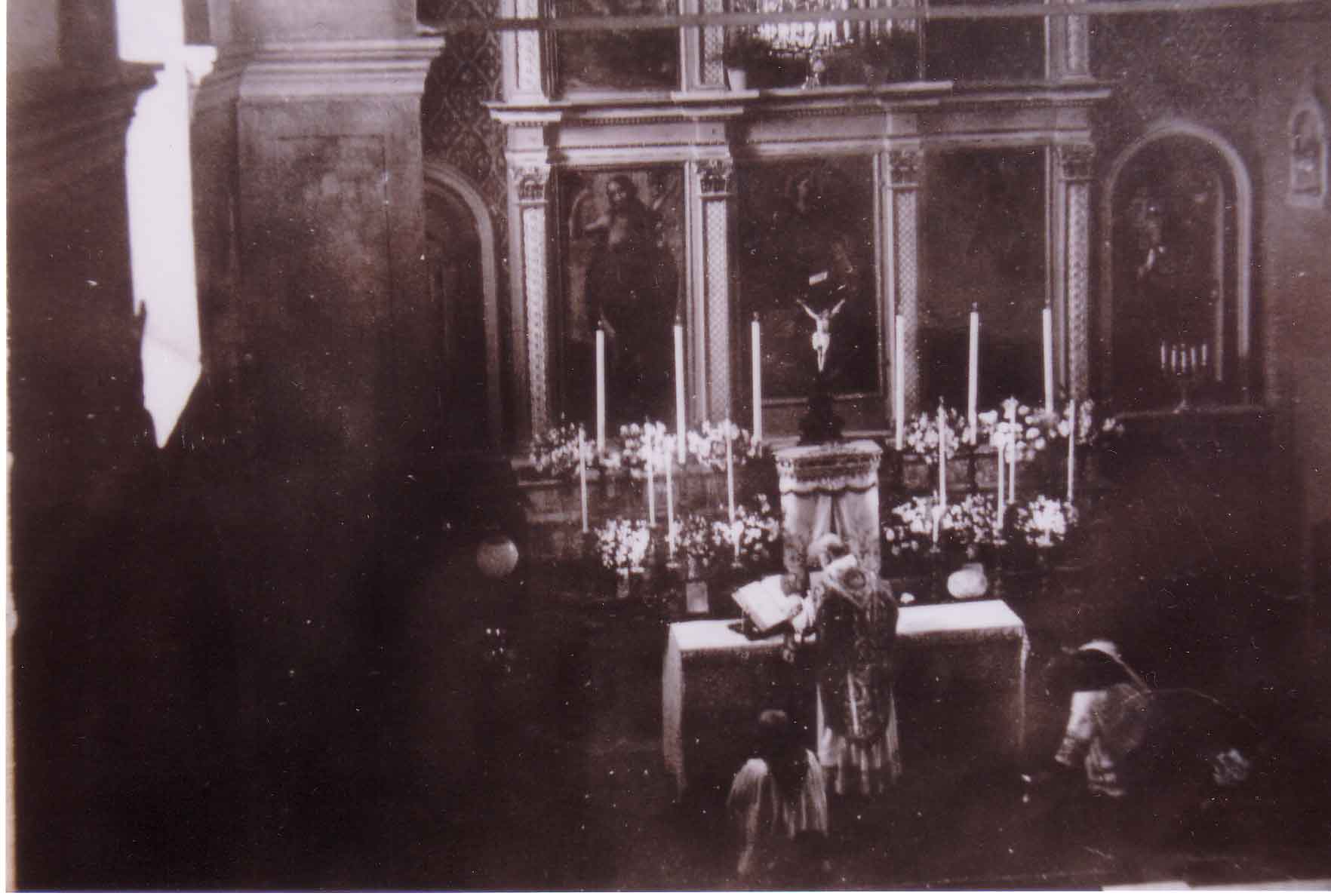 Padre Pio saying Mass: May, 1945
A view from the Choir Loft. To the left of the Altar, the Image of St. John the Baptist, the patron of the Capuchin Convent is clearly visible.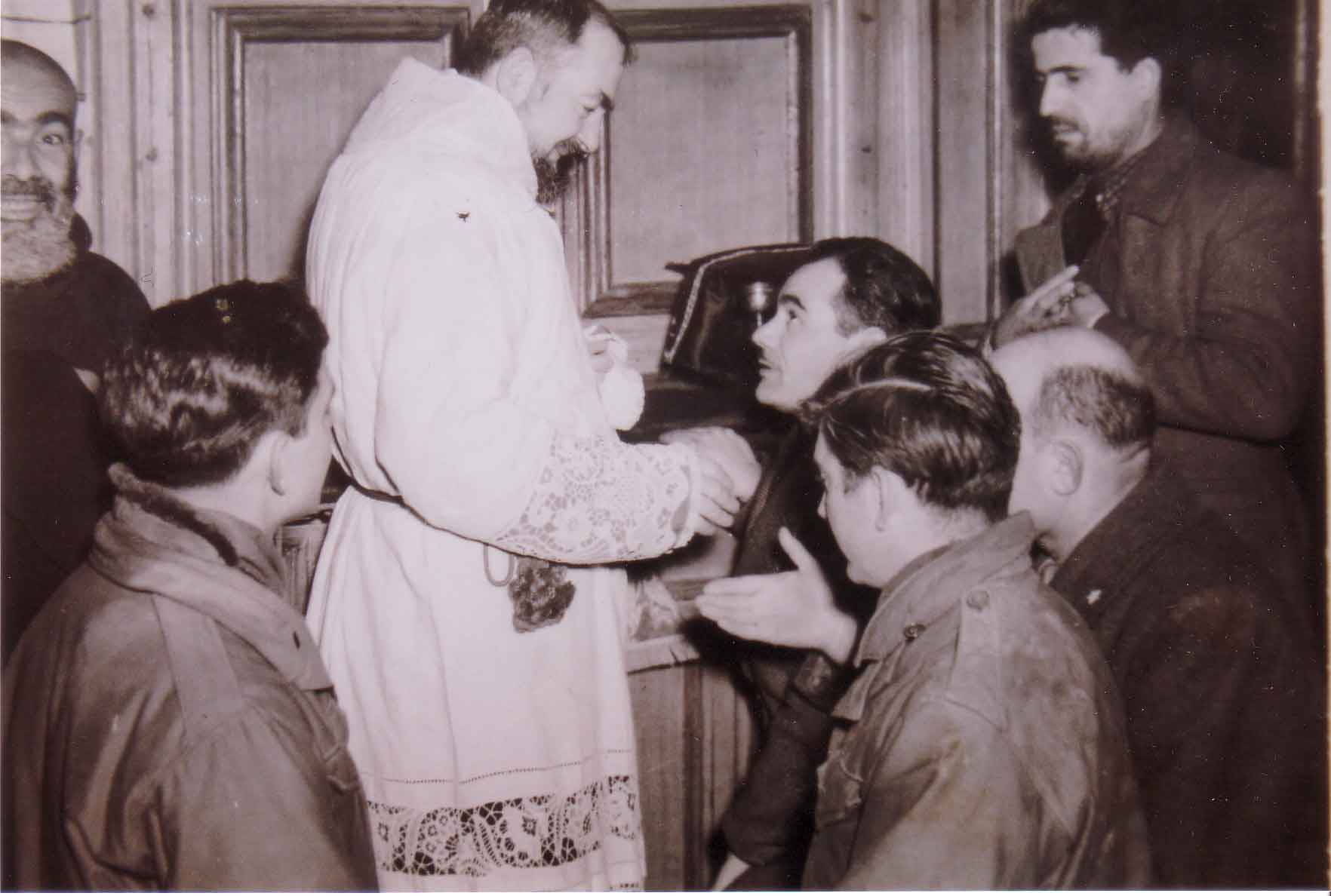 In the Sacristy: May, 1945
"Padre Pio allows the kissing of his hands. Members of the 463rd Bomb-Group and Italians" surround him.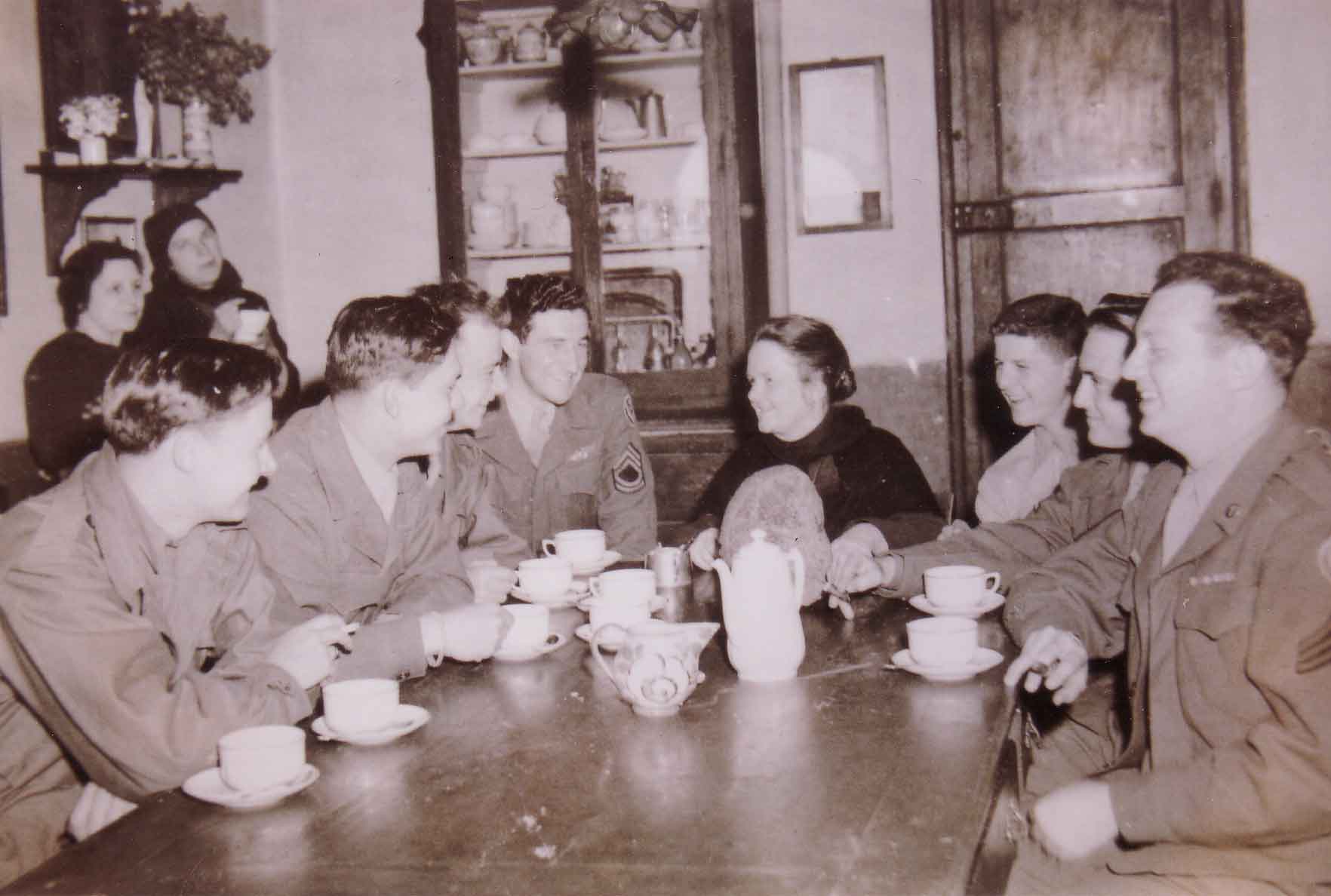 In Mary Pyle's Dining Room: May, 1945
"Members of the 463rd Bomb-Group choir" enjoy some coffee at her "Pink Castle".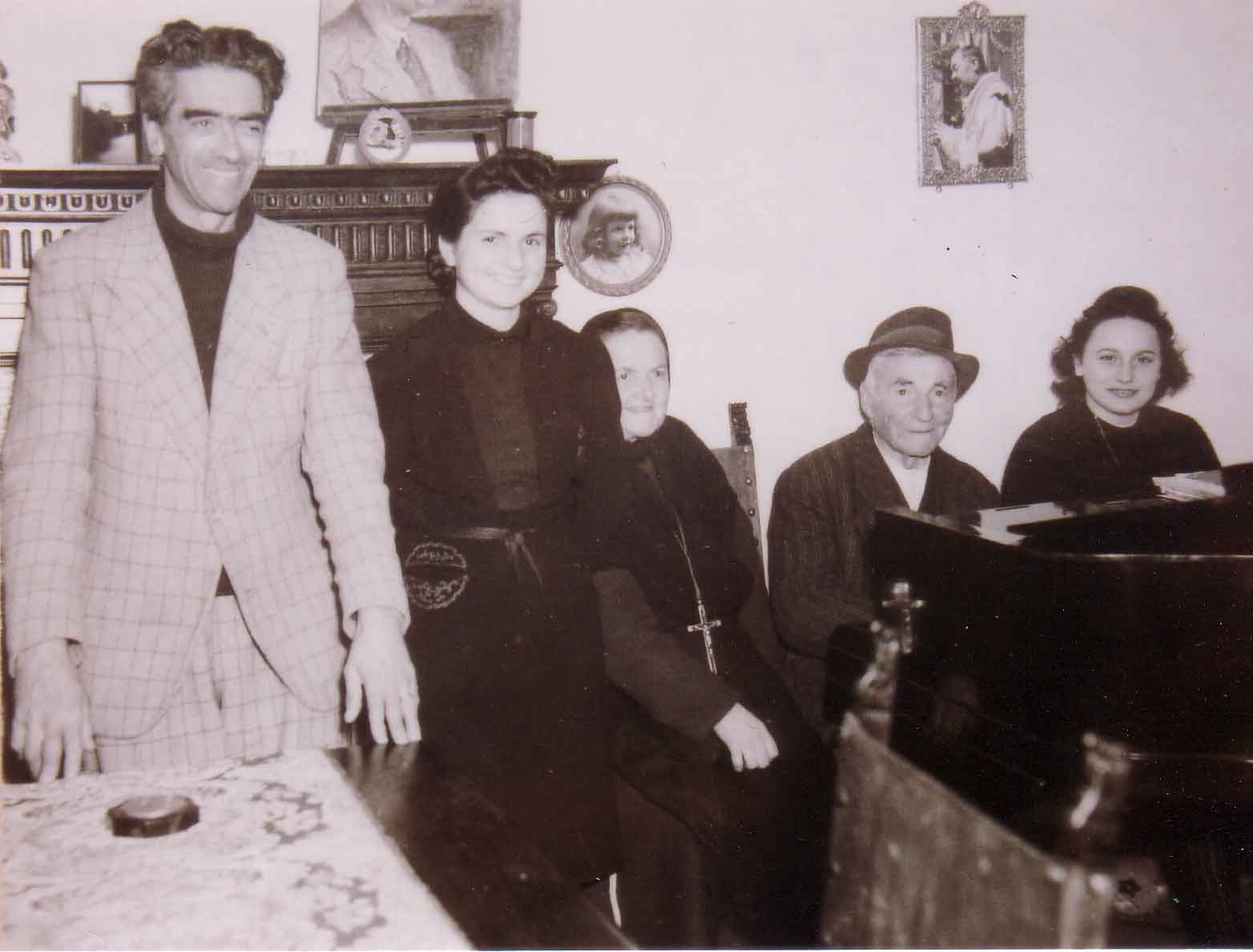 Padre Pio's Father & Nieces: May, 1945

From "Left to right: the Count, Padre Pio's Niece, Mary Pyle, Padre Pio's Father, Padre Pio's Niece".
The flying monk
During WWII many Allied Aviation Pilots of different nationalities and religions were based in Puglia.
Each time that the pilots approached the area of San Giovanni Rotondo they saw in the sky a Friar, who in stretching out his wounded hands, prevented them from dropping their bombs.
General Bernardo Rosini of the United Air Command reported that "Each time that the pilots returned from their missions, they spoke of this Friar
that appeared in the sky and diverted their airplanes, making them turn back.
"Everyone was talking about these incredible stories. But since the episodes kept recurring, the Commanding General of USAF general Nathan F. Twining
who happened to be in Bari, decided to pilot himself a squadron of bombers to destroy a target near San Giovanni Rotondo.
When he and his pilots were in the vicinity of the target they saw the figure of a monk with upraised hands appear in the sky.
The bombs got loose from the plains falling in open areas, and the planes made a sharp turn to return to base without the pilots intervening.
Back on the ground everybody asked everybody else about the happening and wanted to know who was that friar.
The General was told about Padre Pio and decided to visit him with the pilots in that squadron. The pilots immediately
recognized Padre Pio, and he told the general: "So you are the one that wanted to destroy everything." The general become a friend of Padre Pio.
Colonel Loyal Bob Curry of Birmingham Alabama served on the 464th Bomb Group of the 15th Air Force at the Base in Spinazzola under commanding general Nathan F. Twining,
reported that several airman had seen a flying monk, preventing them from releasing the bombs. "Everybody was talking about it."
Alfonso D'Artega serving at the Air Base of Amendola reported: "One of the pilots said:' I saw the phantom fly again.'"
"Another pilot saw a figure of a monk flying as fast as the plain waving his arms. The pilots and copilots saw it. "
D'Artega and a pilot went to visit Padre Pio, and the pilot recognized in Padre Pio the monk seen through the clouds.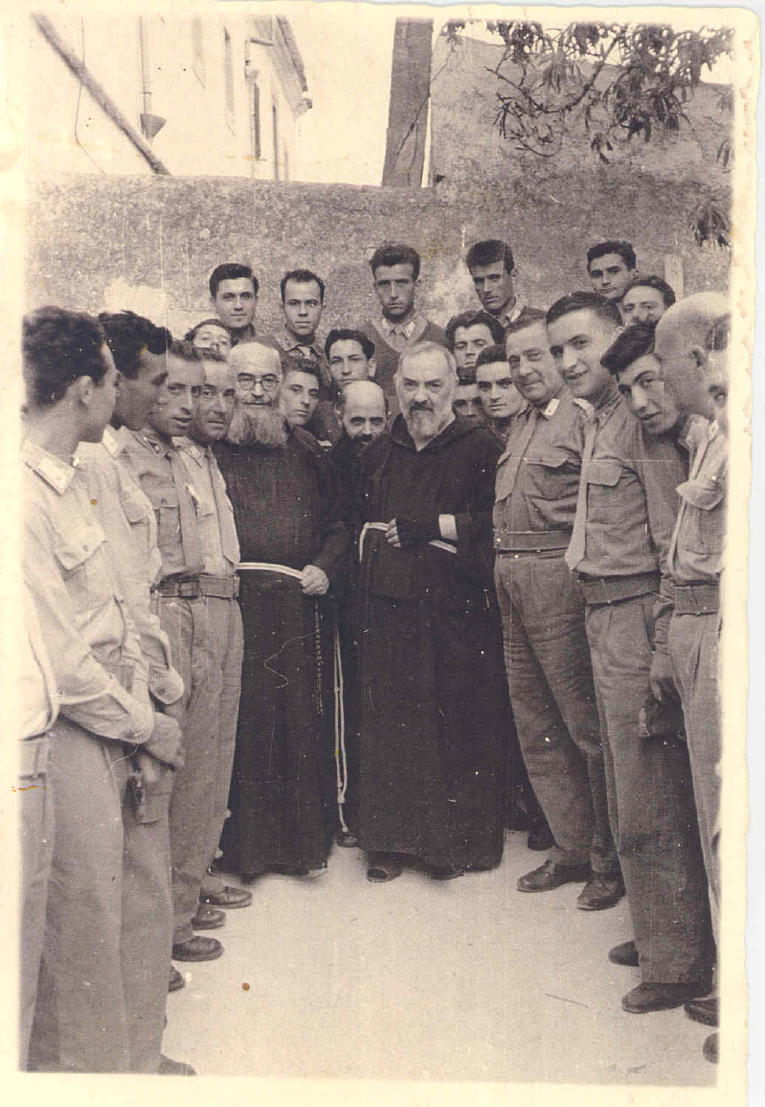 next: Close encounters with Padre Pio in the confessional
Close Encounters of the Special Kind with PADRE PIO: hallways, backyard; around the world, ecstasies; Purgatory, Guardian Angel, devil; Americans; confessional, baptisms, first Communions, weddings; Virgin Mary, Rosary; Wounds; Mass; himself, God, Jesus, Cross, Christmas, Church; spiritual children, meditation, prayer, Prayer Groups; child, novice, priest, soldier, fevers; first inquisition, Saint Mary of the Graces, Home for the Relief of Suffering (Casa Sollievo della Sofferenza); the most famous picture, children, blessings, at the ballots downtown, eating; second inquisition, last ten years, death; the Capuchin friars; entombed in first resting place, blessed, saint, exhumed, displayed, final resting place in golden crypt; mosaics of the life of Padre Pio, Jesus, Saint Francis of Assisi; fists class relics with certificates; original painting, original icon.