3 Ministry in Pietrelcina; invisible Wounds
Summary: Misterious illnesses, St. Anna, Seggiolone, Elm tree, il Ponticello. Invisible stigmata wounds, Pannullo, Padre Benedetto and Padre Agostino, La Torretta, Michele's home. Dr. Antonio Cardarelli. Venafro, visions of Heaven and hell, Diary of Padre Agostino, Dr. Nicola Evangelista, ugly black cat and other apparitions. Back in Pietrelcina, the 2 churches, the cobbler, dispensation, long Masses, thanksgiving after Mass, attempt to secularization, rescript to live outside a convent, Foggia, San Giovanni Rotondo.
Misterious illnesses

After his ordination to priesthood in Benevento, on August 10, 1910, Padre Pio did not return to the convent, because of poor health. He suffered mysterious illnesses for several years, and just his stay in Pietrelcina was mysterious. <![if !supportFootnotes]> [1]<![endif]>

Padre Benedetto for five times in the span of two years ordered Padre Pio back in convent. Padre Pio obeyed promptly, but each time he became so suddenly gravely ill that the friars accompanied him precipitously back home.

Padre Pio stayed in the one room 'La Torretta", with steep steps to climb

Padre Agostino wrote that when he questioned him one day about it his answer was: "I cannot tell you the reason why the Lord wanted me in Pietrelcina. I would lack of charity!"<![if !supportFootnotes]>[2]<![endif]>

From some documents, letters, depositions, testimonies, one might have to conclude that the life in some convents could not have been that exemplary at the time.<![if !supportFootnotes]>[3]<![endif]>
St. Mary of Angels
St. Anna
Padre Pio started his ministry officiating in the parish church of St. Mary of the angels, and in St. Anna, the church where he had been baptized, helping the archpriest Salvatore Pannullo with baptisms, weddings, funerals, Masses, and the preparation of the children to their First Communion.<![if !supportFootnotes]>[4]<![endif]> <![if !supportFootnotes]> [5]<![endif]>
Elm tree
Stump of the elm tree in its original site
After Mass he used to go to Piana Romana, in the Forgione farm. There his father had built a straw hut, under an elm tree.
The straw hut has become a church, and the stump of the elm is now preserved inside the church. Many years later it was decided to preserve the elm tree, but by then very little had been left of it, dead and petrified.<![if !supportFootnotes]>[6]<![endif]>
"Seggiolone"
The "Seggiolone"
Near the hut and the elm there were two large stones. He used to call the stones "il seggiolone" the big chair. In that setting he spent many hours a day praying, reading and meditating. "From there I used to see the sunrise and the sunset." <![if !supportFootnotes]> [7]<![endif]>
Years later Silvio Scocca, the son of Mercurio, childhood friend of Padre Pio, was asked to take care of the Forgione's farm. He didn't know about the 'Seggiolone'. He saw those two large stones and tried to remove them, to no avail. One day he was visiting Padre Pio in San Giovanni Rotondo and he told him: "Don't remove those two stones. They where my "seggiolone." <![if !supportFootnotes]> [8]<![endif]>
"Il Ponticello" (The little bridge)
The "Ponticello"
To go to Piana Romana from Rione Castello where he lived Padre Pio had to walk over a little bridge. There invariably he met a bunch of devils who would say "Mo' passa o' santariello (Here is the little saint passing). Padre Pio's reply was: "Schiattate! Schiattate!" (Burst! Burst!) A sign with explanation reminds the events.<![if !supportFootnotes]>[9]<![endif]>
The remnants of the elm tree, in the chapel built around the stump.
On September 7, 1910, twenty eight days after being ordained priest, while he was praying in Piana Romana, on the "Masseria" ground, under the elm tree, Jesus and Mary appeared to him and gave him the wounds.<![if !supportFootnotes]>[10]<![endif]>
His mom was not far, in the Masseria, and when Padre Pio showed up, a bit later than usual, the mother noticed that he was shaking his hands like they were burning. The mom told him: "Why are you shaking your hands, are you learning to play guitar?" Padre Pio did not answer.<![if !supportFootnotes]>[11]<![endif]>
Pannullo
Don Salvatore Pannullo.
Salvatore Pannullo, pastor of the Parish in Pietrelcina testified that in that afternoon of September 7, 1910 Padre Pio showed him the wounds and told him: "Father, do me a favor. Let's ask Jesus to take them away. I want to suffer, to die from suffering, but in secret." They prayed together, and God answered their prayer. The wounds disappeared while the suffering continued. When Pannullo was told in 1918 that the wounds had appeared on Padre Pio, he replied: You see them now. I saw them in 1910."<![if !supportFootnotes]>[12]<![endif]>
Pannullo insisted for Padre Pio to see a doctor. The first doctor diagnosed as tuberculosis of the skin. Then they went to dr. Andrea Cardone. Cardone was positive that they were not of tubercular origin, but he could not explain them.<![if !supportFootnotes]>[13]<![endif]>
Padre Benedetto and Padre Agostino

Padre Benedetto da San Marco in Lamis.
Padre Pio did not tell anybody of the wounds, besides Pannullo, for a full year. He reported the phenomenon a year later, in a letter to Padre Benedetto dated September 8, 1911. In the letter he stated that he hadn't said anything because he was "ashamed".
Here are his words: "Last night in the middle of the palm of my hands appeared a circular red mark, accompanied by strong sharp pain. The pain was stronger on the left hand. Also under the feet I feel pain. This phenomenon has been going on for about a year. But it had been a while since it happened last time. Don't get agitated because this is the first time that I tell you about it. You know that shame took over me. Even now you can't imagine how much violence I have had to do myself to tell you about it." <![if !supportFootnotes]> [14]<![endif]>
On October 10, 1915, answering a specific question by Padre Agostino, asking if he had received the wounds in 1910: "Yes, I received the stigmata. I was aghast. They were visible, especially in one hand, and prayed the Lord to remove this visible sign, and they disappeared. But the sharp pain did not go away."<![if !supportFootnotes]>[15]<![endif]>
From "La Torretta" to uncle Michele's home

Entrance to uncle Michelès home
Padre Pio could not afford climbing the steep steps of "La Torretta". He moved to his brother's home since it was empty. His brother had immigrated to America. Michele's home was located above the maternal home of Padre Pio.
Meanwhile the months passed, and the fact that Padre Pio stayed at home instead of a convent, continued to create agitation in the leadership of the Capuchin Order. Padre Agostino wrote: "How would I like to see you in the friary!" Padre Pio answered: "I continue to suffer at home, but I am able to perform my duties. That is something which was never possible when I lived in community". And the Father Provincial stated: "Your continued stay in your home is a source of great sorrow to me."<![if !supportFootnotes]>[16]<![endif]>
Because of the above, on October 28, 1911, Padre Benedetto took Padre Pio for a special examination "to hear from the science if he could stay away from his hometown without compromising his health".<![if !supportFootnotes]>[17]<![endif]>

Prof. Dr. Antonio Cardarelli, professor of clinical pathology in Napoli.
The physical examination was done by the famed Dr. Antonio Cardarelli in Naples. After a thorough examination Cardarelli suggested to take Padre Pio to the nearest convent. According to the diagnosis of the celebrated physician, the young friar's days were numbered, and he had few days left to live, and he couldn't travel long distances.<![if !supportFootnotes]>[18]<![endif]>
Following the suggestion from dr. Cardarelli, his superior Padre Benedetto accompanied Padre Pio to the friary of San Nicandro, in Venafro.<![if !supportFootnotes]>[19]<![endif]>

The convent at the times of Padre Pio
The town of Venafro, the convent and the church of San Nicandro. Map of the area.
Padre Pio stayed in the convent of Venafro from the end of October 1911 until december 7 of the same year. In Venafro Padre Pio tried to get involved in the routine of the community life. But he was unable to do it. The days he spent in Venafro he couldn't retain any food, and lived only of the daily Eucharist.<![if !supportFootnotes]>[20]<![endif]>
The Superior Padre Evangelista took Padre Pio again to Napoli to see another specialist. Padre Evangelista noted that "these doctors understand very little." <![if !supportFootnotes]> [21]<![endif]>
Padre Agostino: "The whole thing continued to be a mistery".<![if !supportFootnotes]>[22]<![endif]>
The cell of Padre Pio in Venafro.
Visions of Heaven and hell
During the month and a half stay in the convent of Venafro, Padre Pio spent his days sick in bed, unable to retain food, feverish and at times delirious, and "in danger of death".
Padre Agostino's Diary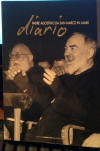 Padre Agostino noted by coincidence that something was going on with Padre Pio.
While Padre Agostino was at Padre Pio's bedside, his face would have an agitated frightened expression, followed by a serene and cheerful one; the eye wouldn't blink, and he would stare at something unseen by others.
Padre Pio begged Padre Agostino not to live him alone, and Padre Agostino decided to stay and jolt down what he was hearing form Padre Pio's voice. These notes later became a diary and they give us an unprecedented insight in the relations of Padre Pio with the unseen. Padre Evangelista, the superior of the convent, joined Padre Agostino in witnessing the events. <![if !supportFootnotes]> [23]<![endif]>
Dr. Nicola Lombardi
Padre Agostino and Padre Evangelista described what was going on with Padre Pio to Dr. Nicola Lombardi, physician of the friars, and Dr. Lombardi became witness to two ecstasies on November 29 and December 3, 1911. He described that Padre Pio had no pupillary reaction to the light of a match; the hearth beat was asynchronous from the pulse; the face appearing "vivacious and beautiful". Then the doctor followed Padre Agostino outside the room. Padre Agostino whispered an order to Padre Pio to return to normalcy, and he instantly obeyed. The doctor was impressed. He gave a written testimony of the events.<![if !supportFootnotes]>[24]<![endif]>
Picture of Padre Pio done in Venafro when he was told he had only few days to live.
Ugly black cat and other diabolic apparitions
In Venafro Padre Pio got also apparitions from the devil.
Satan would appear in the form of an ugly black cat trying to fling on him, as a nude woman dancing lewdly, or just spitting on him without appearing, or as is spiritual father, as his superior, pope Pius X, his guardian angel, St. Francis, the Virgin Mary, and also as the horrible self, with an army of demonic spirits. <![if !supportFootnotes]> [25]<![endif]>
At times there were no apparitions but he was beaten until he bled, tormented with deafening noises, covered with spit. He was able to free himself from the torments by asking the apparition to repeat after him: "Long live Jesus." <![if !supportFootnotes]> [26]<![endif]>
At that point the demonic vision would disappear. Padre Agostino wrote in his diary that frequently, entering in his cell, Padre Pio asked him to repeat: "Long live Jesus." Padre Agostino would say: "Long live Jesus a thousand times." After that they started their conversation. Padre Agostino wrote that "the heavenly visions started immediately after the diabolic ones. He then had long conversations with Jesus, the Virgin Mary, the Guardian Angel, St. Francis of Assisi, and other saints."<![if !supportFootnotes]>[27]<![endif]>















Inside and outside the Capuchin church and convent in Venafro. Monument to Padre Pio. Museum.
Back in Pietrelcina
Padre Pio's room in Pietrelcina, in the house of uncle Michele.
Padre Pio's health did not deteriorate in Venafro, but did not improve either. He was unable to hold any kind of food. Per disposition of Padre Benedetto, Padre Pio was accompanied back to Pietrelcina by Padre Agostino on December 4, 1911.<![if !supportFootnotes]>[28]<![endif]>
As soon he returned to Pietrelcina Padre Pio felt normal again and was able to resume the sacred ministry.<![if !supportFootnotes]>[29]<![endif]>
Noises
When Padre Pio was in Pietrelcina, living alone in La Torretta room, the neighbors reported terrible noises, crashes, bangs, shouts. They complained to his parents. The parents found things thrown about the room. Padre Pio said that he had been fighting "with those foul creatures".
On January 18, and on February 13, 1913 he reported to Padre Agostino: "At first I saw nothing but heard diabolic noises. Then a number of demons appeared in the most abominable form. They hurled themselves upon me, threw me on the floor, struck me violently, threw pillows, books, and chairs through the air and cursed me with exceedingly filthy words." "My body is all bruised because of the many blows that our enemies have rained upon me."<![if !supportFootnotes]>[37]<![endif]>
St Mary of the Angels and St. Anna
In Pietrelcina Padre Pio walked with difficulty on the cobblestone pavement of the streets, because of the invisible wounds on his feet. The archpriest Salvatore Pannullo decided that on Tuesdays, Thursdays and Fridays, when the wounds were more painful Padre Pio would celebrate Mass in the church of St. Anna, close to where he lived. There, in the space in front of the church he would also sit with the children, teaching them catechism and sacred hymns.<![if !supportFootnotes]>[30]<![endif]>
The cobbler
A cobbler in town had a few months old child, who was very ill and about to die. He refused his wife's pressure to have the child baptized. One day the mother with other relative took the dying child to Padre Pio, and the child was baptized. When the cobbler father knew about it, went to threaten Padre Pio: "You put water on my child and said that with this water he will recover. If he dies it will be your fault." Padre Pio was scared and started praying, locked at home, and frequently coming to the window, asking how the child was doing. The child started improving and recovered.<![if !supportFootnotes]>[31]<![endif]>
Antonio Montella, another cobbler

Another cobbler in town had his shop close to where Padre Pio lived. Padre Pio was friendly with him, and used to stop by and chat with him. The desk with his tools has been preserved in the museum in Pietrelcina.
Antonietta
Padre Pio was not welcome at the Pannullo domicile. The oldest niece of Pannullo, Antonietta, feared that Padre Pio was tubercular and would infect her children.
She made him sit on the same chair and drink out of the same cup, set apart for his exclusive use, when he visited.
Once, archbishop Schinosi came to dinner at Pannullo's home and they invited Padre Pio to join. Antonietta got mad at the uncle for permitting a tubercular priest to come to dinner and infect her children. Pannullo told Padre Pio to stay away.<![if !supportFootnotes]>[32]<![endif]>
Rosina
Another niece, Rosina, demanded that her uncle provided for Mass a separate set of vestments for Padre Pio, including a different chalice and paten.
One day the sacristan Michele Pilla forgot to change the chalice. Rosina noticed it and Michele, in front of the entire congregation, approached the altar, interrupted the Mass, and exchanged the chalices. That evening Padre Pio told Pannullo "Today the Lord gave me the grace of knowing that my disease is not contagious." <![if !supportFootnotes]> [33]<![endif]>
Pannullo communicated this revelation to his nieces, who accepted it without question; thereafter Padre Pio was welcome in the Pannullo household.<![if !supportFootnotes]>[34]<![endif]>
One day Rosina, the niece of archpriest Pannullo, wanted to test padre Pio and told him that she would go to 'La Torretta" and steal something from his room, and he had to tell her what she had stolen. Padre Pio: "All right, go, but you will find a little angel behind the door, guarding my house." She didn't go.
Later Padre Pio told the archpriest that his niece intended to steal his breviary. Pannullo went to Rosina to ask if that was true. Rosina: "Yes. But I said nothing about it to anyone. I just merely thought of it, so as to see whether he could read my mind."<![if !supportFootnotes]>[35]<![endif]>
Alfonso

Torretta", and Padre Pio had to tell him what did he stole. Padre Pio warned him not to go.
Alfonso went anyway, but he had hardly put his foot on the first step when he was unable to move a step further. Fearing that he has having a stroke, he decided to go back. Padre Pio told him: "Uncle Alfonso, I have a good guardian there."<![if !supportFootnotes]>[36]<![endif]>
"Discipline"
In Pietrelcina Padre Pio continued to observe the "discipline" on the customary days, striking himself with a metal chain until the blood run.<![if !supportFootnotes]>[38]<![endif]>
Dispensation to say votive Masses
Because of his poor sight, with a Decree from The Sacred Congregation of Religious on March 21, 1912, he obtained the faculty to celebrate the votive Mass of the Virgin Mary on holy days, and the Mass for the deceased on ferial days. The faculty was for three years, renewable.<![if !supportFootnotes]>[39]<![endif]> For the same reason and on the same date he received the faculty to recite daily fifteen decades of the Rosary instead of the Divine Office.<![if !supportFootnotes]>[40]<![endif]>
During the Mass Padre Pio took interminably long pauses, oblivious of his external surroundings, as he prayed to God and conversed with celestial beings.<![if !supportFootnotes]>[41]<![endif]>
About Padre Pio's Mass, Don Giuseppe Orlando, a priest in the same church, gave a written testimony that "the Masses were too long" "the 'memento' ('remember') would last for an hour" and the farmers that came to mass before going to the field complained that they couldn't spend many hours praying with him instead of going to work .<![if !supportFootnotes]>[42]<![endif]> <![if !supportFootnotes]> [43]<![endif]>
The pastor talked to Padre Pio's Capuchin superior, and got a suggestion that worked well. "The pastor would stay in the church when Padre Pio was celebrating, and when he started slowing down, he would give him a mental order to go on. In the name of obedience he resumed Mass right away." <![if !supportFootnotes]> [44]<![endif]> <![if !supportFootnotes]> [45]<![endif]>
While in Pietrelcina (mid May 1909 – March 17, 1916) the archpriest Salvatore Pannullo, following the suggestion by Padre Agostino Daniele, would from afar mentally order Padre Pio to resume Mass, and he would promptly obey.<![if !supportFootnotes]>[46]<![endif]>
Padre Tarcisio
Padre Tarcisio Zullo testified that in the years 1910-16 in Pietrelcina, Padre Pio "thought the catechism to the children, and prepared the songs for the month of May and for the Holy Week, because he had a beautiful voice. He celebrated Mass at 5:30 AM, and it lasted one hour and a half. When he went into ecstasies during Mass or in other times of the day, he returned normal when the archpriest Salvatore Pannullo ordered him mentally. All this has been told to me by Padre Pio's niece Graziella."<![if !supportFootnotes]>[47]<![endif]>
Thanksgiving after Mass
After Mass Padre Pio would stay for hours for thanksgiving in the back of the main altar of the church of St. Mary of the Angels in Pietrelcina. Many times he would stay still in ecstasy, appearing like dead, scaring the sacristan Michele Pilla. Pilla used to call the archpriest Pannullo, and he would come, and whisper and order to return to senses in Padre Pio's ear, and he would do it on the spot.<![if !supportFootnotes]>[48]<![endif]>
Attempt of Secularization
Since Padre Pio, because of his poor health was unable to reenter in convent, the superior general on the Capuchins, Padre Pacifico da Seggiano, asked of a decree of secularization, were Padre Pio would be removed from the Capuchin order and incardinated as a priest in the dioceses of Benevento.
In a vision on December 3, 1911, while he was in Venafro Padre Pio complained with St. Francis: "My father, are you chasing me away from your Order? Let me die, instead." St. Francis promised that he would not be expelled from the Order.<![if !supportFootnotes]>[49]<![endif]> <![if !supportFootnotes]> [50]<![endif]>
Rescript allowing living outside a convent

Rescript dated February 25, 1915 were Padre Pio is dispensed from residing in convent.
The decree of secularization needed several steps, including the approval from the archbishop of Benevento. In the end it was never obtained. Instead, Pope Benedict XV, in a rescript by Cardinal Ottavio Cagiano de Azevedo, prefect of the Congregation for Religious life, on February 15, 1915, gave permission to Padre Pio to live outside the convent while keeping the religious habit, "until the present need persists". <![if !supportFootnotes]> [51]<![endif]> <![if !supportFootnotes]> [52]<![endif]> <![if !supportFootnotes]> [53]<![endif]>
Foggia

The Capuchin convent of St. Anna in Foggia.
On February 17, 1916 Padre Pio, having agreed with the request of Padre Agostino to assist the dying noblewoman Raffaelina Cerase in Foggia, left Pietrelcina and reached the convent of St. Anna in Foggia. He thought that he would stay there only few days; instead he remained there for about six months, until September 4, 1916.<![if !supportFootnotes]>[54]<![endif]>
San Giovanni Rotondo
On September 4, 1916 Padre Pio left Foggia for San Giovanni Rotondo.<![if !supportFootnotes]>[55]<![endif]> The convent would be his permanent home for next 52 years, except for the stint in military service, until his death.<![if !supportFootnotes]>[56]<![endif]>
The Capuchin convent of San Giovanni Rotondo at the time when Padre Pio moved there in 1916.
Bibliography
Agostino, da San Marco in Lamis (2012). Diario. San Giovanni Rotondo: Edizioni Padre Pio. Ago12
Capuano, P. (2012). Con p. Pio: come in una fiaba. Foggia: Grafiche Grilli. Cap12
Chiocchi Luciano e Frescobaldo Cirri. (1967). Padre Pio, storia di una vittima. Roma. Chi67
Convento. (2001). Padre Pio dalla Terra al Cielo. San Giovanni Rotondo: Edizioni Frati Cappuccini. Con01
DeLiso, O. (1962). Padre Pio. New York: All Saints Press. DeL62
Giannuzzo, E. (2012). San Pio da Pietrelcina. Il travagliato persorso della sua vita terrena. Book sprint edizioni. Gia12
Malatesta, E. (1999). La vera storia di Padre Pio. Casale Monferrato: PIEMME. Mal99
Mc Gregor, A. O. (1985). Padre Pio, his early years. San Giovanni Rotondo : Edizioni Padre Pio. McG85
Peroni, L. (2002). Padre Pio da Pietrelcina. Borla.
Riese, Fernando da (2010). Padre Pio da Pietrelcina crocifisso senza croce. San Giovanni Roronto: Edizioni Padre Pio. Fer10
Ripabottoni, Alessandro da (2010). Padre Pio racconta e dice. San Giovanni Rotondo: Edizioni Padre Pio. Ale10
Ruffin, C. B. (1991). Padre Pio: the true story. Huntington, Indiana: Our Sunday Visitor, Inc. Ruf91
Winowska, M. (1988). Il vero volto di Padre Pio. Milano: Edizioni San Paolo. Win88
. Military service
<![if !supportFootnotes]>

---
<![endif]>