The very first healing reported in a newspaper:
Pasquale Di Chiara walks
Reported by Il Mattino 6-11-1919. Pasquale Di Chiara had been forced to use a cane to walk for several months after a fall. Padre Pio seeing him commanded him to walk. Pasquale reported: "I felt a burning sensation from my foot through my body. I began walking perfectly without assistance."<![if !supportFootnotes]>[1]<![endif]> <![if !supportFootnotes]> [2]<![endif]> <![if !supportFootnotes]> [3]<![endif]>
Italia Di Chiara
Pasqualès daughter Italia Di Chiara was using braces on her legs for infantile paralysis contracted during her infancy. Padre Pio asked her to take them off. She was able to walk and move around, and never use them again.<![if !supportFootnotes]>[4]<![endif]>
Francesco Viscio Santarello walks
Francesco Visco lived near the convent. He had walked on crutches all his life because of a deformity from infantile paralysis (polio) contracted right after birth. He dragged himself about on his knees, supported by a pair of miniature crutches. The children used to make fun of him all the time. He was usually positioned near the door of the cloister, soliciting alms.
When he was 43 he took the courage to ask: "Padre Pio bless me." Many people, including Padre Paolino da Casacalenda witnessed the happening.
Padre Pio promptly answered: "Throw away your crutches." Francesco, stunned didn't move. This time Padre Pio shouted: "I said, throw away your crutches." In front of all those people Francesco threw his crutches away, and walker for the first time, and for several years after, until his death.<![if !supportFootnotes]>[5]<![endif]> <![if !supportFootnotes]> [6]<![endif]>
Pasquale Urbano of Foggia had been walking with two canes after falling from a carriage.
After the confession in 1919 Padre Pio said: "Get up and go. Throw away those canes". He walked away to everyonès amazement.<![if !supportFootnotes]>[7]<![endif]> <![if !supportFootnotes]> [8]<![endif]>
Giuseppe Canaponi walks
Giuseppe Canaponi after recovery, with wife and son
Giuseppe Canaponi of Firenze, on May 21, 1945 was hit by a truck while driving his motorcycle. Multiple fractures from skull to feet, including 5 fractures of left femur. Multiple surgeries. Walking on crutches since. In 1948 he confessed with Padre Pio. He walked away normally, without realizing it. He went back to thank Padre Pio. Padre Pio: "I didn't do the miracle. I only prayed for you. The Lord healed you."<![if !supportFootnotes]>[9]<![endif]> <![if !supportFootnotes]> [10]<![endif]> <![if !supportFootnotes]> [11]<![endif]>
Giving sight to Gemma di Giorgi
Gemma di Giorgi
Gemma di Giorgi, from Ribera in Sicily, born on Christmas day in 1939, was blind, born without pupils. Specialty drs. Bonifacio, Cucco, and Contini had said she was inoperable, and nothing could be done about her blindness.
In 1947 she was brought to padre Pio by her grandmother. In the hallway, after confession Padre Pio touched her eyes making the sign of the cross over each eyes. The same day she received the first communion from Padre Pio. He told her: "Be good and saint." and she started seeing normally, still without pupils in her eyes. <![if !supportFootnotes]> [12]<![endif]> <![if !supportFootnotes]> [13]<![endif]> <![if !supportFootnotes]> [14]<![endif]> <![if !supportFootnotes]> [15]<![endif]>
She was taken to several eye doctors for evaluations and all said that she couldn't see, repeating over and over "Without pupils you cannot see. "Over the years many doctors have examined Gemma and were amazed.
Gemma and her grandma spent some days in San Giovanni Rotondo in 1967, and detailed her story To Clarice Bruno. Gemma was 28."<![if !supportFootnotes]>[16]<![endif]>
"I had no pupils in my eyes," said Gemma in an interview with Father John Schug in 1971, several years after Padre Pio's death. "I had no sight at all. Today I still see normally. As you can see I have no pupils."<![if !supportFootnotes]>[17]<![endif]>
Erminio Ziaco
Erminio Ziaco of Civitavecchia was afflicted with muscular dystrophy. The pediatrician and a specialist in Rome said there was no cure. The child was taken to Padre Pio, after which he began to walk, run, and ride a bicycle. When he went back to the pediatrician, his sight of Emerio was an "immense surprise."<![if !supportFootnotes]>[18]<![endif]>
Bill McLaughlin
Bill McLaughlin at 23, in 1995, had a severe car crash. He was airlifted to Dublin. The doctors said that if he survived he would be a vegetable. The chaplain at the hospital was a Capuchin friar. He had a glove of Padre Pio and passed it over Bill's body.
After 15 minutes Bill started to move arms and legs. The nurse called the doctor and he said that he didn't understand. After few days he came back to 100% normal.
He was sent to physiotherapy. When his name was called he entered in, and looking at her notes the physiotherapist said: "It's not you that I am looking for. Bill McLaughlin should be in a wheelchair.
When he went to his family doctor he said: "You should be dead."
A brain scan showed all the injuries and the part of the brain that is gone. But there are no symptoms.
Bill went to Rome in 1999 to Padre Pio's beatification. Bill and his family went also to San Giovanni Rotondo after Padre Pio's canonization. The story is recorded in the convent.<![if !supportFootnotes]>[19]<![endif]>
Cancer in Poland

Mons. Karol Wojtyla with the Poltawska family
Dr. Wanda Poltawska, from Cracow in Poland, from 1941 to 1945 was in the Ravensbruk concentration camp. After liberation she married and had four daughters. She was friends with the archbishop Karol Wojtyla. In 1962 she was diagnosed with advanced stomach cancer. The doctors said that if they operated she could maybe live few more months. She told what was happening to the archbishop Wojtyla, who was leaving for the opening of the Ecumenical Council in Rome.
On November 18, 1962, Woityla wrote to Padre Pio, asking for prayers for Dr. Poltawska.

Venerable Father, I ask You to pray for a mother of four girls, forty years old, from Cracow in Poland, (during the last war she was in a concentration camp in Germany), now she is extreme danger for her health and her life because of cancer: May God use his misericordy to herself and her family, with the intercession of the Vey Blessed Virgin.
Very much obliged in Christ, + Carol Wojtyla, titular Bishop of Ombi, Capitular Vicar of Cracow in Poland. Roma,
Pontifical Polish College, Piazza Remuria 2A, Roma
Angelo Battisti, administrator of Casa Sollievo, reported that Padre Pio told him: "Angelino, conserva questa lettera, perché un giorno diventera' importante". "Angelino, keep this letter, because one day it will become important."
Dr. Wanda Poltawska
On Friday November 21, at the final pre-operative check the surgeon could find no trace of the tumor. It was no longer there. On Saturday morning the archbishop Wojtyla called from Rome, to ask about the surgery. Dr. Poltawska told him "the good news".
Mons. Wojtyla wrote another letter to Padre Pio on November 28, thanking him for his prayers, stating: "She recovered before surgery was started."

Venerable Father, The woman living in Cracow, Poland, Mother of four girls, on November 21, regained her health immediately before surgery. Thanks to God. And also to you, Venerable Father, the biggest thank you from the woman, her husband, and the entire family.
In Christ. + Karol Wojtyla, Capitular Vicar of Cracow
Roma, November 28, 1962
This is a follow up letter to Padre Pio from the future John Paul II, sent from Rome on December 14, 1963
Very Reverend Father, Your Paternity will certainly remember that already some few times in the past I took the permission to recommend to Your prayers some particularly dramatic cases in need of attention. I'd like therefore thank you deeply on behalf of the people involved, particularly about a lady, catholic physician, ill with cancer, and of the son of an attorney, gravely ill since birth. Both the persons are doing well, thanks to God.
Allow me moreover, Very Reverend Father, to entrust to your prayers, a paralyzed lady, of this Archdioceses. At the same time I let myself to recommend to you the vast pastoral difficulties that my poor work faces in the current situation. I take the opportunity to renew to You the senses of my religious regards, with which I love to prove myself, of Your Paternity very devout in Jesus Christ .
+ Carlo WOJTYLA, titular bishop of Ombi, Capitular Vicar of Cracow.
Pope John Paul II with the Poltawska family
In 1967 Dr. Poltawska met Padre Pio: "He was passing by me on his way to the sacristy. He suddenly stopped and searched the crowd with his eye. Then he turned and walked towards me. With his hand on my head he said: "Are you all right now, my dear child? Is it ok now?" At that instant I just knew in my heart that he had indeed obtained my cure."<![if !supportFootnotes]>[20<![endif]>
Alberto Del Fante was a journalist who despised Padre Pio. A few years later, Del Fantès grandson, Enrico, was struck with kidney disease and tuberculosis. The doctors gave little hope that Enrico would recover. Relatives of Enrico traveled to see Padre Pio and ask him to pray for him. Padre Pio assured them the boy would recover.
Del Fante himself said: "If Enrico gets well, I will make a pilgrimage to San Giovanni Rotondo myself." He was convinced that nothing would happen, but the boy was healed. Del Fante was deeply moved, and went to see Padre Pio who helped him turn to God. After Del Fantès conversion, he became a dedicated promoter of Padre Pio.<![if !supportFootnotes]>[21]<![endif]>
Rosetta Polo Riva
Rosetta Polo Riva from Bolzaneto, twelve years old, had a congenital painful heat defect. Her friend wrote a letter to Padre Pio, asking prayers for Rosetta. Two weeks later Rosetta saw Padre Pio at her bedside. "Rosetta, I am Padre Pio. Instead of writing you a letter I came in person. You will receive the grace from Madonna on August 28, at eight in the evening." On that date she felt better, and few days later she was completely cured.<![if !supportFootnotes]>[22]<![endif]>
Padre Costantino's tuberculosis

Padre Costantino Capobianco
In 1935 Padre Costantino Capobianco told Padre Pio that he had a relapse of tuberculosis, and had been ordered to report to a sanitarium. Padre Pio: "Don't worry. This is just an excursion." Padre Costantino was soon discharged, and outlived Padre Pio. <![if !supportFootnotes]> [23]<![endif]>
Vincenzo Matera
Vincenzo Matera had been inpatient at Casa Sollievo in 1976 for a kidney stone, and after six days of observation the doctors decided to operate. Vincenzo saw Padre Pio at his bedside. He told him: "Get up. You are healed." He got up. The fragmented stone was expelled. At the same time he was called to his wife's room. She, also inpatient at Casa Sollievo, had just delivered a healthy baby boy. Vincenzo did not have surgery<![if !supportFootnotes]>[24]<![endif]>
Don Orione

Saint Luigi Orione
A young man with the right hand paralyzed and deformed went to Don Luigi Orione (now saint) asking for his hand to be healed because he had wife and children to provide for.
Don Orione suggested him to go to Padre Pio mentioning that don Orione was sending him.
The man went to Padre Pio and returned to don Orione after a week smiling and waving his arm completely healed. He said that he had mentioned don Orione, and Padre Pio had blessed his arm.<![if !supportFootnotes]>[25]<![endif]>
Grazia Siena
Grazia Siena from San Giovanni Rotondo was born blind. She went frequently to the convent to pray. When she was 29, Padre Pio told her to have an operation on the eyes. With the help of family and friends she saw many eye doctors, but no one wanted to operate.
In Bari they convinced prof. Francesco Durante to operate. However he told Graziella that only a miracle could give her sight back. When the bandages were removed after surgery she was able to see for the first time.<![if !supportFootnotes]>[26]<![endif]> <![if !supportFootnotes]> [27]<![endif]>
On February 1950 the 15 years old son of Leonello Marinelli from Montignana near Perugia was diagnosed with an incapacitating disorder of the heart. The specialists said that it was beyond medical help.
The child asked the father to go tell Padre Pio. When Lionello' father approached Padre Pio, he, before Lionello could open his mouth, said: "I know why you came. The boy is better and gradually will be cured." When Lionello went back home, the son told him that he had a dream of Padre Pio, and was feeling better.
The doctors, after examining the boy, affirmed that the heart disorder had disappeared, and declared that there was no way this could have happened naturally. In March the young Marinelli was completely well, and able to visit Padre Pio with his father.<![if !supportFootnotes]>[28]<![endif]>
Frances Pasqualini from San Francisco, California, testified that in December 1951 her 29 years old brother in law was stricken with "a rare illness on the nervous system" which left him paralyzed from the neck down, and the doctors "gave no hope for his life." The family wrote to padre Pio, asking for his prayers.
Two months later she reported that "the same young man is now back home with his wife and children, eating by himself, learning to walk without a cane, and showing signs of a thorough and complete recovery."<![if !supportFootnotes]>[29]<![endif]>
Dr. Giuseppe Sala sent a telegram to Padre Pio requesting his prayers for his son Paolo who was in critical condition with spinal meningitis. Padre Pio wired back: "On the third day he will have no more fever and he will turn out to be the most intelligent of all your children." The prophecy proved true.<![if !supportFootnotes]>[30]<![endif]>
Anna Clara Lacitrignola, a three years old child from Bari was diagnosed with polio on January 8, 1947. She was paralyzed and couldn't move. The family spent the estate in consultations, injections, transfusions, and anything else was suggested by the doctors. No improvement whatsoever.
After Easter that year the child's grandmother went to Padre Pio. He said: 'Go home, go home, you will find your baby better. Take courage and pray the Lord."
Back home Anna Clara improved rapidly and after few days she was completely healed "robust, healthy, very bright and very pious."<![if !supportFootnotes]>[31]<![endif]>
Nicoletta Mazzone, a child from San Felice a Cancello, in 1919 was in a coma for several months from meningitis. The doctors had given no hope. The father went to Padre Pio. Padre Pio said: "Go home and be happy, the Madonna of Graces will heal her."
Pietro, the father, thought that Padre Pio had not understood the gravity of the illness, and kept explaining what the doctors had told him. Padre Pio: "Man of little faith! I repeat, go home and be glad because the Madonna of Graces has healed her."
Back home he found the daughter out of coma, eating regularly, speaking, and feeling normal. Pietro concluded that "the doctors were astonished, and said that the child had returned from the grave."<![if !supportFootnotes]>[32]<![endif]>
Giving sight to Lello Pegna
In 1919, a priest named Padre Carlo Naldi vent to see Padre Pio with his Jewish friend, Lello Pegna. The priest explained that Pegna had recently become totally blind. They had come to Padre Pio to see if he could be healed.
Padre Pio told Pegna: "The Lord will not grant you the grace of physical sight unless you first receive sight for your soul. After you are baptized, then the Lord will give you your sight."
Months later, Pegna came back without the dark glasses that he normally wore. Pegna explained to Padre Pio that, despite opposition from his family, he had become a Christian and was baptized. At the beginning, he was discouraged when his blindness continued, but after a number of months his sight returned.
The physician who had earlier told Pegna that he was hopelessly blind now had to admit that his eyesight was in perfect condition.
Padre Paolino kept in contact with Lello Pegna for nearly thirty years, and reported that his vision was still perfect.<![if !supportFootnotes]>[33]<![endif]> <![if !supportFootnotes]> [34]<![endif]>
Giving sight in one eye
A blind man from Lecco begged Padre Pio to restore his sight "even if only in one eye," so that he might again see the faces of his dear ones. Padre Pio questioned him repeatedly: "Only in one eye?"
Padre Pio told the man to be of good heart and that he would pray for him. Some weeks later the man returned in tears to thank Padre Pio because his sight was restored!
Padre Pio said: "So, you are seeing normally again?" The man replied, "Yes, from this eye here, not from the other."
Padre Pio said: "Ah! Only from one eye? Let that be a lesson to you. Never put limitations on God. Always ask for the big grace!" <![if !supportFootnotes]> [35]<![endif]>
Pleurisy
Paolo Perrone from Sicily testified in 1993 that, after confession in 1948, he told Padre Pio that he had a constant pain in the shoulder and he thought it was pleurisy.
Padre Pio: "And do you want to live with this worrying thought my son? I have rotten lungs and yet I'm still living."
After a pause he put his hand on the man's shoulder. "Does it hurt now?" "No". "There have you seen?" The penitent returned home cured.<![if !supportFootnotes]>[36]<![endif]>
Tumor
A man bellowed in the hallway: "Padre, my wife has a tumor. I have a lot of children. You must cure her for us." "Yes, all right, I will pray." "No, Padre, you must cure her at once."
Padre Pio said: "Don't you know it is easier to cure a tumor than to change the heart of a man? Very well, it will mean a little tightening of the belt for the spiritual children. Here a headache, there a sore leg, a sacrifice for another, and we will offer it all up to the Lord for your wife's recovery."
The woman was cured by the time her husband got home.<![if !supportFootnotes]>[37]<![endif]>
Throat cancer
Danilo Gorin testified in 1996 that he had returned to Italy from Canada because he had a terminal throat cancer. The doctors had told him: "Go to your homeland to die."
With his wife he went to see Padre Pio for the first time. As soon as Padre Pio saw him he said: "Eh, Canadian." The poor man was so surprised that he started crying.
After the confession, Padre Pio asked: "So what do the doctors say about your illness?" After Danilo's explanation that he had three months to live, Padre Pio touched his throat and said: "Have faith, Jesus is doctor and medicine."
On his way to his hometown of Vicenza he realized that he felt normal. A doctor's examination found him completely healthy.<![if !supportFootnotes]>[38]<![endif]>
GI infection
Umberto Di Girolamo, a young fellow from Palermo testified in1996 that he had been suffering of an intestinal infection with poly sierosytis, exudative peritonitis and pleurisy. He went to see Padre Pio in 1955. Padre Pio said: "Have you got any faith?" Umberto couldn't utter a word. Padre Pio: 'Well, if it's like that, away with you."
Later he went to confession. Padre Pio: "How long is it since last confession?" No words. Padre Pio: "Away with you".
After several tormented days he went to confession again. Padre Pio gave him the absolution, and then asked: "What have you had?" Umberto did not understand the subtlety of the question and said: "Do I must offer my sufferings to our Lady?" And Padre Pio: "But my son what have you had?" And then added: "Well, we all have the duty to take care of ourselves."
Back to the guesthouse he felt normal and stopped taking the medicines. In Palermo the doctors found him healed. He started to practice sports again.<![if !supportFootnotes]>[39]<![endif]>
Epithelioma
Maria Cozzi Giuliano had epithelioma of the tongue. She has terrible pain for several months and unable to masticate. She was suggested to pray Padre Pio, and she did. On August 18, 1919 she went to the dentist to draw out a number of teeth before the operation. The dentist found the tongue completely healed, and called in dr. Marchetti. Both stated that she was completely cured.<![if !supportFootnotes]>[40]<![endif]> <![if !supportFootnotes]> [41]<![endif]>
Paolina Preziosi, mother of five, from San Giovanni Rotondo, known to Padre Pio as a special soul, fell gravely ill before Easter.
The doctors said there was nothing that they could do to save her. The husband and children went to Padre Pio to implore his help.
He said: "She will resurrect on Easter Sunday".
On Good Friday she lost consciousness. On the morning of Holy Saturday she went into a coma.
The relatives went again to Padre Pio. He said: "She will resurrect."
She died late Saturday evening. The family made the preparations for her body to be dressed in her wedding gown as it was customary in the area.
Padre Pio started the Easter Vigil Mass and at the moment of the Glory,
when the bells ring and the organ resound he started crying. At the same time Paolina got up un-helped, kneeled beside the bed and started reciting aloud the "Credo".
Everybody was astonished. They asked her what had happened. She said: "I was climbing and climbing happily. When I was about to enter in a great light I started coming back, and went back."
Padre Pio had not said "She will recover" but "She will resurrect."<![if !supportFootnotes]>[42]<![endif]> <![if !supportFootnotes]> [43]<![endif]> <![if !supportFootnotes]> [44]<![endif]> <![if !supportFootnotes]> [45]<![endif]> <![if !supportFootnotes]> [46]<![endif]> <![if !supportFootnotes]> [47]<![endif]> <![if !supportFootnotes]> [48]<![endif]> <![if !supportFootnotes]> [49]<![endif]>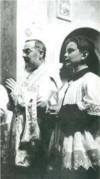 Pio Abresh serving Padre Pio's Mass
Amelia and Federico Abresh married in 1925. In 1926 Amelia had an abortion caused by a small tumor of the uterus. The tumor grew markedly and the specialists advised not to postpone surgery.
She went to Padre Pio. He said: "Follow the advice of the doctors." "So, I will never have children." "Well, then, my daughter, no instruments; you would be ruined for the rest of your life."
She returned home and decided to see no more doctors. Two year later she had a boy. They named him Pio. Pio Abresh became a priest.<![if !supportFootnotes]>[50]<![endif]> <![if !supportFootnotes]> [51]<![endif]> <![if !supportFootnotes]> [52]<![endif]>
Lymph granuloma
Graziano Borelli went often to San Giovanni Rotondo. He testified in 1999, reporting a conversation with Padre Pio:
"Padre, I have brought a 14 year old boy who is ill with a lymph granuloma." "And what can I do about it?" Padre, if you pray, god can make a miracle." "Do you believe what you say?" "Yes Padre, I do believe it." "He remained silent for a while, then added: "So let it be."
"Back home, the doctors run several tests for two days. The boy was completely cured, and still living today."<![if !supportFootnotes]>[53]<![endif]>
Antonio Bandolino
Antonio Badolino, age fifty three, after an accident, for thirty three years was unable to sit or walk. He had multiple fractures of pelvis, chronic generalized polyarthritis, and cardio respiratory deficiency. He had been hospitalized fifty four times all over Italy.
He was brought to Casa Sollievo, few years after Padre Pio's death, for urgent need of oxygen. During the night he was visited by a monk who commanded him to get up and walk. Struggling and perspiring he obeyed, accompanying his strange director in silently visiting the bedside of each patient in the rooms of his hospital wing.
Back to his room, the monk said: "Don't forget to go down to the church, to visit my tomb." Only then he realized that it was Padre Pio. He had never seen Padre Pio and he had never believed in him. He was an atheist. The following day he was dancing and jumping about. The real miracle came afterwards, with his conversion.<![if !supportFootnotes]>[54]<![endif]>
The Savino family

Giovanni Savino
Rosa Di Cosimo and Giovanni Savino met Padre Pio six weeks after their wedding, and became his spiritual children. Giovanni became a construction worker at the friary. They had eight children.
Daughter Lina one day was struck by a moped. At the first aid station the doctor diagnosed head trauma, and severe internal hemorrhage. She was in a coma and there was no close hospital to take her to. The mom run to Padre Pio. Padre Pio "looked into heaven like he saw another reality" and said "Let's pray and we'll leave everything in Our Lord's hands." Three days later she opened her eyes, and recovered quickly and completely.
Few years later Giovanni's son Giuseppe was hit by a motorcycle. He had head injury and was in a deep coma. Padre Pio prayed for him. He recovered consciousness and recovered quickly.
Giovanni went to Padre Pio's Mass every morning and got his blessing before going to work.
On February 12, 1949 Padre Pio told him: "Giovanni, I'm praying the Lord that you might not be killed." Padre Pio said the same thing for the next three days." Giovanni was scared, and asked for an explanation, but Padre Pio was silent.
On February 15 Giovanni told his crew "Let's not work today." But they refused. They had to blast away some rocks in preparation for the friary annex.
Giovanni placed a charge of dynamite under a boulder and lit the fuse. It failed to detonate. After few minutes Giovanni went over to check the charge. As he bent over the dynamite exploded in his face. The face was severely damaged. The right eye was an empty socket. The left eye had numerous foreign bodies in it.
Padre Pio exposed the Blessed Sacrament and was heard to pray: "Lord, I offer You one of my eyes for Giovanni, because he is the father of a family."
On February 25 Giovanni smelled the "aroma of paradise" and felt like Padre Pio was near him and slapped three times on his forehead. Giovanni said: "Padre Pio give me my sight or let me die. I cannot live like this.
Later that morning the ophthalmologist, who was an atheist, came to examine Giovanni. Giovanni exclaimed: "Doctor, I see you with my right eye. The doctor: "You might see me with the left eye. The right is completely destroyed." Upon further exam the doctor had to admit the Giovanni was right, and said: "Now I too believe because this has happened right in front of me."
Giovanni was released from the hospital in June and visited Padre Pio. He told him: "If you only knew what this cost me!" Giovanni continued to see perfectly from his empty right eye until his death in 1979.<![if !supportFootnotes]>[55]<![endif]> <![if !supportFootnotes]> [56]<![endif]> <![if !supportFootnotes]> [57]<![endif]> <![if !supportFootnotes]> [58]<![endif]>
Scarlet fever
Iole Cassano from San Giovanni Rotondo testified that in 1934, during an epidemic of scarlet fever, she became ill and had high temperature. Her father, fearing the worst, went to Padre Pio. He said: "Don't worry, go home and you will see that the girl has no longer a high temperature." "It was true" Iole reported.<![if !supportFootnotes]>[59]<![endif]>
Tuberculosis
Brother Elia De Martino da Serracapriola, in 1937 was a theology student in Campobasso. He contracted tuberculosis. After three years the Padre Superiore thought he would be in the grave in a short time, and sent him to the convent of San Giovanni Rotondo.
Elia told Padre Pio: "Everybody says that I am done, that I have to die soon." Padre Pio: "Who has to die?" "Me. I have tuberculosis." "And you have to die? You have got a long way to go my son!"
Elia De Martino was ordained Capuchin priest in 1941, and die in San Giovanni Rotondo in 2003, at the age of 87.<![if !supportFootnotes]>[60]<![endif]>
Shoulder pain
Padre Emanuele Grassi da Riccia had pain in a shoulder. It had been bothering him for a while. He told Padre Pio about it. Padre Pio tapped him on the shoulder and said: "Don't worry." The pain disappeared and never returned.<![if !supportFootnotes]>[61]<![endif]>
Ear drum
Renata from Parma had since childhood chronic ear infection with pierced eardrum, frequent discharge, and a constant buzzing sound. Over the year she adamantly refused the doctor's advice to operate. She went to see Padre Pio. Padre Pio, after confession: "You must have an operation." Renata moved to the front of the confessional and said: "I don't want an operation. I just want that you touch my ear."
Padre Pio did, and she felt a sharp unbearable pain that made her run screaming outside the church, all the way to the elm tree. Then she stopped and began feeling better. Weeks later she went to the doctor for a check-up of the ear. The doctor: "Where have you been, to St. Rita's? You ear is perfectly healthy. There is no damage anymore."<![if !supportFootnotes]>[62]<![endif]>
Seizures
Anna Maria had convulsions for several years and was under treatment by a neurologist. No medicines could help and the doctors were considering brain surgery. She was taken to San Giovanni Rotondo at age nine. After confessing with Padre Pio she told him what she had been instructed to say: "My mother would like to know what I can do to recover." "And you ask me? Just pray. Prayer is enough."
From that day the family started reciting daily the rosary. Anna Maria never had another attack. She also stopped to take the morning medication, while still taking the evening dose.
A year later, Anna Maria went back to Padre Pio with her family. The mother asked Padre Pio: "Should Anna Maria have an EEG?" Padre Pio: "Do not awaken a sleeping dog."
After still another year: "Should we discontinue the night med?" Padre Pio: "If she continues taking those sedatives, what will she take years from now if she should have need of them?" Anna Maria stopped taking the medication. She became a teacher. She never had a seizure again.<![if !supportFootnotes]>[63]<![endif]>
Bleeding colitis
Angelo Salvitti from forest Park, Ill., had been suffering since 1945 of bleeding colitis. He has been hospitalized at the Hines Veteran's Hospital many times, and the hemorrhages varied from seven to thirty five daily. He heard about Padre Pio and decided to see him.
In 1967, with his wife and sister, and a recommendation for Nicolino Cocomozzi, they went to San Giovanni Rotondo. Nicolino was a longtime resident, employed at the post office. Most every day he went to the convent to get Padre Pio's signature on certified mail addressed to him. Nicolino took Angelo to Padre Pio's room: "Padre, this man has come from America to see you".
Padre Pio: "Bravo, bravo, God bless you my son." Angelo reported: "From that moment the burning pain I had for so many years disappeared completely and I have never had it again. And I did not ask anything regarding my illness." The next morning Padre Pio told Nicolino: "Tell him he is well now, and to eat and drink anything he desires, I have already been praying for him for a long time."<![if !supportFootnotes]>[64]<![endif]>
Chest pains
Giovanna Russo from San Giovanni Rotondo testified that her mom had severe chest pains and thought that her end was near. Giovanna run to the friary and told it to Padre Pio.
Padre Pio: "You always see the dark side. She is alright, and perhaps at this very moment she is chatting with her neighbors." Giovanna run back home: "When I went home I saw mom chatting with her friends."<![if !supportFootnotes]>[65]<![endif]>
Malaria
In 1917 Nina Campanile's mother was gravely ill. The doctor had diagnosed double pneumonia. Nina went to Padre Pio to recommend her mom, sick in bed. Padre Pio said: "What pneumonia are you talking about; your mom has malaria!" Nina went back to the doctor. He reassessed the diagnosis, and with proper treatment Nina's mom recovered.<![if !supportFootnotes]>[66]<![endif]>
Spanish flu
On September 21, 1918 Nina Campanile told Padre Pio that all the members of her family had been hit by the Spanish flu. She was especially concerned about her sister Vittorina, who was married with three children, and expecting the fourth. No expecting woman had recovered. Padre Pio said: "Even if you see her pass away, you must believe that she will be healed." Vittorina recovered.<![if !supportFootnotes]>[67]<![endif]> <![if !supportFootnotes]> [68]<![endif]>
Agnese Stump
Agnese Stump testified in 1971, that in October 1968 a biopsy on her left knee revealed an osteosarcoma. The tumor had already spread to her bone marrow and bloodstream.
On December 1968 she went to pray at Padre Pio's tomb. She dreamed of Padre Pio who told her to discard the crutches. After a while she was completely well.
Her doctor called his colleagues and showed the x-rays before and after, where the tibia destroyed by the tumor had been replaced by healthy bone.
Pointing at Agnese he told his colleagues: "Look at the miracle woman."<![if !supportFootnotes]>[69]<![endif]> <![if !supportFootnotes]> [70]<![endif]>
Healing Joe Greco's father from afar
Joe Greco
Joe Greco had a dream in which he met Padre Pio on a road and asked him to save his sick father. Joès father suddenly recovered after the dream.
Months later he went to thank Padre Pio. As soon as he kneeled at the confessional, Padre Pio said: "Well, your father is all right, than."
Lucietta Pennelli
Lucietta Pennelli, from San Giovanni Rotondo, in 1967 at age six was dying from meningitis. The doctor said to her father: "I'm sorry, but there is nothing we can do." Lucietta had been in a coma for several days, when one night Rachele, her mother, saw Padre Pio enter the room. He approached the bed, held the hand of the dying girl, and then left after looking at the mom. No word was said. At 4:00 AM the girl woke up, opened her eyes, and said: "I'm thirst." Alfonso, her father went straight to Padre Pio to tell him that Lucietta was out of a coma. Padre Pio: "Let's thank the Virgin." Lucietta improved steadily and went with her uncle to the convent. Padre Pio: "Here is the little body that came back to life." Than he caressed her and said: "Do you know why you didn't die? Because the reaper didn't make it in time. Our Lady arrived before him!" From then on Padre Pio, when he saw her, used to say: "Here is the dead one, who came back to life."<![if !supportFootnotes]>[71]<![endif]>
Suitcase
Maria Gennai, the mother of a few month old sick baby, in May 1925 was told by the doctors that there was nothing else to be done to save him. Out of desperation and faith, in a hurry she wrapped the child in some clothes, took her fiber suitcase, and jumped on a train to go see Padre Pio. The child stopped breathing and turned blue during the trip. She put the child in the suitcase and continued on her way.
When she was in front of Padre Pio she started crying pitifully, and opened the suitcase. Padre Pio appeared moved. He put his hand on the child's head and prayed silently. Then he said to Maria: "Why are you crying so loud? Cant's you see that your child is sleeping?" As he was waking up from a long sleep, the child started moving and returned to life. <![if !supportFootnotes]> [72]<![endif]> <![if !supportFootnotes]> [73]<![endif]>
Orthopedic ward
On December 12, 1968, a man inpatient in the orthopedic ward at Casa Sollievo della Sofferenza, the hospital od Padre Pio, kept agitating the sisters nurses, cursing at Padre Pio for not helping him. He had never seen Padre Pio. The man fell asleep around midnight. He was awakened by a friar who told him: "Get up, get up." The friar took him by the arm, and walked with him in the hallway, telling him not to swear and to be good. Then continued: "And don't look down on the people of my house, because every brick of it is a drop of my blood." The friar accompanied him back to bed and said: "Now ring the bell, get washed and dressed, and tomorrow morning go to confession and communion. And don't swear anymore, otherwise worse things will happen to you. Then come to visit my tomb." The happening threw into turmoil the whole hospital. The sisters nurses were stunned, and kept crying. At 5 in the morning the man was kneeling in church waiting for confession and communion. He told everybody: "I have been healed."<![if !supportFootnotes]>[74]<![endif]>
Fra' Giovanni Maria Sammarone da Trivento
Fra' Giovanni in action in 1965
Fra' Giovanni Sammarone was the cook of the convent. In September 20, 1950 he was diagnosed with a severe form of pulmonary tuberculosis. While he was leaving for the sanatorium, Padre Pio told Him: "Trust the Lord. I will pray for you."
Fra' Giovanni returned to the convent after two years, perfectly healed. Padre Pio, hugging him with joy: "You know, there was really nothing to do for you, and your sentence had already been written, but I tore it from God's hands. You can't imagine how much I have had to suffer, and what price you cost me."
Bibliography

Alberto, D. P. (2007). Padre Pio of Pietrelcina. Memories. Experiences. Testimonials. San Giovanni Rotondo: Edizioni Padre Pio. Alb07

Allegri, R. (2000). La vita e i miracoli di Padre Pio. Milano: Oscar Mondadori. All00

Capuano, P. (2012). Con p. Pio: come in una fiaba. Foggia: Grafiche Grilli. Cap12

Castelli, F. (2011). Padre Pio under investigation. The secret Vatican files. San Francisco: Ignatius Press. Cas11

Cataneo, P. (1991). Padre Pio gleanings. Editions Paulines Quebec. Cat91

Clarice, B. (1970). Roads to Padre Pio. Roma: Citta' Nuova. Bru70

Covino, P. P. (2007). Ricordi e testimonianze. San Giovanni Rotondo: Edizioni Padre Pio. Cov07

DeLiso, O. (1962). Padre Pio. New York: All Saints Press. DeL62

Duchess Suzanne, o. S. (1983). Magic of a Mistic. Stories of Padre Pio. New York: Clarkson N. Potter. Duc83

Gallagher, J. (1995). Padre Pio, The pierced priest. London: HarperCollins. Gal95

Gaudiose, D. M. (1974). Prophet of the people. A biography of Padre Pio. New York: Alba House. Gau74

Iasenzeniro, F. M. (2006). The "Padre" saint Pio of Pietrelcina. His mission to save souls. Testimonies. San Giovanni Rotondo: Edizioni Padre Pio. Ias06

Ingoldsby, M. (1978). Padre Pio. His Life and Mission. Dublin: Veritas Publications. Ing78

Keane, C. (2007). Padre Pio The Irish Connection. Edinburg: Mainstream Publishing. Kea07

Malatesta, E. (1999). La vera storia di Padre Pio. Casale Monferrato: PIEMME Mal99.

Malatesta, E. (2002). Aiutatemi tutti a portare la Croce. Milano: Il Saggiatore. Mal02

McCaffery, J. (1978). Tales of Padre Pio. Kansas City: Andrews and McMeel. McC78

Modestino, F. d. (2001). Io testimone del Padre. San Giovanni Rotondo: Edizioni Padre Pio. Mod01

Mortimer Carty, f. C. (1973). Padre Pio the stigmatist. TAN Books. Mor73

Napolitano, F. (1978). Padre Pio of Pietrelcina. A brief biography. San Giovanni Rotondo: Edizioni Padre Pio. Nap78

Peroni, L. (2002). Padre Pio da Pietrelcina. Borla. Per02

Preziuso, G. (2000). The life of Padre Pio between the altar and the confessional. New York: Alba House. Pre00

Ruffin, C. B. (1991). Padre Pio: the true story. Huntington, Indiana: Our Sunday Visitor, Inc. Ruf91

Schug, J. O. (1987). A Padre Pio Profile. Petersham, MA: St. Bedès Publications. Sch87

Winowska, M. (1988). Il vero volto di Padre Pio. Milano: Edizioni San Paolo. Win88

<![if !supportFootnotes]>

Return to front page 14 Perfume, Radiance, Ecstasy, Levitation

<![endif]>

<![if !supportFootnotes]>

---
<![endif]>